Businesses need to simplify HR and compliance processes to save time and reduce risk. Talx, which helps employers address concerns in hiring, pay and compliance, has now assumed the name of its parent company and become Equifax Workforce Solutions [PDF]. HR and finance professionals should recognize the parent company's brand from its work in the consumer credit industry. The company hopes these professionals will see that Equifax Workforce Solutions offers a better approach to governance, risk and compliance. According to our research, 79 percent of organizations want a better method to identify and manage risks faster.
In the area of hiring services, Equifax has made the process of compliance for new hires simple with its I-9 management service to ensure compliance through its E-Verify integration, and through its streamlined electronic service to remove physical paper in federal, state and local forms. Providing for digital signatures and documents is one way it saves time; our research finds almost a quarter of organizations still use paper and require handwritten signatures, and more (29%) have electronic documents but still require a handwritten signature. Also, as governments provide new tax credits and incentives, Equifax can immediately assess any savings opportunities with an existing workforce and new hires, keeping on top of potential opportunities to contribute to organizations' profitability. For example, after disasters like Sandy and Katrina, governments may provide incentives and opportunities for employers, as is now happening with the Department of Labor in New York State. In the area of pay reporting, Equifax provides a digital and physical service to manage paperless pay and the process of creating and distributing W-2s that makes things simpler for employers and provides direct access for employees. This can replace the paper and manual efforts that exist in most organizations and improve employee satisfaction and confidence.
Equifax also provides a suite of compliance services and online services to help with employment verification, unemployment cost management and employment tax management, and with supporting action on data breaches. Though our research finds that only 11 percent of organizations have experienced a significant data privacy or information breach, it is essential for companies to have policies and processes in place so they can act quickly to address such data breaches. Simplifying the methods to comply with legal and regulatory requirements is still difficult for over half of organizations (56%), though most just take on a higher cost of employee labor to ensure deadlines are not missed. Many organizations do not take risk and compliance methods as seriously as they should. Our research finds more than half of organizations (57%) use spreadsheets in these processes. Organizations need to assess controls and compliance steps to better automate the processes and eliminate labor-intensive and error-prone manual tracking.
Equifax Workforce Solutions provides workforce analytics in a product called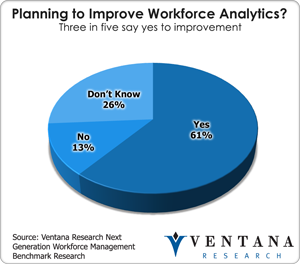 Equifax Workforce Analytics that it gained with the acquisition of analytics technology provider eThority, which I assessed earlier this year. This offering provides not just efficient methods for interacting and discovering places for improvement, but also prebuilt content in the form of analytics and metrics that can be populated with an organization's data. The use of spreadsheets has made it difficult to manage workforces in 42 percent of organizations according to our next-generation workforce management benchmark research. By adopting a dedicated approach to critical workforce analytics across HR processes, organizations can make more accurate and effective decisions.
Parent company Equifax will need to better promote the newly named Workforce Solutions unit, since it is still not linked from its website. Equifax Workforce Solutions provides many benefits in benchmarking workforce and compensation issues that could be an opportunity to provide relief to those under the most duress; it can even determine the load of student loans costs on a workforce. It can do these things by comparing a workforce to its overall Equifax database and reviewing its database of more than 210 million payroll records. These kinds of services can help employers improve methods to hire, engage and retain their workforce.
Organizations should consider Equifax Workforce Solutions as part of their overall human capital management strategy, and part of any specific talent management and workforce management efficiency efforts. With its abilities to save time and mitigate risk, Equifax Workforce Solutions has a place in every organization.
Regards,
Mark Smith
CEO & Chief Research Officer