Pressure to comply with requirements of the Affordable Care Act (ACA) is a looming challenge for most organizations today. Many go through numerous manual iterations such as running reports and compiling data into spreadsheets from benefits, payroll and HR systems to calculate whether their employees are eligible. As my colleague Stephan Millard explains in "Is Your Organization Technology Ready for the Affordable Care Act?", the ACA applies to organizations with 50 or more full-time employees who work more than 30 hours a week; individuals not covered by an employer can get insurance through the government. There are a great many details for employers to address in the ACA, and most HR departments lack a smooth process and effective technology to generate the information to determine compliance.
I was reminded of these issues at Equifax's FORUM 2014 where the workforce management software provider described its efforts to help organizations with compliance and employer assurance processes including I-9 and W-2 forms management. Among its Workforce Solutions is the ACA Management Platform, which Stephan covered at its launch. Now Equifax says that more than 100 major organizations have adopted the platform, which according to our analysis makes it the most widely adopted dedicated software for ACA compliance.
The product provides verifications, eligibility tracking and employment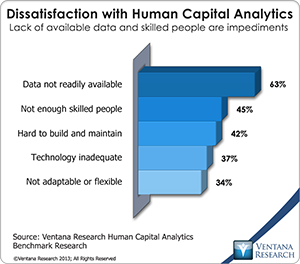 notifications on top of modeling and reporting. While many software companies in the HR and payroll management segment provide compliance reports, Equifax has the capability to integrate data sources and model data through analytics that can generate the metrics, reports and dashboards businesses need to determine compliance. This information can be automated and distributed to the appropriate parts of the organization and help avoid fines and penalties for late or inadequate compliance. Equifax has built a library of predefined reports and dashboards that can save time otherwise spent on creating them manually. These capabilities can alleviate what our human capital analytics research finds are the largest points of dissatisfaction: data not readily available (cited by 63%), not enough skilled people (45%) and analytics that are hard to build and maintain (42%).
Equifax also makes it possible to maintain histories of compliance and to look back at the data in detail; these features help prevent falsification of hours worked to show that the company does not avoid providing healthcare as required, which can incur significant penalties and potentially damage the company's credibility and brand. On the reverse side it also can ensure that the minimum number of hours are worked for healthcare eligibility and notify employees through workforce scheduling. Equifax encourages organizations to evaluate the effectiveness of their technology for supporting the ACA compliance process and its integration with underlying HR systems and processes. Users should consider how well their technology automates the process and whether it can support notifications and management reviews, which are necessary not just to stay in compliance but to assess policy changes and track approvals. We have found confusion in HR and benefit teams as to how and where to generate analytics that produce these and other insights. Our latest research on payroll management optimization found the capability most often seen as very important (by 42%) is to perform auditing or compliance for adherence to policies and procedures; this indicates that many professionals think payroll is the logical place to address this need, but in fact they need detailed employee and work data also from HR, workforce management and even benefits systems for both historical and real-time data related to employment and healthcare. It is clear that organizations have to collect and store worker information from all of these sources and model them with analytics, which is not a capability of legacy HR and payroll management systems.
Equifax has experience serving a variety of industries where the details about types of workers and times worked can be challenging to track and calculate, let alone have the right set of metrics and reports. It has built industry-specific versions of its application for staffing and for higher education that can accelerate the time to value for users of its human capital analytics.
These steps to provide ACA compliance build on a key advance in the use and benefits of human capital analytics that we have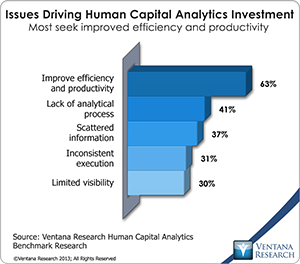 researched. Our research shows that the issues most often driving investment in these systems are about improving efficiency and productivity (for 63%), overcoming a lack of analytical process (41%) and collecting scattered information (37%). The research shows that a dedicated human capital analytics system can provide a foundation to manage compliance at any level and address the broader aspects of people, performance, process and risk metrics that are essential for employer assurance. Equifax's ACA Management Platform is built on robust analytics that handle a range of data and offer visual discovery and exploration that it acquired several years ago from eThority. This technology continues to advance in support for business users as well as analysts; its latest release provides access to metrics and key indicators on mobile devices through dashboards that can be easily assembled and published.
Equifax is dedicating itself to the range of compliance needs to help employers be sure they are doing everything possible to meet their responsibilities regarding regulations like the Affordable Care Act. If your organization is not confident in how it manages these tasks, we suggest evaluating how Equifax can help it establish and maintain compliance.
Regards,
Mark Smith
CEO & Chief Research Officer