Here are some insights on Xactly drawn from our latest Value Index research, which provides an analytic assessment of how well vendor offerings address buyers' requirements. The Ventana Research Value Index on Sales Performance Management 2019 is the distillation of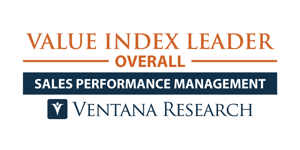 a year of market and product research efforts by Ventana Research. We evaluated Xactly and eight other vendors in seven categories, five product-related adaptability, capability, manageability, reliability and usability) and two concerning the vendor (TCO/ROI and vendor validation). To arrive at the Value Index rating for a given vendor, we weighted each of the seven categories to reflect its relative importance in an RFP process, with the weightings based on data derived from our benchmark research on sales performance management.
Xactly ranks second overall in this Value Index research. The vendor's product line supporting sales performance management performed well, earning Value Index Leader status in four categories: Usability, Adaptability, TCO-ROI and Validation.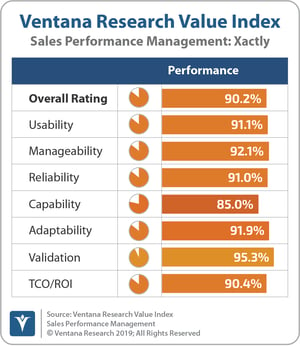 Strong performance across all seven categories means the vendor is a Value Index Leader in both Product and Customer Assurance.
The vendor's broad sales performance management portfolio covers the three main application areas of planning, execution and optimization. Providing industry comparisons through Xactly Benchmarking and newer resource planning capabilities for capacity analysis and commission expense accounting have expanded the vendor's footprint as well as the industry's view on the potential of SPM. Xactly's continued investment in all areas, particularly Usability and Manageability, enables it to meet a broader set of roles across sales than is typical. Xactly Connect for integration to application and data sources enabled it to be a Value Index Leader in Adaptability.
The vendor's lowest performance rating is in Capability where it ranked fourth overall; it could improve its support for managers and sellers as well as collaboration capabilities. Metrics on its performance and scalability would better demonstrate its ability to serve very large sales organizations.
Xactly's commitment to SPM and customers is clearly a strength and its Value index Leader rating in Customer Assurance represents a critically valuable part of its efforts. The vendor's investments in its product portfolio have bolstered its relevance and market leadership in sales performance management.
This research-based index is the most comprehensive assessment of the value of sales performance management software in the industry. You can learn more about our Value Index as an effective vendor selection and RFI/RFP tool here. Participating vendors can learn more about how to use the Value Index here.
Regards
Mark Smith