Ventana Research has announced its market agenda for 2023, continuing a 20-year tradition of credibility and trust in our objective efforts to educate and guide the technology market. Our research and insights are backed by our expertise and independence, as we do not share our Market Agenda or our market research – including analyst and market perspectives – with any external party before it is published. We continuously refine our Market Agenda throughout the year to ensure we offer the expertise and insights organizations rely on to better assess and navigate the direction of the technology industry.
This year's Market Agenda advances the need for organizations to define a digitalization roadmap that embraces priorities for organizational resilience, workforce readiness and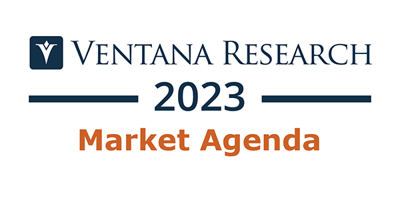 digital modernization. We've expanded research and insights in vertical industries to enhance our traditional portfolio of expertise and focused business and technology approach. This information is available to everyone in our open and accessible Ventana Research community.
We've made substantive advancements in each business and technology expertise and focus area to offer knowledge and insights to guide digital business enhancements. Here's a snapshot of the topics our subject matter experts will explore this year.
Digital Business: A digital blueprint to assess and prioritize investment of resources and time is essential to determine how to best utilize technology for business efficacy and results. Our areas of focus in digital business including: Business Continuity, Governance and Risk, Experience Management and Performance Management as well as Sustainability and ESG (environmental, social and governance) need to set the strategy for business effectiveness. Our additional technological focus on Digital Communication, Digital Payments, Digital Security and Work Management guides decisions about software requirements for organizational processes and the workforce. Organizations need to further refine the integration of digital business and technology to ensure readiness and responsiveness capable of sustaining any "black swan" event that could disrupt normal operating conditions.
Typically, organizations focus on incremental improvement or transformation rather than prioritizing effective digitalization of the business, processes and workforce. Lacking sufficient time and resources, organizations rarely go beyond digital transformation to enable the continuity and resilience required to ensure the organization is prepared for major disruptions such as we experienced during 2020 to 2021. I assert that through 2025, after concerted investment in digital transformation, two-thirds of organizations will require a new digital business and technology agenda to advance agility and competitiveness. Business leaders who want to ensure their organizations succeed should engage and learn about technologies that can fundamentally maximize the value of their time and resources and advance processes and the workforce.
Analytics: Responding to the necessity for effective analytics and the nature of operating in real time, our Analytics expertise area — led by senior vice president and research director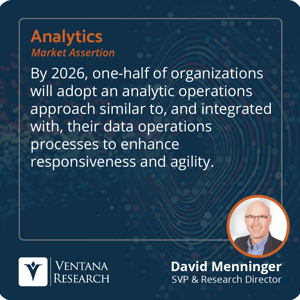 David Menninger — helps organizations use insights generated from data to increase business value and advance potential. Dave's area of focus includes the following: AI & Machine Learning, Business Intelligence, Embedded Analytics, Natural Language Processing, Process Mining and Streaming Analytics. David's market assertion is that by 2026, one-half of organizations will adopt an analytic operations approach similar to, and integrated with, data operations processes to enhance responsiveness and agility.
Artificial intelligence and machine learning assists in using analytics in a more intelligent manner and delivers more impactful insights. Being responsive in any situation requires organizations to operate in real time, using streaming analytics that originate from data and events flowing across networks as well as process mining to ensure insights are aligned to the nature of the technology. Analytics methods using augmented intelligence and natural language processing increase accessibility and engagement. Traditional use of analytics in business intelligence is still critical, and embedded analytics can ensure availability within the applications and tools the workforce uses. David's analyst perspectives provide more detail on our exploration of analytics methods and technologies.
Customer Experience: High-value interactions are necessary to engage – and satisfy – customers. Our vice president and research director Keith Dawson asserts that through 2026, the establishment of CX application suites on a common platform will become the focal point of the effort to optimize customer and organizational engagement. To support this transition, we have augmented our Customer Experience focus to include Agent Management, Customer Experience Management, Field Service, Contact Center and Voice of the Customer, with a new focus on Intelligent Self-Service. Under pressure from customer expectations, organizations are forced to invest and improve processes, in many cases prioritizing systems that support agents as well as digital engagement with machine-based virtual agents in a more intelligent, self-service approach. As the importance of customer experiences grow, a new generation of customer experience management platforms and applications are creating a unified approach to support interactions across the customer journey. And field service, traditionally handled within a business unit, is becoming a focal point of effective operations and the overall customer journey. Follow Keith's analyst perspectives to monitor the evolution of data methods and technology.
Data: Our data expertise, led by vice president and research director Matt Aslett, is establishing a focus on the effective impact of data across any requirement of the organization. Matt's area of focus includes the following: Analytic Data Platforms, Data Governance, Data Management, Data Operations, Operational Data Platforms and Streaming Data & Events. The fundamentals of data management ensure outcomes from processes are optimized through the application of analytics and insights. This effort is facilitated through the use of data operations that enable the science and engineering of data for any purpose. Data operations is also intertwined with data governance to ensure accurate utilization of data.
Ensuring data can support any purpose requires technology used for analytic or operational data platforms, and operating in a hybrid computing environment, as investigated in our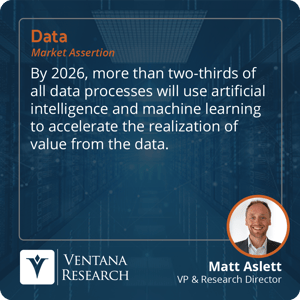 Value Index vendor and product research. As Matt asserts, by 2026, more than two-thirds of all data processes will use artificial intelligence and machine learning to accelerate the realization of value from data. In addition, real-time operation as data flows across the organization requires streaming data and events technology architected to meet business requirements. Follow Matt's analyst perspectives to monitor the evolution of data methods and technology.
Digital Technology: In the expertise of Digital Technology, we continue our exploration into the broad array of digital technologies required for any organization. This expertise area is led by senior vice president and research director David Menninger, who examines the specific – and combination of – technologies that provide exponential value. An example is the intersection of digital platforms, and Dave asserts that by 2026, more than one-half of organizations will have invested in newly formed digital platforms to unify collaborative and conversational technology, simplifying the work experience.
Digital technology helps organizations gain intelligence and launch automation that ensures ongoing levels of effectiveness for the overall business and within specific processes. Our Digital Technology expertise includes nine focus areas: Analytics and Data, Artificial Intelligence and Machine Learning, Blockchain, Cloud Computing, Collaborative and Conversational Computing, the Internet of Things, Mobile Computing, Robotic Automation and Extended Reality. Each of these technology categories is advancing to generate more value for the business and technology needs of an organization.
Improving the digital experience across the workforce as well as for customers, partners and the overall supply chain has become a business imperative for 2023. Enhancements to the digital workflows of processes and activities can improve organizational readiness to support the objectives and intentions of everyone in the workforce. Optimizing the path forward in 2023 will require a heightened sense of the purpose for the operation of digital technology as well as an understanding of expected outcomes for enabling business continuity and performance. Establishing a priority focus for digital technology investments will ensure appropriate rewards for the time and resources dedicated.
Human Capital Management: In the expertise of Human Capital Management, led by vice president and research director, Quincy Valencia, we are continuing our dedicated work and market research in the focus areas of Employee Experience, Learning Management, Payroll Management, Total Compensation Management and Workforce Management as well as the optimal use of Talent Management. Given the workforce challenges of the past two years, organizations are focused on talent acquisition and managing worker expectations. Addressing the needs of the individual and their career requires a focus on skill development that supports the potential of every worker. Meeting the demand for talent growth ─ from recruiting and hiring to onboarding ─ will require more effective candidate engagement to ensure organizational growth. But a focus on worker and career development requires continued investment in coaching, mentoring and performance management.
For organizations to maximize the merits of HCM requires the use of people analytics and workforce planning to help decision-makers and managers and support diversity, equity and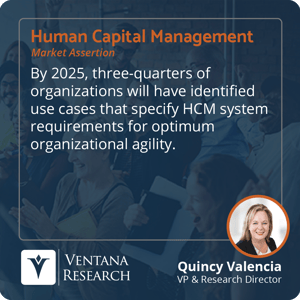 inclusion improvement. Key to the success of these initiatives will be an effective set of technological requirements and a structured vendor evaluation process to ensure the human capital management platform and applications meet the future requirements of the organization. Vice president and research director Quincy Valencia asserts that by 2025, three-quarters of organizations will have identified use cases that specify HCM system requirements for optimum organizational agility. Follow Quincy Valencia and read her analyst perspectives on the HCM technology landscape.
Marketing: Performance-driven marketing requires a focus on outcomes and processes derived from analytics and data. To gain engagement across every process, it is essential to have the competencies and skills to be digitally effective in every interaction. Advancing intelligence in marketing processes is not easy, given the volume of available data and the skills required to utilize it.
Vice president and research director Keith Dawson and I continue to lead the effort to advance the effectiveness of marketing organizations. Our Marketing expertise covers fundamental and advanced techniques in Digital Marketing and Intelligent Marketing for optimal engagement, but also in how to use data more intelligently with Customer Data Platforms (CDP), and a focus to Product eXperience Management, using product information more effectively. Marketing Performance Management and effective scorecards for planning and analytics supports aligning resources and budgets to reach the desired objectives. In 2022, we advanced our focus in Digital Experience Platforms, which ensure information and interactions are updated across processes and systems. In 2023, a shift to focus on customer data platforms will require marketing teams to become better stewards of technology.
Office of Finance: Prioritizing the operating efficiency of processes can help finance teams achieve desired outcomes and ensure their readiness to respond to market changes and organizational requirements. Our well-established Office of Finance expertise covers focus areas of Business Planning, Consolidate, Close and Report, Digital Finance, Enterprise Resource Planning and Continuous Accounting ─ as well as our work in Revenue, Lease and Tax Accounting ─ provide key insights for finance leaders. More detailed coverage for 2023 includes a focus on Consolidate, Close and Report, which is core to every finance organization, and the focus on Purchasing, Sourcing and Payments critical for managing costs and processes. We established intercompany financial management as a discipline for digitizing accounting and reconciliation processes that intersect costs and activities across the organization and workforce, and it will remain a focus for Office of Finance.
Our goal is to enable financial planning and analysis teams to use analytics and modeling to guide planning processes. My colleague Robert Kugel, senior vice president and research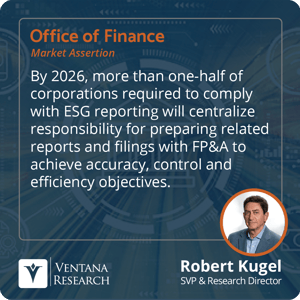 director in the Office of Finance expertise area, asserts that by 2026, more than one-half of corporations required to comply with ESG reporting will centralize responsibility for preparing related reports and filings with FP&A professionals to achieve accuracy, control and efficiency objectives. Follow Robert Kugel and read his analyst perspectives on the HCM technology landscape.
Office of Revenue: My colleague Stephen Hurrell, vice president and research director in the Office of Revenue expertise area, examines all revenue processes and technology required for buying and selling products and services. No matter if your organization has operations teams focused on commercial, revenue or sales, they need to be more efficient with processes and performance management. Managing revenue performance across channels and departments that support buyer and seller interactions requires sales and revenue performance management systems. The continued need to manage compensation and incentives related to quotas and territories is essential for every sales organization.
The neglect of customer relationship management investments in the past decade continue to plague organizations' revenue efforts as outdated systems lacks the ability to interact with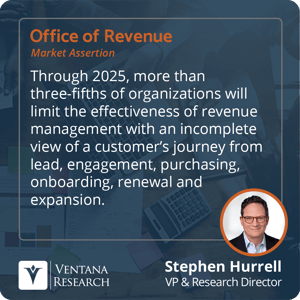 advanced, intelligent applications. Stephen asserts that, through 2025, more than three-fifths of organizations will limit the effectiveness of revenue management with an incomplete view of a customer's journey from lead, engagement, purchasing, onboarding, renewal and expansion.
Consumer expectations for interactions with goods and services has led to transformation of digital commerce technology that supports web and mobile interactions. Ideally, these systems deliver effective product experiences addressed through dedicated product information and experience management systems.
The growth of hybrid business models and mixed selling methods elevates the need for effective technology to support sales processes. The recurring billing and monetization aspects of digital and potentially physical services requires effective – and in most cases, dedicated – subscription management technology that manages the experiences of subscribers and subscriptions. Selling experiences require investment into sales engagement applications to ensure optimal interactions throughout the buyers' journey. The impact of the revenue potential and resulting customer experience from third-party channels requires partner management software to support the indirect channel of revenue and ensure optimal operations and desired outcomes. This will be a continued focus for Office of Revenue and you can follow Stephen Hurrell and read his analyst perspectives.
Operations and Supply Chain: Our Operations and Supply Chain expertise is also led by senior vice president Robert Kugel. area of focus includes the following: Continuous Planning Continuous Supply Chain & ERP, Product Information Management, Property Technology, Supplier Relationship Management and Sustainability Management. Robert asserts that, through 2025, supply and demand chain management in over one-half of organizations will remain inadequate to ensure resilience and business continuity, requiring aggressive digital innovation.
The digitization every organization requires to meet the demand for products and services is necessary, but focus on the outcomes and impact of processes is essential for resilience. This must be established through a continuous supply chain that operates with enterprise resource planning in a unified manner, supported through continuous planning to work toward mutual outcomes. At the core of the supply chain is the interconnected aspect of product life cycle management, contributing to product information management in support of product experiences across the enterprise and for customers, partners and suppliers.
A continued investment in supplier relationship management addresses the pressure on sourcing, fulfillment, invoice reconciliation and payment terms – activities that interconnect with finance teams and processes. The need to focus on assets with property technology is still a substantial opportunity to improve the tenant, landlord and owner relationship with applications designed to not just operate but optimize this tangible asset. A new focus in sustainability management is part of our research into operations and supply chain, specifically where data and information related to operations and products needs to be part of the continuous processes of an organization.
Our work in 2022 found that organizations remain bifurcated in digital transformation. Some organizations are shifting from on-premises computing to cloud computing, while others use a myriad of cloud-computing strategies. Having moved beyond the pandemic, organizations recognize the need to be more resilient through "black swan" events, and realize the foundational importance of technology and overall digital business investments. Our belief is that organizations are not aligning priorities and resources effectively to achieve business goals and perform essential digital modernization priorities. The lack of curiosity and technological competencies of business leaders contributes to misguided investments. The requirement for business leaders to understand technology ensures the innovation and focus to optimize productivity and enable digital experiences that impact every worker and external parties from customers to partners.
At Ventana Research, we guide organizations to digital effectiveness through our subject matter expertise, market research and industry experience with technology to achieve desired outcomes from current and future investments. Enjoy our overall market agenda for 2023 across 10 expertise areas and 12 vertical industries and the in-depth perspectives that facilitate the knowledge from our firm to utilize technology in the most effective manner. Subscribe to our Ventana Research community at no cost and stay up-to-date on our 2023 research efforts. Unlike other technology analyst firms, we provide our research and insights in mediums that are easy to consume but open to everyone to enable improvement. Check out our market expertise and focus areas, and access educational resources available exclusively to members of our community.
Regards,
Mark Smith