The annual Ventana Research Digital Innovation Awards showcases advances in the productivity and potential of business applications, as well as technology that contributes significantly to improved efficiency and productivity in the processes and the performance of an organization. Our goal is to recognize technology and vendors that have introduced noteworthy digital innovations that advance business and IT.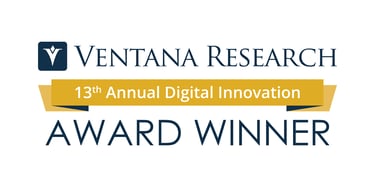 Ventana Research has awarded Varicent: Symon.AI its 2020 Digital Innovation Award for Sales. This award recognizes the technology vendor that best exemplifies innovation in the application or technologies that support the sales organization.
An organization is measured by its ability to reach its expected outcomes, so ensuring effective sales must become the primary responsibility. Identifying issues and opportunities on which to focus time and resources is not easily done and can become the largest challenge for a sales organization. The inflection point for change often only occurs when inefficient routines lead to insufficient performance.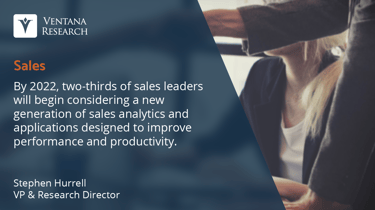 But this path could be avoided by using advanced technology designed to help identify and optimize the execution and performance of sales and guide better outcomes through helping identify and act on what can directly or indirectly impact sales performance. We assert that by 2022, two-thirds of sales leaders will begin considering a new generation of sales analytics and applications designed to improve performance and productivity.
Varicent is a provider of applications designed to manage and optimize sales within a technology category called "sales performance management." With its decades-long tenure and dedication to the mission of helping sales organizations manage incentives, quotas and territories, Varicent was ranked as an overall Value Index leader in our vendor and product research. Varicent recently brought forward its Symon.AI product, which melds historical data with machine learning and data science to provide forward-looking predictions and insights to guide potential actions and decisions.
Ventana Research selected Varicent Symon.AI for its ability to apply technological innovation to the office of sales using advanced AI and machine learning methods to discover and present actionable insights through intelligent narratives and visualization that are not easily found through traditional analytics. By unifying the data and analytics, the Symon.AI technology can help identify questions and answers to achieve the areas of opportunity and potential of sales performance but also in areas related like customers, products and even marketing. It is not reasonable to ask these organizations to become AI experts, but by utilizing technology such as that offered by Varicent, the gap can be eliminated and bring the focus back to the strategy and planning of sales effectiveness and guiding the efforts to reach the quotas and maximum potential from the territories. The real magic in Symon.AI is in the simplicity of experience using technology that does not require a data scientist but offers the sophistication of one built into the platform. This results in the enablement of easily engaged applications for sales and beyond.
If you have not had a chance to assess Symon.AI for your sales organization needs, the company and its products are well worth your time to evaluate. Congratulations Varicent for your continued innovation.
Regards,
Mark Smith