With the backing of Great Hill Partners and Spectrum Equity, the company Varicent Software launched on Jan. 1st, purchasing IBM's Sales Performance Management (SPM) assets and hiring employees from IBM's SPM group. They will join a new team that includes Varicent's original founders and key leadership.
This set of insights is drawn from our latest Value Index research, which provides an analytic assessment of how well vendor offerings address buyers' requirements. The Ventana Research Value Index on Sales Performance Management 2019 is the distillation of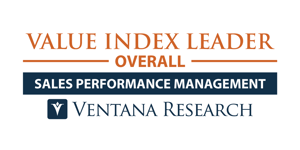 a year of market and product research efforts by Ventana Research. We evaluated IBM, now Varicent, and eight other vendors in seven categories, five product-related adaptability, capability, manageability, reliability and usability) and two concerning the vendor (TCO/ROI and vendor validation). To arrive at the Value Index rating for a given vendor, we weighted each of the seven categories to reflect its relative importance in an RFP process, with the weightings based on data derived from our benchmark research on sales performance management.
Varicent's comprehensive SPM offering ranks third overall in this Value Index evaluation. The longstanding vendor in this category is a Value Index Leader in four categories: Usability, Reliability, Manageability and TCO-ROI. IBM's strong performance in Validation and TCO-ROI contributed to its rating as a Value Index Leader in Customer Assurance and its strength in TCO-ROI is evident in its depth of support for customers assessing the value in an investment.
The product provides broad support for the needs of sales performance management. It has a history of meeting a range of requirements for sales organizations, in not only variable compensation but also modeling and planning so an organization can reach its full potential. This is reflected in its performance in Manageability and Reliability, where it is a Value Index Leader.
Our assessment finds room for improvement in the product's capabilities and adaptability; the product ranks fifth in both categories. The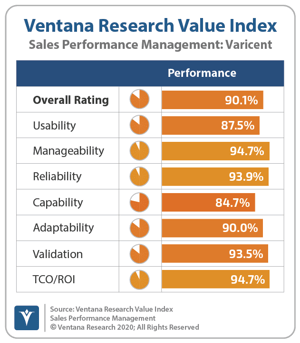 offering is lacking in application-specific support and while its support for collaboration and mobile technology needs in sales operations is quite strong, it could do more for the sales organization. The vendor also ranks fifth in Adaptability, where it met the minimum requirements for sales performance management but could improve integration.
Varicent has plans to invest in this product line and commits that it can do this in a more substantial manner as an independent company than was possible from within the IBM financial services industry, where the product resided during the Value Index evaluation period. Varicent has the potential to meet the needs of any sales force, regardless of size or industry.
This research-based index is the most comprehensive assessment of the value of sales performance management software in the industry. You can learn more about our Value Index as an effective vendor selection and RFI/RFP tool here. Participating vendors can learn more about how to use the Value Index here.
Regards,
Mark Smith