Ventana Research recently announced its 2020 research agenda for digital technology, continuing the guidance we've offered for nearly two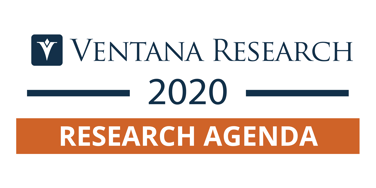 decades to help organizations derive optimal value and improve business outcomes. While we have seen more than four decades of digital transformation in the systems and tools businesses rely on, recent years have yielded transformative approaches to technology that can finally actually change the way people and processes work, rather than just make traditional processes more efficient.
But to achieve this requires that organizations examine the potential improvements to intelligence and automation while balancing the usability and manageability of the technology. A simple lift-and-shift of your current applications and technology to the cloud is insufficient for achieving success in digital transformation.
To help, we craft our research agenda using our firm's expertise on business requirements and our knowledge of technology vendors and products. Through our continuous market research, we offer insights and best practices to both the lines of business and IT as well as across industry verticals that will help any organization reach its maximum potential.
We have this year introduced a new focus on robotic automation, which involves the processes and underlying platforms that connect people and systems to enable continuous interactions. We are looking more closely at the data, analytics and technologies required to efficiently provide dynamically generated, personalized insights to individuals across the organization.
Digital technology helps organizations innovate and transform business and IT processes to improve efficiency and effectiveness. Our digital technology practice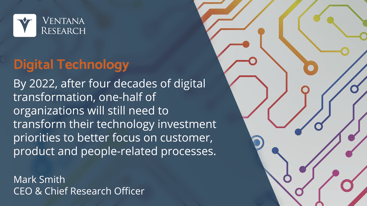 includes nine topics of focus: analytics and data; artificial intelligence and machine learning; blockchain; collaborative computing; conversational computing; the internet of things; mobile computing; robotic automation and extended reality.
Analytics and Data
Analytics and data have become more central to all aspects of business today than ever before. Analytics helps organizations apply data science and technology to all types of data to generate information and insights that can be used to improve outcomes. Our agenda reflects our intention to assess data integration, or the preparation and processing of data for analytic and operational use, as well as business intelligence-based processes that generate analytics accessible to lines of business across the organization. We'll determine how important collaboration and mobile technology are improving coordination and the value of analytics to the organization. We also will study natural language processing and natural language generation as tools for simplifying presentations and increasing organizational agility. We will undertake both new benchmark and value index research in 2020 to identify best practices and assess and rate technology vendors' potential to help meet the analytics and data needs of the future.
Artificial Intelligence and Machine Learning
Artificial intelligence (AI) and machine learning (ML) use technology to process information in much the way humans do, and incorporate the capability to improve accuracy as more data is processed. Our agenda this year reflects our intention to assess organizations' uses of AI and machine learning. We will examine the technological and ethical impacts of machine learning and AI. We plan to study how the use of AI can increase the effectiveness of workers by guiding actions and improving interactions. And we will identify best practices for the successful deployment of AI and ML in lines of business. We currently have ongoing Dynamic Insights research on machine learning and include organizations' needs and plans for and attitudes toward AI and ML in all of our research efforts.
Blockchain distributed ledger technology involves a shared database of assets with their owners located on multiple nodes of a network. Our research agenda reflects our view of the value of database technologies that interconnect and secure data across systems and organizations to enable both secure and efficient processing. Our research will examine where blockchain processing can best be applied to optimize transactions. We also will investigate how organizations are applying data governance and integration methods and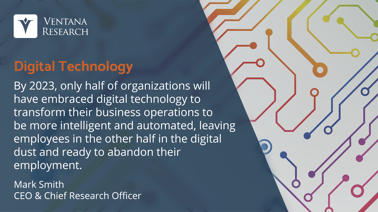 technologies to ensure the most effective data quality standards. We will conduct market research on blockchain technology to determine the current direction of its use and ways in which it fits the needs of organizations. And we will assess the gaps and opportunities in blockchain deployment that can help organizations optimize operations across cloud and on-premises systems.
Collaboration in business involves technology-mediated digital communication to support productivity and satisfaction across the organization. Mobile technology plays a key role in enabling real-time interactions, while unified communication technologies also help facilitate collaboration. The use of real-time and recorded video also enables more effective collaboration across the workforce. This year we will continue to research organizations' needs, plans and attitudes on collaborative computing technology in all of our benchmark research and Dynamic Insights.
Conversational computing enables people to digitally interact with systems using natural language to collaborate and take action. Conversational computing uses unified communication and collaborative technology to enable interactions across the workforce as well as more efficient operations. It also relies on mobile technology to enable real-time interactions and conversational technology applications and tools to simplify taking action. Real-time conversational technology can enable more effective interactions between people and machines. We will continue to research organizations' needs, plans and attitudes on conversational computing technology in our benchmark research and Dynamic Insights.
Internet of things devices and sensors transmit data through messages, enabling new business services and operational improvements. Innovative organizations are embracing intelligent devices that are instrumented and connected to generate data in motion. Messaging and streaming technologies enable secured integration to optimize business processes. Analyzing machine and sensor data delivered in real time by IoT devices makes it possible to efficiently monitor and adjust both machine and workforce operations. We currently have ongoing benchmark research on IoT and this year we will identify and report on trends and best practices in using the technology.
Mobile computing using smartphones, tablets and wearables enables organizations to connect people to the applications and information they need to perform their roles and meet their responsibilities. Our research agenda reflects our interest in the simplification of mobile applications and technologies. We plan to study the technological impact of native and HTML5 approaches to mobile business software as well as how the mobile user experience (UX) is facilitating or impeding attainment of business objectives. In our view, organizations should eliminate mobile technology that does not enable easy worker and manager access to required applications. We will continue this year to research the use of mobile computing technology as well as organizations' needs and attitudes in our benchmark research and Dynamic Insights.
Robotic automation is technology that orchestrates the workflow of messages and transactions that support activities and processes across the organization. We plan this year to determine how robotic automation can help facilitate the effective digital operations of business. We'll assess the use of robotic automation to help optimize processes throughout enterprise and of workflow technology that connects applications and systems both on-premises and resident in the cloud. We will research organizations' needs, plans for and attitudes toward these capabilities in all of our benchmark research and Dynamic Insights.
Extended reality (XR) is technology that combines augmented, mixed and virtual environments with worker experiences using mobile technology, including wearables. This year we plan to determine how extended reality can help the digital operations of businesses. We'll also assess the use of augmented reality to provide an enhanced look at physical objects such as products and equipment. Virtual reality and wearables technology can help organizations better understand activities and optimize business efforts. This year we will study ways extended reality can help in marketing, sales and service as well as the use of other aspects of extended reality technology in our benchmark research and Dynamic Insights.
Every organization, no matter how many employees or the size of its revenue, has an opportunity to significantly improve the digital experience of customers and the workforce. Digital enhancements to underlying processes and technologies can have an immediate impact on top- and bottom-line results. Once an organization establishes an effective digital environment that allows it to offer a fully digital experience, it can market it as a differentiator. Determining your path forward for 2020 requires an effective strategy built on an understanding of digital technology improvement opportunities.
Subscribe to our community to keep up to date on our research efforts in 2020 and check out our digital technology expertise and topic areas to see the detailed agenda and continuously updated 90-day calendar as well as more research facts and best practices.
Regards,
Mark Smith