The work environment today demands that your organization advances the efficiency to execute business processes for continuous operations to have a positive impact on business performance. The capability to be responsive to any range of minor to disruptive business events is required to support business continuity and level of organizational readiness to meet the needs of digital business. Ventana Research asserts that in 2025, one-quarter of organizations will remain digitally ineffective in achieving the business priorities for customer-, product- and people-related processes. It is essential to eliminate bottlenecks and become an organization that places action and decision-making at is center to optimize the execution of business processes.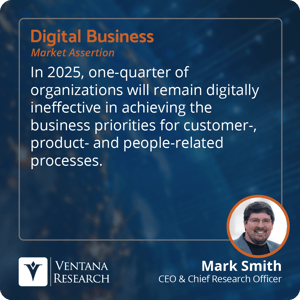 The ability to continuously measure, monitor and improve business processes is now economically and technically feasible through decades of technological evolution in what we call Business Process Intelligence. This topic is one that I established back in 2002 in my article published in Intelligent Enterprise magazine, where I was a columnist at the time. Now integration technologies supporting real-time events and streams of data can be distributed in a hub and spoke or direct point-to-point using any range of policies, rules and workflow. Operating in a range of enterprise and hybrid cloud computing architectures have made the capability a reality.
A more recent digital evolution in event-driven and streaming data technologies, along with what we have called process mining, has enabled the ability to harvest a wide range of real-time events as data that can trigger additional events and methods for addressing what is disputably the decade of data in motion architectures. My colleague asserts that through 2023, process mining will remain primarily associated with major software vendor applications, making it difficult for organizations to mine the preponderance of business processes. Now, with a variety of technological advancements in event-driven approaches, organizations can establish hubs or platform-based approaches that can be accessed by any range of tools and applications that need to be notified or that facilitate processing across and from any range of systems, including devices and sensors.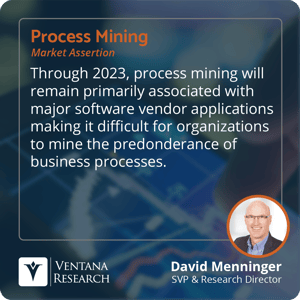 Business Process Intelligence should have an architectural approach that can manage the events, then model and flow through a process model that represents how business processes actually operate. Then, the next order of technology blends concepts and methods from decade-old business intelligence (BI) and business process management (BPM) to ensure that optimization generated through insights and notifications are generated is much more than just better automation through a new generation of event-driven architectures using analytics and process mining technologies. To truly gain the intelligence about such processes will guide business and IT investments to determine how to best improve using our Ventana Research three-phase approach, "understand-optimize-align":
To understand business processes, create a business process model that represents a set of business activities, each linked to a set of individual tasks that are triggered by events and supported by business rules and logic. By unifying real-time and non-real-time data together, you can apply analytics to generate process and performance metrics that represented in a dashboard.
To optimize your business processes, apply methods to utilize the metrics and underlying data using algorithms to provide predictive insights about potential issues and risks or even notification to invoke collaboration. The process metrics can then be transformed into operational task recommendations for taking action.
To align your business processes, establish goals and targets for process metrics and expected improvement and establish key process indicators that guide performance. Potentially compare to internal and external benchmarks that can be represented in a scorecard. Through continuous process monitoring, the automation of notifying people based on detection of thresholds or events is enabled for what we call alerting-to-guide action and decision workflows for acceptance and approvals.
Organizations face many barriers to achieving the desired level of execution in business processes to operate to their expectations. How they adapt to events that can impede digital velocity for any range of revenue and service levels is critical for their success. By establishing an event-driven architecture and process-model approach that can ingest and notify other applications and systems, the level of process efficiency has a chance to improve. Then, the next order of process optimization can be achieved by applying an analytics-driven processing approach to sense and notify through monitoring or generate insights that can help catalyze collaboration and actions that need to be taken.
The outcome from which is to manage process performance, improve efficiency and reduce cycle-time through empowering systems and employees to be responsive to business events that help make better, faster, and smarter actions and decisions. Consider adopting Business Process Intelligence as a fundamental requirement for your digital business.
Regards,
Mark Smith