Supercharging the customer experience (CX) is more than just an opportunity. It's essential for every organization that looks to optimize engagement at every moment of the customer journey. In times such as these, when business continuity is a top priority, organizations must address the customer experience, especially if it has not been a focal point of the executive team.
Gaining and maintaining customers' trust is not an "one-and-done" achievement. A superior CX requires continuous improvement and actions that demonstrate an organization's commitment to and investment in the relationship. A customer experience imperative is one that unifies an organization's customer engagement efforts, its internal people and processes and a the mission of exceeding customers' expectations at every interaction.
While it's important that an organization rally its efforts during a crisis such as a pandemic, increasing the velocity of communications and taking steps to provide new offers for products and services, it earns the customer's trust based not just on these efforts. Customer trust is based on an organization's sincerity in every aspect and delivering continuous value in every interaction for the duration of the relationship. Has your organization established best practices and policies that guide every department effort that involves customers? Do you manage customer experience across the entire journey or just for sales, support and services? Does technology ensure that every interaction is streamlined and efficient? Are you measuring the experience at every touchpoint and applying learning to improve?
Merely stating a commitment to the customer experience is insufficient; an organization must establish leadership and responsibilities that demonstrate an investment in customers, both internally and externally. Namely, a Chief Customer Officer with cross-organizational responsibility and a team to assess and enhance customer experiences through improved processes and technology is the ultimate demonstration of this commitment.
It's important to note that delivering excellent customer experiences is about ensuring your digital values with your customers. Communicating this message requires effective marketing of an organization's current efforts as well as future plans. Partnering with the Chief Marketing Officer is critical as he or she most likely has the tools and experience to market CX effectively. Like an organization's roadmap for its products and services, a roadmap for customer experience reflects an organization's investments and priorities.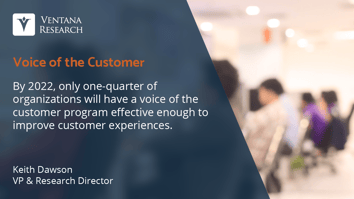 In addition, every chief customer officer and dedicated CX team needs a Voice of the Customer (VoC) program with a set of processes and technology that use customer feedback and sentiment along with analytics and machine learning to understand and optimize customer experiences. VoC processes and applications provide organizations with insight into actual customer experiences and can provide feedback across every interaction to guide improvement. In fact, we assert that by 2022, only one-quarter of organizations will have a voice of the customer program effective enough to improve customer experiences.
Organizations should prioritize investments that will yield continuous insights on customer sentiment. If CX technology is not able to capture feedback at the point of interaction, then it is probably the wrong technology. Post-interaction emails or surveys to capture the feedback are insufficient for a quality VoC program and demonstrate a lack of innovation and investment. Customers provide the most honest feedback at the time of the interaction so that's where an organization can most accurately determine satisfaction levels.
To be successful, an organization should define its efforts to improve the customer experience not just in internal presentations; this vision should be marketed and readily available on the organization's website. Case studies and testimonials are insufficient and only one small part of what is required to effectively market a customer experience. Marketing your commitment to the customer journey should not be a heroic effort but one that is easy and is part of taking pride into your investments. I assert by 2022, only one-quarter of organizations will realize the importance of branding and marketing a superior customer experience as a strategic corporate value that can help them attract and retain customers. Branding is the ultimate expression of your CX and as such it should represent your continuous programmatic efforts and, ideally, how those efforts reflect your corporate values. We at our firm believe in sharing this vision and have expressed our commitment in what we call the Ventana eXperience (VX).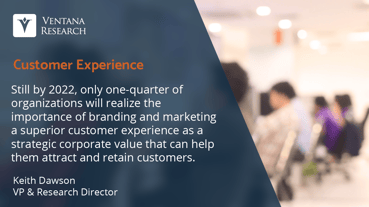 Digital technology that enhances the customer experience and enables the virtualization of customer engagement must be tested to ensure it's adaptive to changes in policies and procedures and even governmental regulations. This means guaranteeing that customer self-service through mobile applications and portals are reliable even in worst-case usage scenarios and that self-service is designed for resolution and not create more friction in the interaction that can lead to challenges in the contact center. Ensure your applications provide work experiences that help guide customer interactions, particularly for those on the front line of contact centers, who require a streamlined agent experience to help ensure an optimal customer experience.
If you are not sure how to approach improving the customer experience through the lens of business continuity, there are specific steps that should be taken, similar to the steps I outlined in my perspective on the imperative for digital innovation in business continuity. The use of digital technologies to reinvent the customer experience — from the outside in and from the inside out — requires the right lens that can support business continuity and not distract from it, which can ensure a more comprehensive approach. This requires an effective assessment of the CRM applications used across marketing, sales, field service as well as in the corporate office and the contact center with a priority of modern, open communications.
Your organization's success depends on improvement — by 2022, one-third of organizations will determine that their business applications are not suited to support their business continuity needs due to ineffective collaborative and mobile experiences, which are essential to operate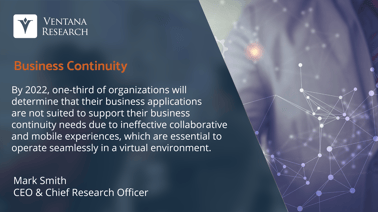 seamlessly in a virtual environment. Do your applications have the ability to fully operate virtually and on mobile devices when necessary? Are you able to have open communications between you and your customers? Have you performed resiliency testing to ensure everything can operate efficiently? If not, then you could be exposing your organization to risk that could directly impact your financial performance.
Every organization, no matter the industry, the number of its employees or the size of revenue, has an opportunity to significantly improve the customer experience. To achieve business continuity, optimize underlying processes and technology for your customers and the employees who interact with them. This can have an immediate impact on top- and bottom-line results and reflects the priority you place on your customers. Once your organization has an effective program and processes with leadership to deliver an optimal customer experience, it can take it to market as a differentiator. Determining your path forward for 2020 and beyond requires an effective strategy and an understanding of technology that can truly supercharge the customer experience.
Regards,
Mark Smith