Subscriptions are the future of business. Subscribers are essential to an organization's overall business potential because they generate recurring revenue. In a black-swan event, demand for a subscription may spike or dip, so in these situations it's of the essence that subscriptions get the attention they deserve. In challenging times, a "subscriber-first" mentality tends to take hold — this is not unreasonable but in focusing on satisfying subscribers, business leaders too often forget that the subscription experience is essential to retaining them. Fulfilling this objective requires technology designed for subscriptions. An organization's agility and ability to invest adequate time and resources into subscriptions is essential for its sustainability and operational effectiveness.
Operating under duress during a crisis such as a global pandemic and achieving business continuity is a challenge for any organization's skillset, particularly if digital transformation investments did not make it to business areas that needed it most. In fact, Ventana Research asserts that through 2021, one-half of organizations will realize that digital transformation investments have not met the organizational readiness requirements of business continuity, leading to a new focus on innovative digital technologies that more reliably sustain operations.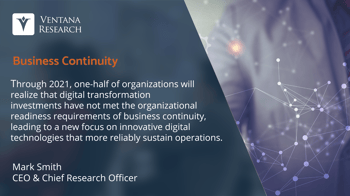 The business continuity imperative requires that organizations make it a priority to examine areas that are often overlooked but that make a meaningful impact on the subscriber experience and revenue objectives. One such business area is subscriptions — not just the service process or usage of them but managing the subscriber experience and subscription processes in a simple yet sophisticated manner. Effective engagement requires a subscription process that provides digital and virtual information that's consistent no matter the channel, from digital commerce and the company website to marketplaces where services are being merchandised for purchase.
It's critical that organizations provide a digital subscription experience that exceeds expectations, and this requires information that is accurate and relevant. The sustainability of every organization hinges on an effective subscriber experience and technology investments that enable it to be impactful and interactive. This, as I have pointed out, is essential to your selling experience and sales performance.
Building Continuity through Subscription Management
Every organization should start by assessing all short- and long-term efforts related to the subscriber experience and any subscription management approach already in place. No matter where an organization manages subscription information and orders — whether from a dedicated approach such as an ERP or CRM system, or worse, from a tangle of custom applications — it must continuously improve the subscriber experience. We assert that through 2023, fewer than one-half of organizations will have available technology that effectively and profitably supports subscription management processes and the subscriber life cycle.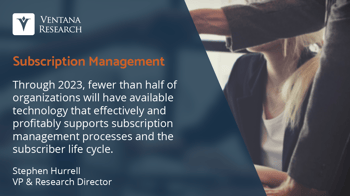 Furthermore, organizations that haven't yet unified subscription management and moved it to the cloud must make this an immediate priority. It's more difficult to readily access subscription information when it's not managed in a unified manner that ensures an acceptable level of resiliency for business continuity. It is essential to go beyond conventional wisdom; applications in the cloud and mobile access are basic steps in digital transformation, but that doesn't mean that everything will be just fine. We have all witnessed the peril of this mindset. Many current approaches lack agility and require significant improvements in processes and technology.
Organizations should cultivate subscription information that encourages subscriber engagement — whether in the physical world or through digital systems, commerce and websites that provide subscriptions — to bolster more interactive subscriber experiences. Doing this requires more intelligent, streamlined and automated subscription processes so responsible parties can focus on areas that need immediate improvement, whether velocity and volume of interest and sales or outdated or less-than-engaging subscription information.
An organization's investment in its subscriptions as products will determine its success and this is impossible without high-quality, seamless digital subscriber experiences. In fact, Ventana Research asserts that by 2022, one-half of organizations will determine that the digital experiences they provide are not intelligent or automated and fall short in maintaining business continuity for organizational readiness, resulting in lost customers and workforce instability. Organizations must effectively engage subscribers to ensure longevity in the relationship.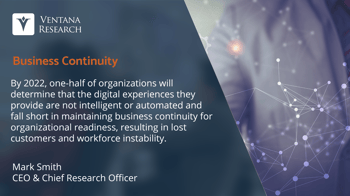 Success is about more than just gaining new subscribers and maintaining subscription information; it's about more than increasing levels of productivity and even sustaining those efforts in best and worst of times and under pressure and over time. Subscription business success is about increasing effectiveness and bringing new value to the process itself to gain maximum outcomes.
A clear understanding of subscription management requires a platform that can manage subscriptions — from definitions and related information to the hierarchies and segmentation of pricing and promotions that are used across B2B and B2C channels. In addition, organizations should seek a platform that enables them to manage the selection and configuration of services and determine pricing and the related terms and conditions. Billing and payments are critical for finance teams' revenue management efforts, particularly in light of recent regulations on revenue recognition such as ASC 606 and IFRS 15. A platform should provide guidance on when to recognize revenue based on time of activation and usage. Finance departments also need software that helps them respond to subscription payment challenges related to collections and potential fraudulent activities that require cybersecurity protections.
Subscription management should do more than just enhance productivity in the operations. It should provide insights into critical metrics that indicate the health of the business. A portfolio of critical subscriber and subscription analytics should include metrics such as average revenue per subscriber and the subscriber acquisition cost (SAC), often helpful guide poles to managing profitability. Organizations can use subscriber lifetime value (SLV) to determine subscriber ROI, which in turn can indicate the sustainability of the overall subscriber business. It's also potentially worthwhile to examine subscriber churn and subscriber satisfaction (SS) vis-à-vis monthly (MRR) or annual recurring revenue (ARR) to better identify risks and challenges. But metrics and a dashboard alone are insufficient; the real value comes from applying machine learning and uncovering challenges related to retention, pricing and billing.
The subscriber experience unifies an organization's efforts to not just sustain continuity but bring new value to digital merchandising and marketing that sustain digital commerce efforts, helping exceed subscribers' expectations. Optimizing the subscriber experience is more than just a nicety; it's essential for every organization that looks to make the most of buyer and customer engagement and relationships. Ventana Research asserts that by end of 2022, two-thirds of organizations using digital commerce systems will conclude they need to abandon existing technology as it is ineffective in supporting engaging subscriber and subscription experiences.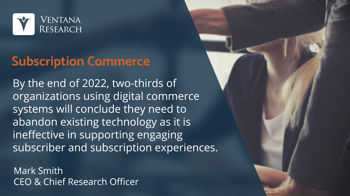 To maintain business continuity during challenging times, an organization may need to offer flexibility, suspending bills, reducing payments or billing more frequently to reduce the challenges of a large payment. This effort is especially important when the current digital commerce for subscriptions and services is not providing the experience that subscribers expect or that your organization desires. Without an optimized subscription experience, an organization won't be able to elevate the subscriber experience; I recently discussed why this is a critical part of your mission for business continuity and beyond.
Digital Subscriber Communications is Essential
Managing subscriber experiences requires not just the right applications but ones that enable unified digital communications and collaboration that supports the customer experience, which I have written about. Challenges such as a global pandemic or natural disasters demand digital communication across a distributed and potentially virtualized workforce and with subscribers; however, crises often shift priorities and engagement can suffer. Being collaborative and responsive in communications is important and organizations must design a program that's comprehensive across all channels and valuable to all parties. This is what resiliency and business continuity is all about.
And this is why we assert that through 2023, one-third of organizations will initiate business continuity planning to realign the priority of technology investments required to operate seamlessly in a distributed and virtual manner in customer, product, supply chain and workforce processes. Organizations must ensure their digital communications can interoperate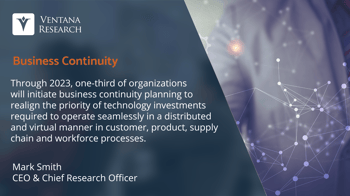 with the necessary applications and provide digital experiences that help engage not just those in the workforce directly involved in subscriber processes but those across the organization that are responsible for subscriptions. Organizations must enable digital collaboration among all parties in the workforce involved in the subscriber lifecycle to reduce friction and retain customers. This collaboration might be best addressed through conversational computing methods such as intelligent virtual agents, which are smarter than most bots and rapidly respond to the needs of subscribers.
Engaging an organization in new, virtual ways is essential to enacting work management methods that best support subscription processes. It's important that an organization rally its digital communications efforts during a crisis such as a pandemic, because effectiveness in enhancing subscriber processes requires collaboration across the organization to manage subscriptions as products in an intelligent manner. To be effective, organizations should establish best practices and policies that guide improvement to subscriber experiences, enhancing virtual interactions with buyers and customers for business continuity. This includes supporting direct engagement with a contact center for handling questions at time of purchase, service-related issues or billing and payments. And organizations must keep this axiom of business continuity in mind: Applications and systems must support digital subscriber communications outside of normal operations.
Subscriber Experiences Matter
Many organizations have managed subscriptions as if they were traditional products — across an array of business applications — but few of these applications support a dedicated focus on optimizing the subscriber lifecycle and experience across a range of business processes for subscriptions. A quality subscriber experience requires the right technology, which currently we don't find in the traditional ERP or CRM applications, or even in digital commerce approaches. We assert that through 2023, only one-third of organizations will have adopted new subscription management platforms that are able to gather and analyze information on all interactions to ascertain the entire subscriber experience.
It's important that an organization make investments into supporting subscription management that uses an automated and intelligent approach to optimize priorities and resources, simplifying the execution of subscription-related tasks and activities to improve outcomes. The current movement in technology for subscription management can help enhance the digital and virtual aspects of subscriptions using a common platform that can author and support endeavors to optimize interactions with subscribers in B2C or B2B markets.
Organizations must improve subscriber experiences by assessing and prioritizing improvements to subscription processes to optimize engagement and monetization. Using the right technology is foundational to success and creates opportunities for breakthrough growth that far exceeds mere productivity improvements. Sustainable growth in subscription management and thus better subscriber experiences are only possible when the organization is deliberate about the technology it uses to work collaboratively across the organization as well as with subscribers and potential related partners and suppliers. Organizations with a unified approach will find that it's easier to achieve organizational agility when blended with digital communication platforms that are open and secure and that can help increase the velocity of engaging in and executing subscription-related work.
Organizations also should prioritize investments that enable more effective digital merchandising. They need a view of not just one subscription but the digital shelf of options or upgrades, and should be able to virtualize them, from previews and simulations to specifications. Just posting an image and description was possible a decade ago and does not provide an effective digital subscriber experience. In cases where the subscription involves equipment or products, extended reality (XR) technology can virtualize and augment the subscriber experience, significantly enhancing subscriber engagement and often answering shoppers' questions without losing valuable time on a phone call. Embracing methods that use mobile devices to virtualize product subscriptions, whether in a facility or a living room, can further enhance the subscriber experience, thus increasing likelihood of a purchase.
Organizations should seek to establish or expand a Voice of the Subscriber (VoS) program with a set of processes and technology that uses subscriber feedback and sentiment along with analytics and machine learning to gain insights to optimize subscription experiences. By 2022, only one-quarter of organizations will have a voice-of-the-subscriber (VoS) program effective enough to improve subscriber experiences. Organizations can better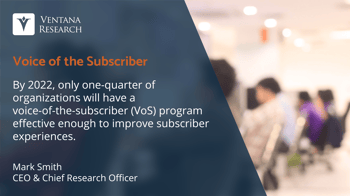 determine sentiment about the subscriber experience by collecting feedback from subscribers and related parties at time of purchase or when the product or service is used. If an organization is unable to capture and monitor interactions and online feedback from all relevant parties, then it's probably missing the insights it requires to effectively improve the subscriber experience. Continuous feedback can help increase productivity but, more importantly, the effectiveness of the organization. Additionally, sharing digital feedback such as reviews can instill confidence in subscribers.
Smart Investments Matter
Organizations must consider whether investments in applications and technology that support subscriber experiences can be utilized across channels and systems and if they're built from a cloud-based subscription management system. Supporting the "subscribe to recognize" process is significantly different than traditional order-to-cash processes. The right subscription management technology includes a platform to support the portfolio an organization needs to facilitate the enterprise and extended chain of potential partners and suppliers who engage in subscription commerce. Investments should do more than automate specific functions such as billing or ordering. We at Ventana Research assert that by 2022, more than two-thirds of subscriber experiences will be redesigned using technology to better engage customers and monetize opportunities.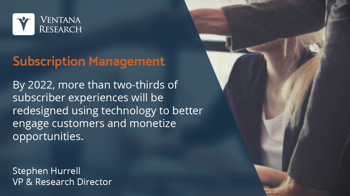 Smart investment requires an effective assessment of an array of applications and tools. A solid evaluation includes the following questions:
Do your subscription management technologies support the development and maintenance of subscriber experiences across channels and systems?

Do you have the subscription management processes to optimize experiences and increase subscribers' engagement?

Do you effectively present your subscriptions with peer reviews?

Are you able to track usage and provide metered subscription billing?

Can you manage your subscription catalog and pricing to manage revenue to specific targets?

Are you able to have digital subscription communications across relevant parties in the organization — and to the demand and supply chain of partners and suppliers?

Can you monitor and engage your subscriber with subscription experiences that you can measure and methodically improve?

Are you able to collaborate on specific work tasks related to subscriptions to improve the quality of information and effectiveness of the experience?

Are you able to assess subscriber satisfaction with a VoS program and use feedback to make improvements?
A "no" answer to any of these questions indicates risk that could directly impact an organization's potential with subscribers. Every organization, no matter the industry, the number of its employees or the size, has an opportunity to significantly improve its subscriber experience.
It's critical that an application enable leaders and managers to adequately plan for and respond to needed changes, from black swan events to meeting typical business continuity obligations. Organizations are unwise to even consider any investments that aren't mobile-ready and powered with collaboration methods across the workforce. We assert that by 2022, one-third of organizations will determine that their business applications are not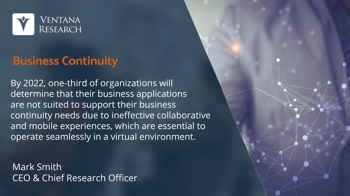 suited to support their business continuity needs due to ineffective collaborative and mobile experiences, which are essential to operate seamlessly in a virtual environment. Every organization must ensure it has technology that can operate on a mobile device and in a remote location, including from the couch and home office. Organizations should be ruthless about any operation that impairs the subscription experience. While organizations have spent significant resources and efforts on digital transformation in the form of automation and efficiency improvements, a far more important consideration is whether those investments provide the impact to the work desired and can support a focus on subscription that enables subscriber experiences.
Partner with Finance
It's difficult to overstate the importance of teamwork needed with finance when it comes to subscription management and the billing and recognition of recurring revenue. This focus on recurring revenue might be managed by the Chief Revenue Officer or maybe a newly formed position called Chief Subscription Officer like a Chief Products Officer. Those in this role are tasked with looking at monetization beyond traditional direct sales, rather at how an organization can further monetize its products and services through subscriptions to boost financial performance. Smart finance organizations have developed revenue models to assess any risk variables that can impact the organization's ability to achieve its subscription revenue targets.
A successful subscription-focused organization goes further, embracing collaborative and continuous planning for all aspects of their subscription business, including marketing, selling, fulfillment, service and operations as well as the recognition and potential compensation and incentives for those who are responsible for influencing demand and purchasing. A focus on subscription revenue is the foundation of both finance and operational leadership, but the "softer side" of the relationship with the customer organization is just as important for ensuring business continuity and a sustainable relationship.
The CFO and finance leadership need to actively support partnering with those who manage subscriptions to examine potential subscription management improvements and investments. Success requires engagement, not just fulfilling subscription requests with operational efficiency. Similarly, legacy investments into SFA, commerce, CRM and ERP to knit together subscription processes is insufficient, especially when it comes to price and revenue strategies. For this reason, we assert that by 2022, one-third of finance organizations will determine that pricing of subscriptions is mismanaged and begin to invest in new price and revenue management software.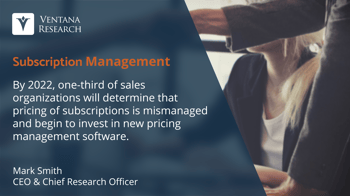 Unfortunately, finance might not understand subscription management and the associated applications nor the value they provide. Technology vendors might not have not done a great job marketing and selling their offering to the office of finance. This should not be an impediment for finance, but an opportunity for operations and revenue leadership to develop a working plan that unifies their efforts with a common platform and applications that optimize the subscriber experience and maximize subscription revenue. And of course, this plan should include continuous planning and analytics that helps model and analyze subscribers, subscriptions and pricing and revenue to ensure maximum return. Executive teams and even boards of directors are responsible for ensuring that investments into the subscriber experience and subscription management will support the needs of today and in the future.
Next Steps
In times of crisis such as the current global health pandemic, when business continuity is a top priority, organizations mustn't neglect digital investments in the subscriber experience, especially if it has not previously been a focal point of executive leadership or a team involved with subscription processes, whether marketing, selling or servicing. A superior subscriber experience demands technology that supports processes that improve productivity and the overall digital effectiveness of subscription information. Leadership that invests in managing subscriptions and related services can have a profound impact on subscriber engagement and an organization's ability to reach expected revenue and financial performance.
Continuous improvement is a shared responsibility across business and IT leadership, and impossible to do without subscription management designed to optimize the subscriber experience. This approach is not about technology for configuring a product or service and into a shopping basket (sometimes done by CPQ technology), or properly generating an invoice (in many cases done by accounting systems), or tagging activation for revenue recognition. It's about a dedicated approach to subscription management that's focused on the experiences and processes related to subscribers and subscriptions and unfortunately many organizations continue to lack. Antiquated methods such as one-off extensions to an ERP system or CPQ and digital shopping carts for B2B and B2C commerce are not always designed for straight-through processing of subscriptions and they certainly don't provide a modern digital product experience. One-off technology approaches can decrease productivity, diminish accountability and increase risk. It is critical that organizations, especially in times of duress, use business continuity as a driver to improve planning for and the intelligent use of subscriptions and related communications and work, and thus should examine their investments in technologies.
If you are not sure how to approach improving the digital aspects of the subscriber and subscription experience — and thus revenue performance — through the lens of business continuity, there are specific steps that every organization should take, similar to the steps outlined in my perspective on the imperative for digital innovation in business continuity. The effective use of digital technologies as I have written can reinvent the subscriber experience — from the outside in and from the inside out — requires the right lens that can support business continuity and not distract from it, which can ensure a more comprehensive approach. Most organizations have realized this and are making it a priority to be more prepared. We assert that by 2022, after a decade of concerted efforts in digital transformation, one-half of organizations will not have established business continuity as an investment priority and will not be prepared to operate in a future pandemic or crisis, which will lead to increased operational risks.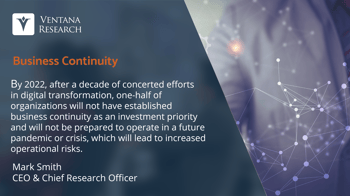 To achieve business continuity, optimize underlying subscription processes and technology for your organization as well as for your subscribers. This can have an immediate impact on top- and bottom-line results and reflects the priority you place on your subscriber experience. Once your organization has an effective approach to digitally secure and open communications, along with the right tools for subscription management and leadership committed to delivering an optimal subscriber experience, you can be assured that your organization is built to last. Ensure that existing and future subscription management technology investments are designed for effective engagement and a fantastic subscriber experience, not just for automation and efficiency. The subscriber experience is much more than just the digital usage of a service, or the user experience (UX) of subscribing.
Every subscriber matters, as does the internal team in your organization dedicated to subscriptions across departments fulfilling on the processes that support them. The entire executive team — the CEO's staff, the CMO, CFO, CIO, CCO, COO, CRO, CHRO and the Chief Digital or Innovation Officers— should be aware of the strategy and plans for optimizing subscription processes and subscriber experiences. Organizational leadership needs to ensure they embrace subscription management and the discipline it entails throughout the organization. The future depends on the active involvement of those who see building sustainable subscriber experiences as fundamental to business continuity and determining the flexibility to engage and retain every subscriber.
Determining your path forward for 2020 and beyond requires an effective strategy and an understanding of how to best sustain the required business continuity for your organization. Make sure you are using applications and technology for subscription management that can truly provide an effective subscriber experience that's focused on engagement and sustainable long-term relationships.
Regards,
Mark