Contact centers play a substantial role in an organization's success. The customer journey is engaged here, at each moment of interaction. Agents, whether human or machine-driven, are intrinsic to the customer experience and the value of the contact center. Customers are essential to an organizations' overall business potential because they generate revenue. In a black-swan event, demand for customer service may spike or dip, so in these situations it's of the essence that agents get the attention they deserve. In challenging times, a "customer-first" mentality tends to take hold — this is natural, but in focusing on satisfying customers, business leaders too often forget that the agent experience is essential to effective customer engagement. Fulfilling this objective requires contact center technology designed for this purpose. An organization's agility and ability to invest adequate time and resources into agents is essential for its sustainability and contact center effectiveness.
Operating under duress during a crisis such as a global pandemic and achieving business continuity is a challenge for any organization's skillset, particularly if digital transformation investments did not make it to business areas that needed it — too often the contact center. We assert that by 2022, after a decade of concerted efforts in digital transformation, one-half of organizations will not have established business continuity as an investment priority and will not be prepared to operate in a future pandemic or crisis, which will lead to increased operational risks.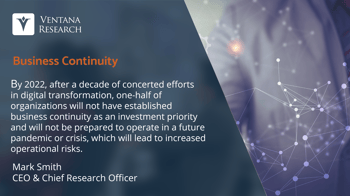 The business continuity imperative requires that organizations make it a priority to examine customer interactions — too often overlooked — that make a meaningful impact on the customer experience. One such business area is contact centers, not just the technology infrastructure for products and customers but tools to manage agents and their experience with contact center processes in a simple yet sophisticated manner. Effective customer engagement requires that agents provide digital, virtual engagement that's consistent no matter the channel, from call centers, digital commerce and the company website to marketplaces where products are being merchandised for purchase or for customer service.
It's critical that organizations provide a highly effective digital customer experience that exceeds expectations, and this requires human or machine or intelligent virtual agents (IVA) with information that is accurate and relevant. The sustainability of every organization hinges on an effective customer experience and technology investments that enable it to be impactful and interactive. This, as I have pointed out, is essential to the voice and mission of your customer experience.
Building Continuity through Agent Experiences
Every organization should start by assessing all short- and long-term efforts related to the agent experience and any contact center approach already in place. No matter where an organization manages customer information and orders — whether from a dedicated approach such as an CRM system, or worse, from a tangle of custom applications — it must first and foremost keep its focus on improving the customer experience. We assert that through 2022, only one-third of organizations will reconsider how agents are managed and align coaching activities and learning experiences that directly improve agents' knowledge and operational effectiveness.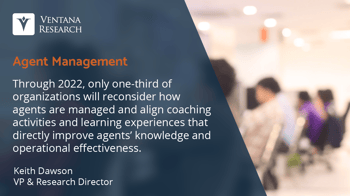 Furthermore, organizations that haven't yet unified agent management (formerly called WFO, or workforce optimization) and moved it to the cloud must make this an immediate priority. It's more difficult to readily access agents when it's not managed in a way that ensures an acceptable level of resiliency for business continuity. It is essential to go beyond conventional wisdom; applications in the cloud are basic steps in digital transformation but that doesn't mean that everything will be just fine. We have all witnessed the peril of this mindset. Many current approaches lack agility and require significant improvements in processes and technology to meet agent management and contact center needs.
Organizations should cultivate agents that encourages engagement — whether in learning paths and use of learning management systems (LMS) or digital collaboration on policy and product information — to bolster more interactive agent experiences. Doing this requires more intelligent, streamlined agent processes so contact center and customer leadership can focus on areas that need immediate improvement, such as velocity and volume of customer service or engagement needs across channels or applications.
An organization's investment in its digital experiences with customers will determine its success, and this is impossible without high-quality, seamless digital agent experiences. In fact, Ventana Research asserts that by 2022, one-half of organizations will determine that the digital experiences they provide are not intelligent or automated and fall short in maintaining business continuity for organizational readiness, resulting in lost customers and workforce instability. Organizations must effectively engage agents to ensure longevity in the relationship with them and the engagement with customers.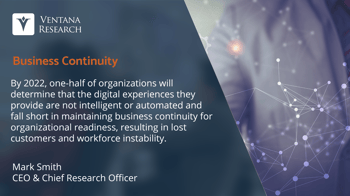 Success is about more than just maintaining a status quo; it's about more than increasing levels of engagement and related productivity; it about more than even sustaining those efforts in best and worst of times and under pressure and over time. Agent success is about increasing effectiveness and bringing new value to agents by supporting their needs to realize the organization's potential through simpler desktop that embraces robotic process automation (RPA) and access to knowledge relevant to the needs of the moment.
A clear understanding of agent management requires a platform that can manage agents — from their role, responsibilities, skills, schedules to their performance; this provides the foundation for a contact center to utilize agents most effectively. In addition, organizations should seek a platform that enables them to consider agents' preferences when configuring schedules. Challenging times require a lot from agents, both mentally and physically, and in these moments organizations must be prepared to assess agent readiness and optimize their experience to maintain business continuity. Agent management platforms should provide guidance on when to know the level of productivity and engagement quality of agents. We assert by 2023, one-half of organizations will conclude that it is important to address agents' needs for more flexibility and a better work-life balance and that their workforce optimization technology is not up to that task.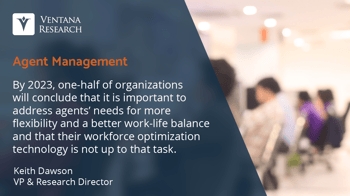 Agent management should do more than just enhance operations, and the productivity and readiness of the contact center. It should provide insights into critical agent metrics that indicate the health of the contact center. Portfolios of agent performance analytics can help guide contact center performance but metrics and a dashboard alone are insufficient. The real value comes from applying machine learning and uncovering challenges related to engagement and satisfaction through actual conversational analytics that capture language and sentiment.
The agent experience unifies an organization's efforts to not just sustain continuity but bring new value to customers, using their responses and recommendations to sustain engagement and exceed expectations. Optimizing the agent experience is more than just a nicety; it's essential for every organization that looks to make the most of customer engagement and relationships.
To maintain business continuity during challenging times, an organization may need to offer flexibility to ensure agents are ready to be empathic with customers, specifically, that they are equipped and empowered to address questions regarding suspending bills or reducing payments to help alleviate economic challenges. This effort is especially important when times are difficult. Without a prepared workforce, a contact center is not ready to fulfill agents or customers' expectations. I recently discussed why this is a critical part of your mission for business continuity and beyond.
Agent and Customer Communications are Essential
Managing customer experiences requires applications that enable unified digital communications and collaboration that supports the customer experience. Challenges such as a global pandemic or natural disasters demand digital communication across a distributed and potentially virtualized workforce and with customers; however, crises often shift priorities and engagement can suffer. To be collaborative and responsive in communications, organizations must design a program that's comprehensive across all channels and valuable to all parties. This is what resiliency and business continuity is all about.
And this is why we assert that through 2023, one-third of organizations will initiate business continuity planning to realign the priority of technology investments required to operate seamlessly in a distributed and virtual manner in customer, product, supply chain and workforce processes. Organizations must ensure their digital communications can interoperate with the necessary applications and provide digital experiences that help engage not just those in the workforce directly involved in contact center processes but those across the organization that are responsible for customers. By 2023, one-quarter of organizations will look to unified
communications (UCaaS) and contact center-as-a-service (CCaaS) technology to collaborate in the enterprise and with customers more effectively. This realization has led to more organizations examining the use of communication platform as-a-service (CPaaS) as the means for more effective digital experiences in collaborations with customers. Organizations must enable digital communications among all parties involved in the customer lifecycle of a contact center's agent workforce to reduce friction and retain them. This collaboration might be best addressed through conversational computing methods such as intelligent virtual agents, which are smarter than most bots and rapidly respond to the needs of customers. Any of the telephony and especially digital interactions require the cryptographic-level security using one's trusted digital identity and not through commonly found personal information on the dark web that can be used to fraudulently represent a customer to an agent.
Engaging an organization in new, virtual ways is essential to enacting work management methods that best support contact centers processes. It's important that an organization rally its digital communications efforts during a crisis such as a pandemic, because effectiveness in enhancing contact center processes requires collaboration across the organization to manage agents in an intelligent manner. To be effective, organizations should establish best practices and policies that guide improvement to agent experiences, enhancing virtual interactions with customers for business continuity. This includes supporting direct engagement with a contact center for questions at time of purchase, service-related issues or billing and payments. And organizations must keep this axiom of business continuity in mind: Applications and systems must support digital communications outside of normal operations.
Customer Experiences Matter
Many organizations manage customer interactions across an array of business applications, but few of these applications help an organization optimize the customer experience and lifecycle. A quality customer experience requires the right technology, which currently we don't always find in legacy contact center or CRM applications. We assert that through 2022, one-third of organizations will determine that their omnichannel interactions are ineffective and will abandon existing contact center technology.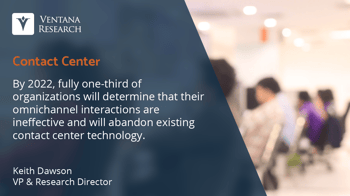 It's important that an organization make investments into supporting contact centers that take an automated and intelligent approach to optimizing priorities and resources, simplifying the execution of agent-related tasks and activities to improve outcomes. The current movement in technology for contact centers help enhance the digital and virtual aspects of customers by using a common platform that can orchestrate interactions between agents and customers in both B2C and B2B markets.
Organizations must improve customers' experiences by assessing and prioritizing improvements to contact center processes to optimize engagement and satisfaction. Using the right technology is foundational to success and creates opportunities for breakthrough growth that far exceeds mere productivity improvements. Sustainable growth in contact centers and thus better customer experiences are only possible when an organization is deliberate about the technology it uses to work collaboratively across the organization as well as with customers, partners and suppliers — whether longstanding, new or potential. Organizations with a unified approach will find that it's easier to achieve organizational agility when blended with digital communication platforms that are open and secure and that can help increase the velocity of engaging in and executing customer-related work.
Organizations also should prioritize investments that enable more effective digital interactions with customers. They need a contextual view of both human and virtual agent interactions. Instrumenting automated and scripted bots based on FAQs and basic rules will not meet customers' expectations, much less provide an effective digital customer experience. Modern intelligent virtual agents and conversational experiences have advanced significantly and deserve a fair evaluation. These modern experiences can help significantly improve the customer experience, enhancing engagement and often answering customer questions without wasting valuable time on a phone call. Organizations must embrace technology that enables easy mobile experiences.
With the right technology in place, organizations should seek to establish or expand a Voice of the Customer (VoC) program: a set of processes and technology that uses customer feedback and sentiment along with analytics and machine learning to gain insights to optimize customer experiences. In parallel, contact centers should enact a Voice of the Agent (VoA) initiative to determine challenges and issues that impact agents' ability to interact with and satisfy customers. By 2023, one-fifth of organizations will establish a voice-of-the-agent (VoA) program, enabling them to ascertain agent satisfaction through analysis of interactions with and feedback from customers.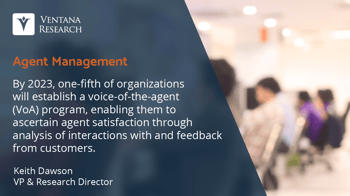 Organizations can better determine sentiment about the customer experience by collecting feedback from agents and related parties at time of engagement. If an organization is unable to capture and monitor interactions and online feedback from all relevant parties, agents and customers, then it's probably missing the insights it requires to effectivelyimprove the customer experience. This is why we assert that by the end of 2021, only one-quarter of organizations will have the insights needed to understand the correlation between the customer experience and the employee experience. Continuous feedback can help increase productivity but, more importantly, the effectiveness of the organization.
Smart Investments Matter
Organizations should prioritize investments in applications and technology that support cloud-based agent experiences that are easy to access and consistent across channels and systems. The right agent management technology includes a platform that supports the portfolio an organization needs to facilitate across the enterprise and extended chain of potential partners and suppliers who engage contact centers, including any outsourced providers. Investments should do more than automate specific functions such as responding to information and issues related to products and services.
Smart investment requires an effective assessment of an array of applications and tools. A solid evaluation includes the following questions:
Do your agent management technologies support the development and maintenance of customer experiences across channels and systems?

Do you have the contact center management processes to optimize customer experiences and increase agent engagement?

Are you able to track engagement of agents and managers?

Are you able to have digital subscription communications across relevant parties in the organization — and to the demand and supply chain of partners and suppliers?

Can you monitor and engage your customers with agent experiences that you can measure and methodically improve?

Are you able to collaborate on specific work tasks related to customers to improve the quality of agent effectiveness of the experience?

Are you able to assess agent satisfaction with a VoA program and use feedback to make improvements?
A "no" answer to any of these questions indicates risk that could directly impact an organization's potential with customers. Every organization, no matter the industry, the number of its employees or the size, has an opportunity to significantly improve its agent experience.
It's critical that an application enable leaders and managers to adequately plan for and respond to needed changes, from black-swan events to meeting typical business continuity obligations. Organizations are unwise to even consider any investments that aren't mobile-ready and powered with collaboration methods for customers and to the the workforce of agents and contact centers. We assert that by 2022, one-third of organizations will determine that their business applications are not suited to support their business continuity needs due to ineffective collaborative and mobile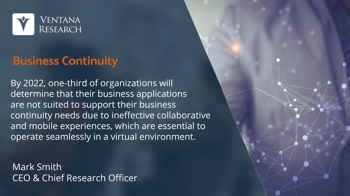 experiences, which are essential to operate seamlessly in a virtual environment. Every organization must ensure it has technology that can operate on a mobile device and in a remote location, including from the couch and home office. Organizations should be ruthless about any operation that impairs the customer experience. While organizations have spent significant resources and efforts on digital transformation in the form of automation and efficiency improvements like that found in robotic process automation (RPA), a far more important consideration is whether those investments improve effectiveness and support a contact center that enables excellent agent experiences.
Next Steps
In times of crisis such as the current global health pandemic, when business continuity is a top priority, organizations mustn't neglect digital investments in the agent experience, especially if it has not previously been a focal point of executive leadership or a team involved with contact center processes, whether servicing or selling to customers. A superior agent experience demands technology that supports processes that improve productivity and the overall digital effectiveness of agents and the information they need to be successful. Leadership that invests in managing agents and contact centers can have a profound impact on agent engagement and an organization's ability to reach expected customer satisfaction that can be correlated to retention and growth for your financial performance.
Continuous improvement is a shared responsibility across business and IT leadership, and impossible to do without agent management designed to optimize the agent experience. This approach is not about technology for the channels of communications or the infrastructure for the omnichannel communications. It's about a dedicated approach to agent management that's focused on the experiences and processes related to contact centers and customers, which unfortunately many organizations continue to lack. Antiquated methods such as one-off add-ons or extensions to a CRM or digital commerce system are not always designed for the quality of experiences expected by customers and they certainly don't provide a modern digital product experience. One-off technology approaches can decrease productivity, diminish accountability and increase risk. It is critical that organizations, especially in times of duress, use business continuity as a driver to improve planning for agent management and contact centers and the related communications, and thus should examine their investments in technologies.
If you are not sure how to approach improving the digital aspects of the agent experience and contact centers — and thus customer satisfaction — through the lens of business continuity, there are specific steps that every organization should take, similar to the steps outlined in my perspective on the imperative for digital innovation in business continuity. The effective use of digital technologies can reinvent the customer and agent experience — from the outside in and from the inside out — requires the right lens that can support business continuity and not distract from it, which can ensure a more comprehensive approach. Most organizations have realized this and are making it a priority to be more prepared. In fact, Ventana Research asserts that through 2021, one-half of organizations will realize that digital transformation investments have not met the organizational readiness requirements of business continuity, leading to a new focus on innovative digital technologies that more reliably sustain operations.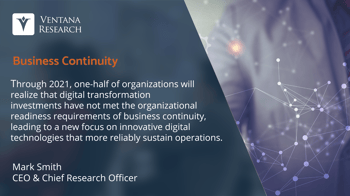 To achieve business continuity, optimize underlying contact center processes and technology for your organization as well as for your agents. This can have an immediate impact on top- and bottom-line results and reflects the priority you place on your agent experience. Once your organization has an effective approach to digital experiences and communications, along with the right tools for agents to deliver an optimal customer experience, you can be assured that your organization is built to last. Ensure that existing and future agent management technology investments are designed for effective engagement and a fantastic customer experience, not just for automation and efficiency. The agent experience is much more than just the digital usage of a service, or the user experience (UX) of contact center technology.
Every customer matters, as does the internal team in your organization dedicated to subscriptions across departments fulfilling on the processes that support them. The entire executive team — the CEO's staff, the CMO, CFO, CIO, CCO, COO, CRO, CHRO and the Chief Digital or Innovation Officers— should be aware of the strategy and plans for optimizing contact center processes and agent experiences. Organizational leadership needs to ensure they embrace agent management and the discipline it entails throughout the organization. The future depends on the active involvement of those who see building sustainable agent experiences as fundamental to business continuity and determining the flexibility to engage and retain every customer.
Determining your path forward for 2020 and beyond requires an effective strategy and an understanding of how to best sustain your contact center. Make sure you are using applications and technology for agent management that can provide an effective customer experience that's focused on enhancing customer engagement and fostering sustainable long-term relationships.
Regards,
Mark