The annual Ventana Research Digital Innovation Awards showcases advances in the productivity and potential of business applications, as well as technology that contributes significantly to improved efficiency and productivity in the processes and performance of an organization. Our goal is to recognize technology and vendors that have introduced noteworthy innovations in technology that advance business and IT.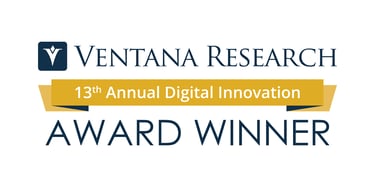 Ventana Research has awarded Talkdesk: CX Cloud its 2020 Digital Innovation Award for Customer Experience. This award recognizes the technology vendor that best exemplifies innovation in applications and technologies that support the engagement with customers for any purpose.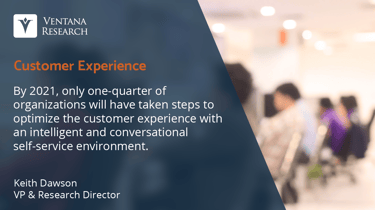 The demand to provide the best possible customer experience continues to be a top priority for every organization. And yet by 2021, we assert that only one-quarter of organizations will have taken steps to optimize the customer experience with an intelligent and conversational self-service environment. Those that are not part of the 25 percent will find themselves in challenging situations not able to meet their customers' needs for interaction nor achieve the ultimate resolution to their issues and questions.
Talkdesk CX Cloud is a single-platform cloud contact center solution that combines applications for agents, managers and operations to better support the customer experience imperative. The Talkdesk technology is built on a cloud-native microservices architecture that can be configured and customized through APIs. The platform provides a suite of contact center applications for customer engagement, workforce engagement, enterprise collaboration, AI, and knowledge and analytics insights. Talkdesk CX Cloud also offers more than 60 prebuilt one-click integrations to CRM and other business applications. For organizations looking to manage a unified platform for their contact center and channel interactions, selecting a solution like Talkdesk can help align overall customer experience goals with the needs of agents.
Ventana Research selected Talkdesk for the 13th annual Digital Innovation Award for Customer Experience for its investment and commitment to the products and technology it offers, and its passion to provide the best possible experience to its customers. In 2020, Talkdesk has brought to market advancements in workforce engagement, analytics and AI, agent assist and the management of its technology on an unified cloud-based platform that is reliable and secure and supports omnichannel interactions across messaging, voice and video mediums. The company showcased the importance of these advances in its Talkdesk innovation lab called TDX, and by achieving 200 patents in 100 days
If you have not had a chance to assess Talkdesk for your customer experience and contact center, the company and its products are well worth your time to evaluate. Congratulations Talkdesk for your continued innovation.
Regards,
Mark Smith