An intensified focus on the customer is driving the trend toward enabling omnichannel support in contact centers, our benchmark research on contact centers in the cloud has found. In my last analyst perspective I highlighted some key benefits of a contact center in the cloud. In this perspective, I want to elaborate on the finding that only about one-third (35%) of organizations participating in our benchmark research said their customers are satisfied with the way interactions are handled. Far more (47%) said their customers are only somewhat satisfied, which may not be good enough in a fiercely competitive marketplace. Not surprisingly, improving the customer's experience is the most common motivator (cited by 82%) for change in the technology being used.
There are other signs of pressure as well. More than two-thirds (69%) of organizations said it is very important to improve customer service; the same percentage said it is very important to improve interaction handling. However, recognizing the need to deliver consistently high-quality experiences is one thing; doing that effectively is another. Currently fewer than half (48%) of organizations said they can provide omnichannel customer experiences.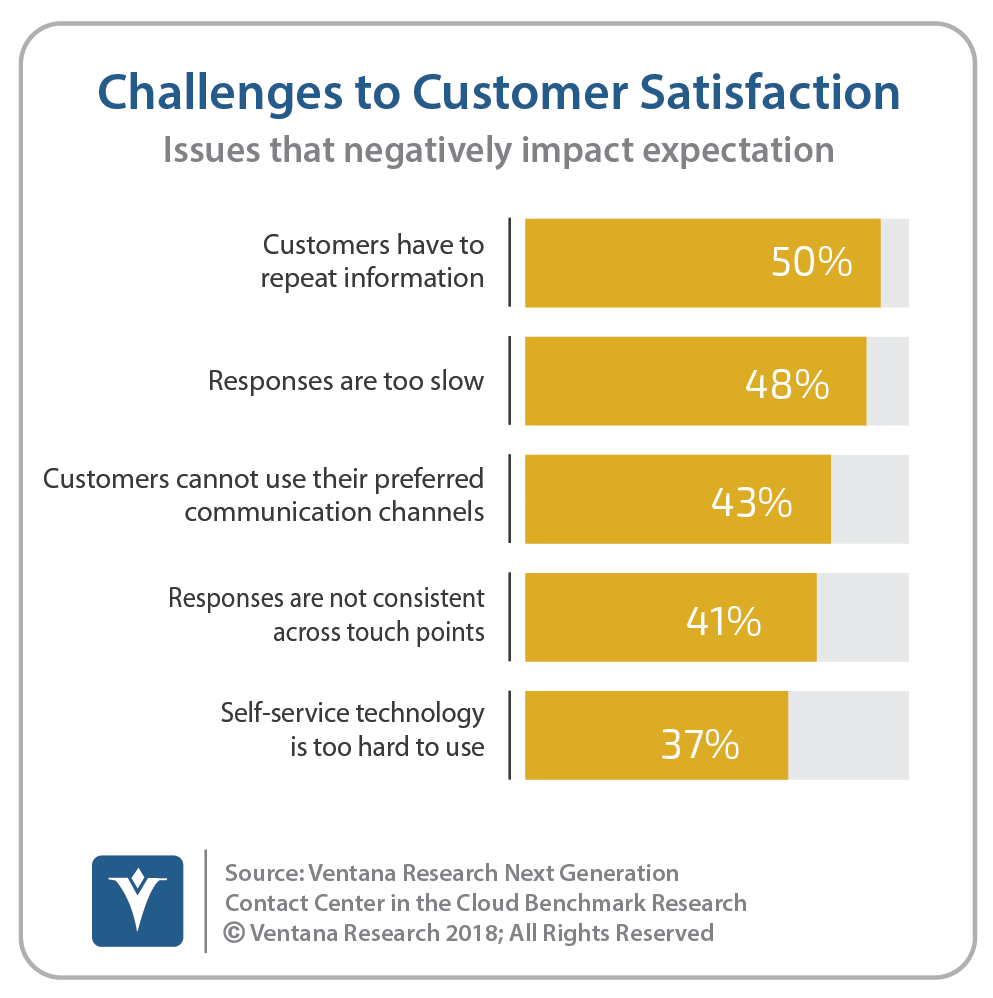 The systems deployed today lack the functionality needed to provide information and support required actions (cited by 73% of organizations), are not integrated to the point of providing seamless operations across a contact center and cannot share data (68%) or provide consistent responses across touch points (44%).
These technology constraints impact customer relationships. Among the factors that undermine satisfaction, organizations most often cited customers having to repeat information they'd already provided (50%) and being unable to use their preferred channels (43%), as well as slow (48%) and inconsistent (41%) responses.
To make improvements, organizations need first to assess how they are doing and identify weaknesses. Key performance indicators (KPIs) are tools commonly used for such assessments. The largest percentage (63%) of research participants said that they use the customer satisfaction metric as a KPI in their contact centers. While that aligns with a focus on customers, the three next-most commonly used KPIs do not, reflecting instead a more traditional focus on operational efficiency: average length of call, number of calls handled and speed of answer.
Contact centers often are complex entities, even more so today than in the past. To provide successful customer interactions, organizations need four categories of systems: communications management for the channels of engagement; business applications to manage customer data and transactions; self-service to support new digital channels; and analytics to provide insights and reports on customer behavior and interactions. The research suggests that many organizations intend to adopt new systems in all four categories to keep up with customer demands and remain competitive.
The research shows that organizations are well aware of the imperatives to improve and update contact center processes, systems and channels. They also are aware of the need to focus on the customer experience and on engagement. We believe that contact centers in the cloud must support the varieties of channels and the interactions across them but also must capture, integrate and apply analytics to them to effectively manage and optimize agent performance. Contact center strategies should be focused on providing easy, personalized, contextualized and consistent experiences in an omnichannel environment. Companies that succeed can expect to thrive in the contest for customers' loyalty. Our latest research for contact centers in the cloud can help you assess and select vendors and products and can be downloaded easily. These cloud-based systems often include modern, easy-to-use interfaces for agents and managers, which matters to those whose mission is to deliver the best possible experience for customers.
Regards,
Mark Smith
CEO & Chief Research Officer