More than a year ago I wrote from personal experience about the challenges our firm encountered with Salesforce's cloud computing systems and customer service and if we can trust them for business in the cloud. That perspective covered a range of issues that the behemoth cloud computing applications and platform company is facing regarding its service and technology. While Salesforce has shifted its customers like us and others to a different cloud computing environment, as it did in moving us off its #NA14 cloud computing instance, core challenges of its customer experience and billing processes persist. After the last customer experience incident, I contacted its executives about the need for operational improvement; it was clear in the dialogue that they saw some but not all of our experience as issues important to improving its customer processes. It was good to get some immediate attention, but my hope was to speak for all SMB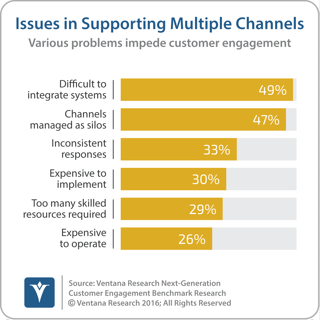 companies in pointing out the importance of effective communications and escalating notifications and interactions when those customer moments go sour, so the customer isn't forced to turn to social media to be heard. This was an area where Salesforce had significant room for improvement in customer engagement, reflecting a pattern we see in our benchmark research, which finds the most common challenges in almost half of organizations are integration of channels of engagement and managing activities as silos.
Unfortunately, I am back again with another troubling experience that demonstrates Salesforce's lack of focus on improving customer processes like billing and support, which impact its brand and its ability to offer a great or even an acceptable customer experience. Below, I will provide some details to personalize the situation. My conclusions are based on our company experience and analysis.
After our company's troubling experience in 2016 and conversations with Salesforce executives, Ventana Research decided to give Salesforce another year and even expanded our deployments with additional subscribers. Assuming Salesforce would bill to our credit card on file, business as usual was under way until the recent Memorial Day weekend. I got a call from our vice president of operations, who said that our team was not able to access Salesforce. I attempted to get into our instance of Salesforce, but I could not either. I went to check any issues but could not get any further with Salesforce. I then searched my email and found nothing until searching into my clutter and junk folder, where there were several emails from Salesforce billing, one on May 12 announcing that the invoice was due, one on May 13 announcing that the credit card on file was not able to be charged, and another on May 22 reporting that the charge was not able to be processed. It turns out that our corporate credit card had been replaced and a new one needed to be entered.
I clicked on the link in the email to update the credit card, but it would not allow me access to do that. Then, I emailed the billing and support contacts to get help and got no response, and on calling I got the message that everyone was out for Memorial Day. So I had to inform our global team that they were not able to work because Salesforce is not allowing us to update billing information and make payments via the web. No joke.
I called on Tuesday morning after the holiday weekend because no one had yet emailed or called to address the situation. I explained the situation, and the person asked if I had a method for payment, which I provided. They asked, "Do you need anything else?" Really? Well, I let the individual know that I was significantly dissatisfied, and the voice asked again if there was anything else. I said no. Later I got an email from Salesforce collections – grammatically incorrect and badly formatted – telling me to call or go online, which I already had done. I replied, reporting on the terrible experience with the contact center, hoping it might help them improve; all I got back was a reply informing me that the payment had been processed. Clearly Salesforce is not interested in improving its processes and seems ignorant of customer feedback.
At that point, I shared a message about the terrible Salesforce experience on Twitter. The company's social media response team tried to appease me, investigated and said the issue was resolved, but I said it was not. They then had someone on the billing and customer support staff call me from another country. I could barely understand what the speaker was saying, and so I did not even bother to call back.
What kind of customer-focused organization turns off customer access to its systems during a holiday weekend? What kind of organization does not actually pick up the phone and see if a payment issue can be resolved? What kind of billing and accounting organization does not provide ACH, which eliminates credit card issues like ours? These are the same issues I raised back in 2016 regarding the need for increased efficiency across the billing and accounting processes. Maybe having alternative offshore support for customers during a national holiday would be a good idea for a global software company like Salesforce.
Salesforce, unfortunately, locks subscribers into a fixed annual contract, and users are only able to add and not remove licenses. These problems suggest in my opinion the company focuses on revenue optimization is at the expense of customer experience. So I have to report that the antiquated customer communications, billing and operations methods and software of Salesforce are still in place. It is pretty obvious from the Salesforce store and its online system that users are not able to update contact or notification methods for escalation for issues like this one. This is simply not a modern customer experience.
An organization that cannot pick up the phone – even when a customer is using its software as a service on daily basis and was shut out and not allowed to pay for it electronically because of its antiquated email approach that they do not know the emails were not opened – is not a company you can trust for your own customer relationship management. Our customer engagement research finds that the telephone is still the predominant customer channel, in use for 94 percent of companies,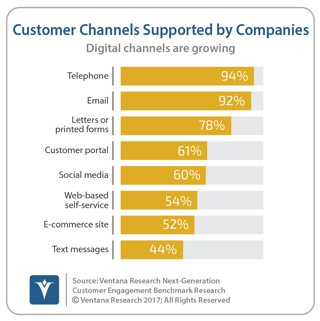 even as most organizations are trying to support multiple channels in what is called omnichannel engagement. Customer engagement has changed significantly over the last five years, as my colleague has pointed out. Our research finds that 70 percent of organizations are focused on customer experience as a differentiator. It is not clear that Salesforce is doing so. If you are evaluating marketing, sales, service, commerce and platforms like Salesforce or are an existing customer, just get in touch with us, and we can help you prepare for a better customer journey experience, one that you deserve and should expect but that might require an alternative software provider.
Regards,
Mark Smith
CEO and Chief Research Officer