Here are some insights on Optymyze drawn from our latest Value Index research, which provides an analytic assessment of how well vendor offerings address buyers' requirements. The Ventana Research Value Index on Sales Performance Management 2019 is the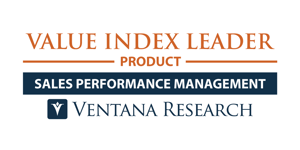 distillation of a year of market and product research efforts by Ventana Research. We evaluated Optymyze and eight other vendors in seven categories, five product-related adaptability, capability, manageability, reliability and usability) and two concerning the vendor (TCO/ROI and vendor validation). To arrive at the Value Index rating for a given vendor, we weighted each of the seven categories to reflect its relative importance in an RFP process, with the weightings based on data derived from our benchmark research on sales performance management.
Optymyze ranks fifth overall in this Value Index evaluation. The vendor is a Value Index Leader in the Capability and Adaptability categories, demonstrating strong flexibility in configuration and customization. Its robust platform supports a range of applications and capabilities for sales operations and the overall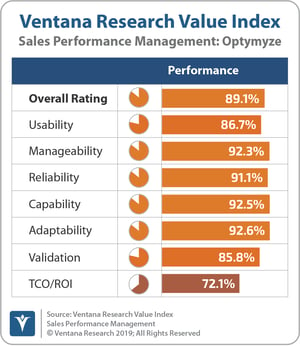 organization. Strong performance across these and the Usability, Manageability and Reliability categories contributed to Optymyze being an overall Product Value Index Leader.
Despite its name, Optymyze Sales Operations supports broader requirements for sales performance management that go well beyond sales operations. The vendor is a longstanding dedicated SPM provider and is used by some of the largest sales organizations. The product offers solid support for all roles in a sales organization and leads the field in administration and support for sales operations and management.
Our assessment finds room for improvement in TCO-ROI as the vendor did not demonstrate depth in its tools and services to support a business case for investment. In the Validation category, the vendor could improve support and services demonstrating its commitment to the customer experience. Still, Optymyze is a leader in SPM, with comprehensive breadth of applications and flexibility to adapt to a sales organization's overall needs.
This research-based index is the most comprehensive assessment of the value of sales performance management software in the industry. You can learn more about our Value Index as an effective vendor selection and RFI/RFP tool here. Participating vendors can learn more about how to use the Value Index here.
Regards
Mark Smith