To maximize the potential of their investments, businesses must manage product information, yet for many businesses product information is scattered and duplicated in many systems, which leads to duplication of effort, incorrect information about product descriptions and prices and improper tracking of products, all of which increase costs and waste time. At the same time, for marketing products and streamlining their distribution through sales channels, making product information accessible to consumers through smartphones and tablets is essential.
These factors indicate an expanded need for product information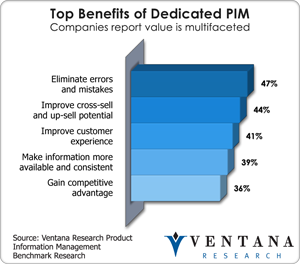 management, which we define as the process, information, applications and technology that let people establish a single, reliable view of products that can be used in an enterprise by customers, partners and suppliers to promote efficiency in business processes, which in turn can improve the value of the products to the market. Our recent research into product information management found that the top benefits of a dedicated approach include the elimination of errors (47%) and improved cross-sell and up-sell potential. We also learned that only a quarter (27%) of organizations trust their PIM processes completely. The largest factor causing dissatisfaction is that the product information is too unreliable, according to almost three-quarters (71%) of organizations. This should be no surprise, as almost half of organizations (45%) use a manual process to maintain product information using varied methods and technology. Spreadsheets are heavily or moderately used in 94 percent of organizations, despite the fact that one-fifth find major errors in them frequently and another quarter find them occasionally.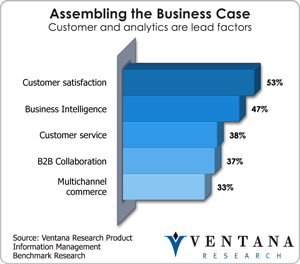 There is a better approach to managing your product information. An investment in dedicated technology that uses well-defined processes to impose quality and consistency can pay large dividends. Our research finds the top factors in a business case for PIM investment are customer satisfaction (53%) and getting better business intelligence and analytics about the products (47%), though factors vary depending on the industry and the state of each organization's maturity and competency.
We found more than a third of organizations we researched taking a dedicated approach to PIM, with more than a quarter (28%) planning to put a system in place over the next 18 months, and a sixth (16%) developing a strategy. Some organizations are also looking to connect their PIM applications to master data management, which is typically managed by IT organizations but implemented in only a little more than a quarter (28%) of organizations. Our research found that organizations that use PIM and MDM together get the highest value from their investments. While these technologies have distinctly different approaches to helping their respective audiences, organizations that make the necessary investments reap the rewards.
PIM technology is not MDM, and MDM technology is not PIM, despite the pronouncements of some IT industry analyst firms that confuse the two as one. Ensure you understand what systems you need to meet the needs of your marketing, sales, commerce, operations, manufacturing and supply chain organizations who work with PIM applications across a multitude of business processes. They need access to a common definition, and must be able to use descriptions, attributes, images, videos and prices – information that is critical to business – and not just underlying data such as product name and codes to track sales or inventory for reports that could use it for looking at sales by customer or region.
IT should help facilitate access and data integration to existing content and data across the enterprise, but should not try to impose data-centric governance or an MDM project by itself to address PIM, as these efforts are not designed to help empower business to manage the entirety of product information.
The investment into PIM is happening primarily through business efforts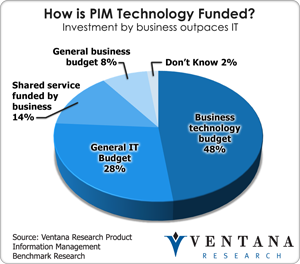 where almost half of organizations (48%) fund PIM efforts through their business technology budgets, followed by the general IT budget (28%) and then smaller amounts in shared service and overall business budget. But just getting the business case and budget approved is not sufficient; getting the resources to implement PIM is the top barrier in more than a third of organizations (37%).
It is encouraging to see that more than half of organizations (57%) plan to change the way they manage product information. Organizations can gain significant benefits by adopting PIM applications and technology through business improvement initiatives or through a joint effort across business and IT.
Regards,
Mark Smith
CEO & Chief Research Officer