The annual Ventana Research Digital Innovation Awards showcase advances in the productivity and potential of business applications, as well as technology that contributes significantly to the improved processes and performance of an organization. Our goal is to recognize technology and vendors that have introduced noteworthy digital innovations to advance business and IT.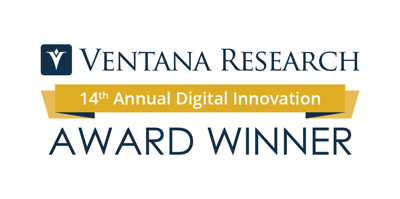 Ventana Research has awarded Palantir its prestigious 2021 Overall Digital Innovation Award for Palantir Foundry. This award is given to the vendor that best exemplifies overall innovation and change that supports an organization's ability to maximize its people, processes, information and technology. Finalists from each area of expertise — Analytics, Customer Experience, Data, Digital Business, Digital Technology, Human Capital Management, Marketing, Office of Finance, Office of Sales, and Operations and Supply Chain — are considered for this award.
The necessity of data and its efficient processing requires technology that is designed to support data efforts across the enterprise. No matter the volume or velocity, the need for integration across the hybrid cloud requires that organizations can efficiently process data continuously and securely. Expectations for digital technology that supports the data requirements of an organization has drastically changed, while the need to support policies and regulatory environments requires more adaptive technological approaches than ever before.
Ventana Research selected Palantir for the 14th Annual Overall Digital Innovation Award for its innovation in Palantir Foundry. Foundry operates as an efficient data platform, processing data through its microservices architecture as well as a state-of-the-art design and administration approach that supports manageability through its unique ontology and data lineage capabilities. It also delivers high-scale operations that operate its platform reliably across the world while applying data governance and analytical computations to meet business and organizational requirements to support decision making and real-time operations.
Palantir's innovation in the science of processing data helps organizations be even more resilient, acquiring the organizational agility to adapt data processes to meet ever-changing operational and analytical needs of the enterprise and business processes across its customers, partners and suppliers. Addressing the pressing needs of digital transformation as well as business continuity and resilience makes Palantir unique in its approach to digital innovation.
If you have not examined how Palantir Foundry can help your organization, it is well worth your time. Congratulations, Palantir, for your continued innovation.
Regards,
Mark Smith