Here are some insights on beqom drawn from our latest Value Index research, which provides an analytic assessment of how well vendor offerings address buyers' requirements. The Ventana Research Value Index on Sales Performance Management 2019 is the distillation of a year of market and product research efforts by Ventana Research. We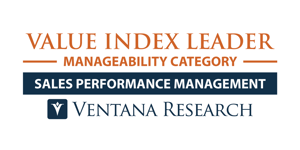 evaluated beqom and eight other vendors in seven categories, five product-related adaptability, capability, manageability, reliability and usability) and two concerning the vendor (TCO/ROI and vendor validation). To arrive at the Value Index rating for a given vendor, we weighted each of the seven categories to reflect its relative importance in an RFP process, with the weightings based on data derived from our benchmark research on sales performance management.
Placing seventh overall in the Value Index is beqom, a compensation management software vendor offering a specific product for sales performance management. The vendor is a Value Index Leader in Manageability due to the product's administration and security and its support for managing usage in larger deployments.
This vendor's offering has helped organizations use one provider to handle overall compensation as well as meet the commission and incentive needs in sales and other lines of business. The company has invested in features so the product can adapt to and integrate with a broader range of processes and applications including those in sales. These investments show up in its performance in Adaptability, where it earned its second-highest ranking.
Our assessment finds room for improvement in the product's capabilities. In this category beqom earned its lowest ranking, struggling to meet application-specific needs. The vendor could provide more robust collaboration and mobile-specific support. It also has room for improvement in meeting the specific needs of sales managers and sellers, though it has begun to provide better mobile support for these roles.
A dedicated provider of compensation management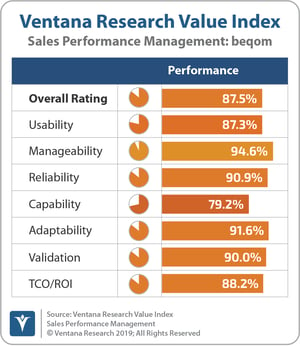 software, beqom has done much to demonstrate how it supports the sales organization, but it will have to invest further to meet the broader application and process needs of sales performance management. Despite this, the vendor has been able to meet a diverse set of organizations' requirements and provides a solid offering.
This research-based index is the most comprehensive assessment of the value of sales performance management software in the industry. You can learn more about our Value Index as an effective vendor selection and RFI/RFP tool here. Participating vendors can learn more about how to use the Value Index here.
Regards
Mark Smith