For interactions with customers to go well, organizations must manage an ever-increasing array of engagement channels. Our research finds that organizations expect to see interaction volumes increase on all channels, especially digital ones such as text-based messaging, chat, mobile and social apps. Unfortunately, the systems that manage these channels are typically disparate and uncoordinated and may not use the same underlying technology. This makes it difficult for organizations to coordinate customer interactions consistently and provide the best possible customer experience.
In pursuit of this goal, businesses collect, track and analyze data from broader and deeper sets of data than ever before. While structured data remains the most common form, organizations are learning also to exploit semistructured data (for example, text) as well as more complex data such as voice and images. But the information derived from one channel's data often differs in form and content structure from information drawn from another. Incompatibilities such as this create confusion and waste valuable time and resources, driving down both customer and agent satisfaction levels.
To deal with this challenge, organizations must understand and map the actual customer journey, drawing that data from a set of processes that are in most cases siloed within specific business functions — for example, mapping customer feedback to contact center agent or in-store customer interactions. By doing so organizations can gain a more complete view of customers that is consistent across the business. Ultimately, optimizing the customer experience requires that all available customer information from all instances of engagement — the 360-degree view — be used in decision-making across all customer-focused interactions.
The latest Ventana Research benchmark research on the State of Customer Analytics was designed to examine in depth the needs for and uses of analytics and metrics by all lines of business involved in customer-related activities and processes. In designing this research, one major goal was to provide organizations with a better understanding of their challenges and requirements and thus improve their ability to formulate a successful path to improvement.
Much discussion recently has been devoted to the 360-degree view and how to analyze interactions across every engagement channel to adequately depict and understand the customer journey. A complete view of all interactions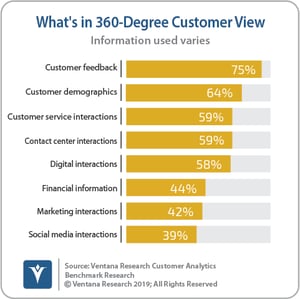 is clearly valuable, but most organizations are assembling only a small percentage of the data required to achieve that complete view . For example, they examine interactions in support and service functions but do not include contacts in marketing and sales or in accounting and procurement.
The research finds that more than half of organizations include feedback (75%), demographics (64%) and interactions data (59%) as part of their view of the customer, but fewer include sales (48%), marketing (42%) and social media (39%) data. Furthermore, more than half of organizations (51%) do not share that view across the entire organization. While most organizations said they are planning to provide a 360-degree view, almost a third (30%) said they plan to do so in the next 24 months and most (48%) do not have a schedule to do so. Organizations that say they have a 360-degree view of its customers are more likely to be satisfied with customer analytics (39%) than those that don't (14%). The research finds that the path to a 360-degree view is still an aspirational work in progress; attaining it requires self-assessment and a plan to improve. Establishing any voice-of-the-customer-type program and processes requires a strong foundation of customer data from across all or almost all interactions.
In the past, what I describe as old-school journey maps were often created by cross-departmental groups getting together and mapping desired customer journeys using sticky notes that showed how the organization would like and expect customers to interact with them. Today, as with many things, these sticky notes have been replaced by digital technology that uses real data to map real journeys that customers actually take. These tools have become an essential part of an organization's 360-degree customer view — a complete analysis of all customer-related information, including marketing, sales, service, finance and interaction information. I am a firm believer that without such a view it is impossible for organizations to understand the experiences of different customer segments (personas) and then decide how to optimize journeys from a customer and business perspective.
Operating across multiple customer engagement channels introduces many challenges. Critical among them is integrating the systems that manage customer engagement, an issue cited by nearly half (49%) of organizations participating in our research. Having to manage channels of engagement as silos (47%) and getting inconsistent responses at every touch point (33%) are also common issues. Our research indicates that over the next two years organizations will compete to win and retain customers primarily based on the quality of the customer experience. For this reason, it is imperative that organizations are able to transform interaction-handling, optimizing to move to the next level. Accomplishing this will require a combination of process changes, more focused training for employees who handle interactions and adoption of more advanced systems that manage all aspects of interaction handling in a unified way.
Our research also indicates that customers interact with far more than just an organization's contact center in the course of completing their transactions and addressing their issues. In fact, most departments — from marketing, sales, customer service and billing to retail business locations — interact with customers at some point in the customer life cycle. And once again, the applications used typically are disparate, siloed and often poorly designed to support resolving customer inquiries effectively. This means that here as well, information can be inconsistent across channels and touch points.
In assembling a 360-degree view of customers it's important to be thorough and include all available information. Assess your view of your customers and determine where improvement to your data and analytics efforts can have an impact. Having an effective Voice of the Customer program, one that successfully unifies operational interactions with experience data, will provide a foundation for improvement in customer processes. Then your organization can examine where to best apply customer analytics to gain guidance for an improved customer experience.
Ventana Research has for nearly two decades conducted market research on customer experience and the contact center as well as many other business technologies, including contact centers in the cloud and customer engagement through any channel or department such as marketing, sales, support and services. Click here to learn more about our research and services for vendors and technology buyers.
Regards
Mark Smith