Workforce management processes and activities, a major focus of investment and optimization efforts for decades, have undergone a huge transformation in recent years. In our view, this is mostly a function of two significant trends: the explosion of technology innovation associated with the use of artificial intelligence, machine learning and embedded analytics in many areas of a business including a range of human capital management processes and operations; and a major reframing of the employer/employee relationship stemming from the now universal emphasis on elevating the worker experience. This was becoming more of a strategic focus across most organizations before the pandemic, but the past two years has made delivering a great employee experience an essential part of operating a business. In the absence of this, employees tend to become disengaged, and many will leave. The same can be true of the customers serviced by those employees.
The employee experience phenomenon also involves a sea change in management mindset toward hourly workers. This shift revolves around the notion that, when these employees' needs, interests and goals are accounted for in meaningful ways — just as with professional or "exempt" workers — this segment of the workforce will not only be more productive, engaged and committed to results, but incidences of costly turnover, which are historically comparatively high among hourly (sometimes referred to as "deskless") workers, are expected to trend downward as a result.
These dynamics have disproportionately impacted organizations with large contingents of hourly workers, including industries such as retail, manufacturing, health care, hospitality services and dining. In these types of industries and organizations, employers have to comply with Fair Labor Standards Act overtime laws in the U.S. as well as Department of Labor regulations generally centered around the requirement of tracking hours worked. The subset of organizations concerned with this area of compliance is now changing following a late 2021 ruling by the European Court of Justice that determined all companies operating in the European Union are now legally obliged to track work hours for all employees, not just hourly or deskless workers. Obviously, this has had major implications for WFM software vendors, time-tracking hardware device vendors and other technology providers servicing customers impacted in Europe. Moreover, legislative and regulatory trends in one part of the world often eventually show up elsewhere.
Aligning the workforce to business goals is the number one priority of organizations as it relates to managing workers. As important as this is, it's even more important when it comes to hourly workers as the jobs they're hired for can involve less education, professional experience and independent judgment. Therefore, activities and tasks assigned often need to be more closely tracked and supervised to ensure that alignment with business goals is clear and as granularly tracked as necessary. When you combine these considerations with the legislative and regulatory compliance issues associated with managing this population, it's easy to see why technology plays such a vital role for organizational readiness, resulting in lost customers and workforce instability.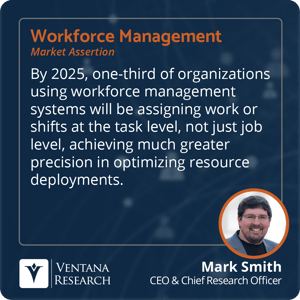 As an overview, workforce management software typically provides process automation — along with surrounding self-service, communication, collaboration, planning and analysis, and reporting and system security capabilities — related to four major WFM automation pillars: forecasting and scheduling work, absence management, time and attendance management and activity and task management. We assert that by 2025, one-third of organizations using workforce management systems will be assigning work or shifts at the task level, not just job level, achieving greater precision in optimizing resource deployments. Ensuring the optimal number of resources of specific skill types are deployed in the right areas at the right time means an organization is effectively satisfying customer flow and other business demands on a profitable basis. This is core to organizational agility, although this very prevalent concern of chief human resource officers and other executives can take many forms. For example, decision-making in deploying workers when responding to business demands should go beyond relevant skills to include actionable insights into optimal team composition: who can back up whom in different circumstances, when it might not be so problematic to be under- or over-staffed, which skills are transferable to other skills required when supply of certain talent is limited, or when gig workers are every bit as viable as a resourcing option. In workforce management, we expect all organizations to identify improving organizational agility as a critical business imperative, and this focus should encompass all worker types including non-employees and gig workers.
The trends of elevating the employee experience for all workers and deploying WFM products infused with AI/ML have given rise to an ever-expanding set of value-driving capabilities offered by leading vendors in this space. Just a sampling of these include:
Considering not just employee skills, training and certifications when scheduling workers, but factoring in career interests and a sense of equity and fairness in how shifts are made available to them.
Automating time off approvals based on governing rules that are customer-defined.
Embedding human resources service delivery capabilities within the platform, involving virtual assistants that answer worker questions quickly and consistently.
Automating shift-swapping across workers based on eligibility rules along with surrounding messaging and collaboration tools.
Increasing flexibility around the use of time recording devices such as finger scanning and facial recognition.
Providing nudges and alerts to managers when analytics highlight the need to prevent employee fatigue-causing accidents, errors or burnout.
Forecasting labor-demand based on a wide array of internal and external data points and predictors, even forecasting down to 15-minute intervals for supreme precision — one of the biggest WFM product advances of them all.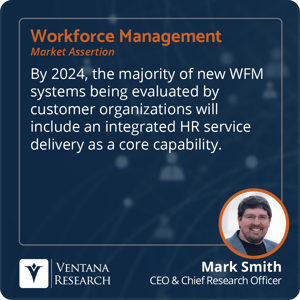 Naturally, mobile-first product strategies have become the industry standard, just as it is with most other enterprise software deployed. In the realm of WFM tools, employees should not only be able to log time and request time off but determine eligibility for different shifts and, ideally, swap shifts as permitted by the organization. Moreover, advanced mobile capabilities in the WFM domain are increasingly connecting employees with targeted learning opportunities in the flow of work if needed to be eligible for certain shifts or jobs. Although critical integrations involving WFM platforms usually focus on passing hours worked and rates to payroll-processing engines, the aforementioned "spot learning" functionality tied to core WFM processes and functionality really speaks to the broader integration of WFM software with talent management and other HCM software. Additionally, the need to integrate HR services more directly into WFM is growing in importance, which is why by 2024, the majority of new WFM systems being evaluated by customer organizations will include integrated HR service delivery as a core capability.
The Workforce Management Value Index research evaluates the following vendors that offer products delivering workforce management solutions as we define it: ADP, Ascentis, Blue Yonder, Ceridian, Infor, Oracle, Paychex, Paycom, SAP SuccessFactors, UKG, Workday, Workforce Software and Zebra Technologies. Organizations examining methods to improve their workforce management should utilize the Value Index to assess and select vendors for their requirements.
Regards,
Mark Smith