Ventana Research has announced its market agenda for 2021, continuing the tradition of transparency in our efforts to educate and guide the technology market but also our independence as we do not share our market agenda or analyst perspectives with any external party. Each year, we proudly formulate our market agenda that is not biased by clients or the technology industry, focusing on education rather than the prospect of consulting or software revenue. We review and refine our plan throughout the year to ensure we offer the expertise and insights organizations rely on to better understand – and navigate – the direction of the technology industry.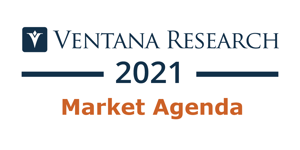 This year's agenda supports the premise that organizations are searching for ways to bring innovation and optimization from existing and new technology investments to improve agility and competitiveness through digital effectiveness. We've expanded our focus to include new and refined research topics designed to enhance our traditional portfolio of expertise, available to everyone in our Ventana Research community.
Significantly, we're embracing a broader view of digital business, providing a framework for priorities that should be addressed holistically on behalf of the entire organization. Business continuity, experience management, governance and risk, performance management and sustainability management need to set the tone for successful integration of applications and technology. In addition, the focus on digital communications, digital security and work management ─ define how the entire workforce should be equipped for a modern and more engaging experience. Lastly is digital transformation, an evolution we've witnessed over the last two decades. Organizations need to further refine the integration of digital technology to ensure the readiness and responsiveness capable of sustaining any "black swan" event that could disrupt normal operating conditions.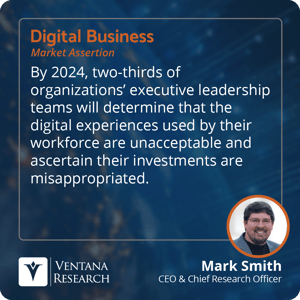 Typically, for executives in most organizations has been a focus on incremental improvement rather than the substantive changes needed for effective digitalization of the organization and business processes. They lack sufficient time and resources to adapt digital transformation for enabling the continuity and resilience required leaving the organization unprepared for major disruptions such as we experienced during the 2020 pandemic. Our market assertion is that by 2024, two-thirds of organizations' executive leadership teams will determine that the digital experiences used by their workforce are unacceptable and ascertain their investments are misappropriated. This can lead to the growth of new, dedicated leadership positions such as a Chief Digital Officer and Chief Innovation Officer, working with their Chief Information Officer and operational leadership peers to drive organizational agility and readiness.
In addition to these new areas of focus, we've made substantive advancements in each business and technology expertise and focus areas. Here's a snapshot of the topics our subject matter experts will explore this year.
Analytics and Data: Responding to the real-time nature of business, our Analytics expertise is examining evolutions in Process Mining as organizations instrument towards a focused purpose of analytics combined with streaming analytics. Our Data expertise has expanded to include Data Operations that are effective for people and processes, as well as data platforms that operate across a range of cloud and distributed computing environments. Our focus on Streaming Data and Events supporting operational and analytics requirements is critical to better identify areas of improvement for using this technology. This expertise area is led by SVP & Research Director, David Menninger, who you can also read his analyst perspectives.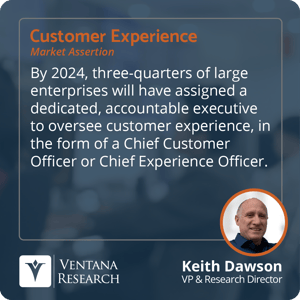 Customer Experience: Experiences are essential to the engagement and relationship with customers, and our VP and Research Director, Keith Dawson, asserts that by 2024, three-quarters of large enterprises will have assigned a dedicated, accountable executive to oversee customer experience, in the form of a Chief Customer Officer or Chief Experience Officer. To support this transition, we have augmented our Customer Experience (CX) focus to include Agent Management, Customer Experience Management, field service, contact center and voice of the customer with customer service and support. Owing to advancements and increasing customer service expectations, organizations are forced to elevate these processes, in many cases requiring increased investments to support agents as well as new digital formats and interactions with machine-based virtual agents. As CX grows in organizational importance, a new generation of platforms and the individual and suites of applications are creating a unified approach to support the interactions across the customer journey. And field service, traditionally handled within a business unit, is becoming a focal point of effective operations and the overall customer journey.
Human Capital Management: In the expertise of Human Capital Management we are building on our longstanding work in Continuous Payroll, Employee Experience, Learning Management, Total Compensation and Workforce Management to embrace the as-yet-unrealized merits of Talent Management. Addressing skill gaps and the associate relationship process ─ from recruiting and hiring to onboarding ─ will strengthen candidate selection, improving the return on investment from coaching, mentoring, performance management and career development. Not to be forgotten is the need for more effective people analytics and workforce planning, which should be enabled across the entire organization to provide needed guidance. Key to the success of these initiatives will be an effective set of technological requirements and a structured vendor evaluation process to ensure the human capital management platform and the individual and suites of applications meet the future requirements of the organization. This expertise area is led by VP & Research Director, Steve Goldberg, who you can also read his analyst perspectives.
Marketing: Marketers need digitally effective processes to maximize the value of the corporate brand for engaging customers. Our existing Marketing expertise covers foundational topics such as Conversational Marketing, Digital Marketing, Intelligent Marketing designed for optimal engagement, and Product Information Management focused on product experiences. New in 2021 is a focus on the Digital Experience Platform, which ensures content and interactions are modern and impactful but also aligned to desired outcomes. We're also exploring Marketing Performance Management and the applications that provide planning and management of activities that should align with the resources and budgets to reach the desired objectives.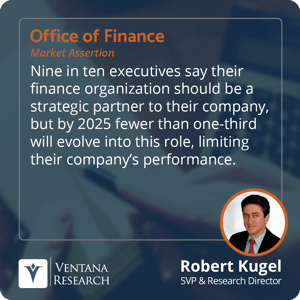 Office of Finance: Standardizing and improving the effectiveness of finance processes can help organizations achieve desired outcomes and ensure readiness to respond to market changes. My colleague and SVP and Research Director in Office of Finance, Robert Kugel, asserts that nine in ten executives say their finance organization should be a strategic partner to their company, but by 2025 fewer than one-third will evolve into this role, limiting their company's performance. Our well-established Office of Finance expertise in Business Planning, Enterprise Resource Planning, Continuous Accounting and Financial Performance Management ─ as well as our work in Revenue, Lease and Tax Accounting ─ provide key insights for finance leaders. Expanded coverage for 2021 includes Profitability Management and Digital Finance, with an emphasis on the science of using analytics and modeling to guide profitability. We'll also explore the opportunity to further digitize processes like intercompany financials that intersect costs and activities across the organization and workforce.
Operations and Supply Chain: Our Operations and Supply Chain expertise will expand in 2021 to include Property Technology, targeting substantial opportunities to improve the tenant, landlord and owner relationship. A new emphasis on Supplier Relationship Management will address what has become one of the larger challenges of sourcing, fulfillment and invoice reconciliation not addressed effectively today. These topics will complement our ongoing focus on Continuous Planning, Continuous Supply Chain, Enterprise Resource Planning (ERP) and Product Information Management (PIM).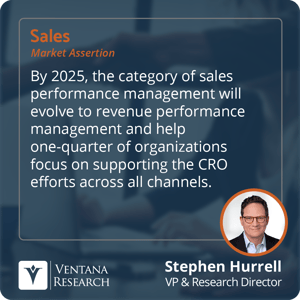 Office of Sales: My colleague, VP and Research Director in Office of Sales, Stephen Hurrell, asserts that by 2025, the category of Sales Performance Management will evolve to revenue performance management and help one-quarter of organizations focus on supporting the Chief Revenue Officer (CRO) efforts across all channels. Our continued focus on Digital Commerce, Subscription Management and Sales Performance Management will provide insights to guide Office of Sales technological effectiveness and agility. We have made a subtle but important shift to explore Sales Engagement in 2021, which is the essence of what sales organizations do via interactions throughout the buyers' journey. We are adding Partner Management as a focus area as the indirect channel of revenue is essential to manage relationships to ensure their optimal operations and desired outcomes. This is a focus area that has historically lacked high levels of investment. Lastly, but perhaps one of the most important aspects of the industry is the shift to Revenue Management and our focus in this organizational shift in the process and technology to support it. This area encompasses revenue processes and operations required to support all channels for buying and selling products and services.
If there is an essential lesson from 2020, it's that organizations are only as effective as the technology that supports the workforce and business processes. Readiness and agility across the organization must be sufficient to survive any "black swan" event, like a pandemic. The essential belief that any digital technology enabling your organization's applications, tools and systems must operate with the best possible experience should be a strategic and operational priority for every business.
At Ventana Research, we believe organizations can enable digital effectiveness through continuous education on technology, guided by experts dedicated to the study of the technology industry. The insights gained will help you clarify objectives and expected outcomes, becoming more effective and concerted in your investments and accomplishments.
I hope you enjoy our market agenda for 2021 and the in-depth perspectives that help you determine the right path for your organization. Subscribe to our Ventana Research community at no cost and stay up to date on our 2021 research efforts. Check out our market expertise and focus areas, and access educational resources available exclusively to members.
Regards,
Mark Smith