Ventana Research recently announced its 2020 research agenda for marketing, continuing the guidance we've offered for nearly two decades to help organizations derive optimal value from business technology and improve outcomes. Chief Marketing Officers are under pressure to spearhead technology investments that help better align marketing experiences with their brand and to optimize consumer demand for products and services. This challenge is frequently heightened by a lack of centralized data related to customers and products that can help an organization meet operational and analytics needs. Organizations need a marketing data platform that connects applications and services; however, a lack of data science skills has hampered the marketing organization's full potential.
To help, we craft our research agenda using our firm's expertise on business requirements and our knowledge of technology vendors and products. Through our continuous market research,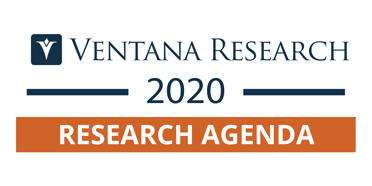 we offer insights and best practices to both lines of business and IT as well as insights across industry verticals that will help any organization reach its maximum potential.
Focusing on improving digital experiences will accelerate consumer engagement and potentially demand. Another challenge for CMOs and B2B marketing organizations is the surge in adoption of account-based marketing (ABM). This approach is good in spirit but has fallen short of its potential because often it's not been well aligned with sales organization priorities.
Marketing maximizes the brand value as well as market demand and reach through the use of digital technologies. Our Marketing expertise encompasses six focus areas: conversational marketing; digital commerce; digital marketing; intelligent marketing; product information management; and voice of the customer.
Conversational Marketing
Conversational marketing is an approach that intelligently automates marketing-related processes and customer interactions through voice and chat capabilities. Digital technologies are advancing marketing potential and improving performance by enhancing engagement. Conversational computing is transforming customer engagement and many organizations will need to renovate their digital platforms to optimize customer and product experiences or risk lagging behind competitors. Organizations must make new investments to automate and optimize marketing actions and should look for more digitally effective methods to interact with applications. We will conduct new benchmark research in this area this year to assess the demand for conversational marketing.
Digital Commerce
Digital Commerce enables organizations to engage with any type of customer across digital channels — the web, mobile apps, text, voice activated "agents," video and social channels — to deliver an optimal customer and product experience. In the world of digital commerce, the customer and product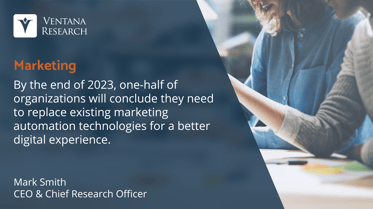 experience are top differentiators. We will conduct new benchmark and value index research in 2020 to identify best practices and assess and rate technology vendors' potential to help meet emerging commerce needs.
Digital Marketing
New opportunities around the digital marketing of products and services are transforming organizations' priorities and investments as emerging tools and technologies enable a more effective focus on attracting and engaging customers. Technology has radically changed marketing and forced organizations to focus on digital effectiveness. Social media and analytics focused on PPC and SEO have helped optimize targeting and increase demand generation and inbound marketing. This year we will conduct new Dynamic Insights research on the challenges and potential of digital marketing.
Intelligent Marketing
Intelligent marketing seeks to optimize marketing using insights gained through analytics and machine learning. Organizations are beginning to address marketing planning and performance efforts in a more concerted manner. We see organizations shifting to predictive and ML techniques to optimize marketing processes and performance; this increasingly will be a requirement to be effective. Predictive marketing and AI technologies can help optimize actions and results, but these efforts must be aligned to the goals of the organization. We will conduct new benchmark research this year to assess demand for smarter and more intelligent marketing.
Product Information Management
Product information management is technology that enables organizations to improve product experiences by enabling consistent management of product and related information to improve experiences for consumers and across the business. Marketing organizations are modernizing PIM to support digital experiences across the product lifecycle. The transition to the cloud will speed the return on products' value and intensify the imperative for organizations to provide excellent product experiences. Also, machine learning and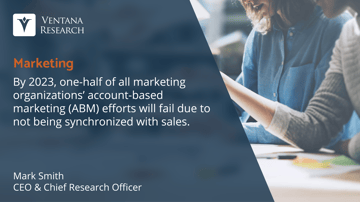 robotic process automation are improving product information quality by identifying issues and opportunities for improvement. We will launch new benchmark and value index research in 2020 to identify best practices and assess and rate technology vendors' potential to help meet emerging product information management needs.
Voice of the Customer
Voice of the Customer (VoC) programs are a set of processes and technology that uses customer feedback and sentiment along with analytics and AI to develop a unified view of the customer. VoC processes and applications provide organizations with insight into customer experiences so they can better optimize improvement efforts and operations. Marketing organizations should prioritize investments that will yield continuous insights on customer sentiment. Unlike net promoter scores, VoC represents the entire customer experience. Continuous research on customer analytics is available to help organizations identify the data and analytics foundation required for an effective VoC program. This year we will conduct new Dynamic Insights research on the challenges and potential of voice-of-the-customer programs.
Every marketing organization is facing an opportunity to not just digitally transform but elevate its efforts and achieve best-in-class status. While many marketing organizations are making one-off investments, it is important to select investments that are aligned with the organization's overall digital experience needs and its market-facing efforts. Our guidance for 2020 is designed to help marketing organizations develop a winning strategy and determine the best investments to achieve desired outcomes.
Subscribe to our community to keep up to date on our research efforts in 2020 and come to our marketing expertise and topic areas to see a detailed agenda and continuously updated 90-day calendar as well as more research facts and best practices.
Regards,
Mark Smith