Suppliers play a critical role in supporting the operations and processes of every organization. Whether direct or indirect, an organization's relationship with its suppliers has ramifications that are perilous to underestimate. The imperative to maintain business continuity becomes painfully clear in a global pandemic, and that imperative demands that organizations cultivate excellent supplier relationships.
This means assessing all communications and agreements with suppliers, considering both short- and long-term impact to the business and financial performance. An organization's relationship with its suppliers will determine its ability to operate successfully in months and years ahead. In fact, Ventana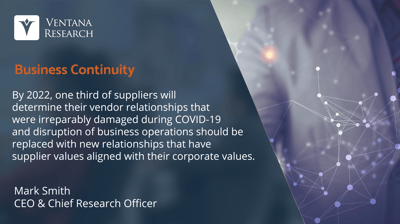 Research asserts that by 2022, one-third of suppliers will determine their vendor relationships that were irreparably damaged during COVID-19 and disruption of business operations should be replaced with new relationships that have supplier values aligned with their corporate values.
Many organizations have managed to optimize their direct and indirect procurement by focusing on spend management and using analytics to assess the sometimes-complicated relationships bound by contractual agreements. Thus, many organizations have developed supplier risk models that determine the minimum conditions and requirements that suppliers must meet. These basic procurement requirements are foundational, but the "softer side" of the relationship is just as important for ensuring business continuity and a sustainable relationship. Suppliers support every department and business process in an organization, so handling them carefully should be a priority for every procurement team, no matter where they report in the organization.
An organization's suppliers are often managed by procurement or purchasing teams that report to the chief procurement officer, COO or CFO, depending on the industry or the organization's supplier management history and evolution. An organization has a responsibility to manage the supplier relationship just as it does the customer relationship: efficiently and effectively. Success is about more than just supplier conformity and commercial appeal — it's about sustainability, and the ability to operate under pressure and rise to the demands of business continuity.
A supplier experience imperative unifies an organization's efforts to ensure sustainability through the best and worst of times, providing continuity and engagement that exceeds suppliers' expectations at every interaction. Optimizing the supplier experience is more than just a nicety; it's essential for every organization that looks to optimize engagement and relationships. Just because an organization has streamlined its procure-to-pay efforts and established a procurement application does not mean it's enabling a superior supplier experience.
In times of crisis such as the current global health pandemic when business continuity is a top priority, organizations mustn't neglect the supplier experience, especially if it has not previously been a focal point of the executive team. The supplier experience is not just about agreements and processes. Communications establish the tone of the working relationship and can have profound impact on the bottom line.
Recent evidence suggests that a crisis can prompt finance and procurement leaders to send insensitive communications that have deleterious effects on both the supplier operating model and their own sustainability. Emails have redefined contractual payment terms from net 30 to net 90 as if it were a legal amendment and then directed the supplier to a generic email address. Other leaders have forced suppliers to continue operating in potentially unsafe work conditions without proper personal protection, putting them and other employees at risk.

Finance and procurement leaders must ensure that every action they take makes the executive team, board and shareholders proud and more importantly, inspires customers to continue to do business with the organization.
Finance and procurement leaders must ensure that every action they take makes the executive team, board and shareholders proud and more importantly, inspires customers to continue to do business with the organization. If suppliers and their employees posted comments about your company on Glassdoor, would you be pleased with what they would have to say? Will your suppliers share their negative sentiments with your organization and impact your employee experience?
While it's important that an organization rally its efforts during a crisis such as a pandemic, supplier trust is based on an organization's sincerity in every interaction and its ability to deliver continuous value for the duration of the relationship. This requires more than simply increasing the velocity of communications. To be effective, an organization should establish best practices and policies that guide every department effort that involves suppliers. Supplier experiences should be managed the same whether the relationship is direct or indirect. Applications and systems must enable communications outside of normal operations. And importantly, an organization should measure the experience at every touchpoint by soliciting feedback from the suppliers to accurately determine challenges and opportunities.
A mere stated commitment to the supplier experience is not enough to meet suppliers' expectations, let alone establish mutual confidence in the sustainability of the relationship. Organizations should seek to establish a Voice of the Supplier (VoS) program with a set of processes and technology that uses supplier feedback and sentiment along with analytics and machine learning to understand and optimize supplier experiences. VoS processes and applications provide organizations with insight into actual supplier experiences using feedback across every interaction to guide improvement.
Similar to an organization's roadmap for its products and services, a roadmap for the supplier experience reflects an organization's investments and priorities to ensure business continuity. Organizations should prioritize investments that will yield continuous insights on supplier sentiment. Namely, if an organization is unable to capture feedback at the point of interaction, then it's probably using the wrong technology. Annual supplier surveys are insufficient for a quality VoS program and demonstrate a lack of innovation and investment. Suppliers provide the most honest feedback at the time of the interaction and a failure to capture these sentiments hinders an organization's understanding of supplier satisfaction and the supplier experience.
Digital technology that enhances the supplier experience and enables the virtualization of the supplier relationship can be the linchpin but an organization must test it to ensure it adequately adapts to changes in policies and procedures and complies with governmental regulations. To operate in worst-case scenarios, an organization must be able to provide digitally secure and open communications to collaborate and plan with suppliers. Inefficient communication creates friction in supplier interactions that can lead to frustration.
Organizations must ensure its communications and applications provide experiences that help guide supplier interactions, no matter if it's a direct or indirect relationship. In fact, we assert that by 2021, one-half of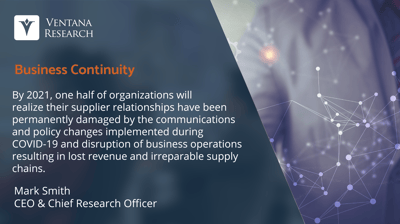 organizations will realize their supplier relationships have been permanently damage by the communications and policy changes implemented during COVID-19 and disruption of business operations resulting in lost revenue and irreparable supply chains. Suppliers during a situation such as a pandemic are going through similar challenges and are working to ensure they can meet the agreements within constraints to support business continuity.
If you are not sure how to approach improving the supplier experience through the lens of business continuity, there are specific steps that every organization should take, similar to the steps outlined in my perspective on the imperative for digital innovation in business continuity. The use of digital technologies to reinvent the supplier experience — from the outside in and from the inside out — requires the right lens that can support business continuity and not distract from it, which can ensure a more comprehensive approach.
This requires an effective assessment of the supplier applications used across the organization, from those used in procurement to the applications suppliers interact with. Most organizations are using applications that are clumsy, difficult to operate and lack a digital experience that's easy to use for all parties. It is critical that organizations address the need for improvement. By 2022, one-third of organizations will determine that their business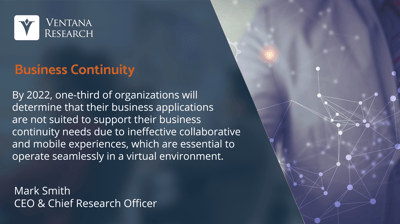 applications are not suited to support their business continuity needs due to ineffective collaborative and mobile experiences, which are essential to operate seamlessly in a virtual environment.
Do your applications have the ability to fully operate virtually, and on mobile devices when necessary? Are you able to have open communications with your suppliers? Have you performed resiliency testing to ensure everything can operate efficiently in suboptimal conditions? If not, then you could be exposing your organization to risk that could directly impact your financial performance.
Every organization, no matter the industry, the number of its suppliers or the size of its revenue, has an opportunity to significantly improve the supplier experience. To achieve business continuity, optimize underlying processes and technology for your suppliers and the employees who interact with them. This can have an immediate impact on top- and bottom-line results and reflects the priority you place on your suppliers. Once your organization has an effective program and processes with leadership committed to delivering an optimal supplier experience, it can be assured that the relationship is built to last. Every supplier relationship matters, no matter what role it plays in your organizations operations or growth. The entire executive team — the CEO's staff, the CMO, CFO, CIO, COO, CHRO and the Chief Procurement Officer — should be aware of the strategy and plans for optimizing supplier relationships and the supplier experience as it impacts the entire organization.
Determining your path forward for 2020 and beyond requires an effective strategy and an understanding of technology that can sustain business continuity in your everyday operations and truly provide an effective supplier experience.
Regards,
Mark Smith