The annual Ventana Research Digital Innovation Awards showcases advances in the productivity and potential of business applications, as well as technology that contributes significantly to improved efficiency and productivity in the processes and the performance of an organization. Our goal is to recognize technology and vendors that have introduced noteworthy digital innovations that advance business and IT.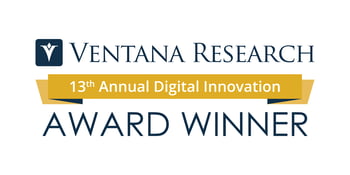 Ventana Research has awarded ServiceNow: Now Platform its prestigious 2020 Overall Digital Innovation Award. This award is given to the vendor that best exemplifies overall innovation across all categories of our expertise across business and IT.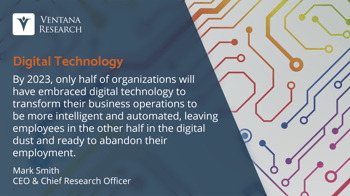 The demand for organizations to provide more agile and workflow-oriented approaches has rapidly become the priority for every organization. And yet by 2023, we assert that only one-half of organizations will have embraced the digital technology necessary to transform their business operations to be more intelligent and automated, leaving employees in the other half in the digital dust and ready to abandon their employment.
Organizations that recognize the challenge of interaction amongst the workforce and with customer, partners and suppliers seek a more efficient and effective means with which to streamline their business operations. These organizations should examine ServiceNow and how its applications optimize work conducted inside and outside the enterprise, be it on a mobile device or from a desktop computer.
ServiceNow is a technology provider that has dominated the IT service management (ITSM), business (ITBM), IT asset (ITAM) and operation (ITOM) markets with its enterprise-class solutions. These solutions, and now business and IT workflow for employee and customers, and overall work itself are built on what is called the Now Platform, enable organizations to automate and optimize business workflows and processes across IT and business. The technology can create a better experience for employees and customers while transforming the enterprise into a more efficient and resilient organization. The Now Platform provides the means to configure and deploy workflows and develop as part of an application strategy in a highly efficient manner that optimizes business processes through AI-enabled automation and intelligence.
Ventana Research selected ServiceNow for the 13th annual Overall Digital Innovation Award for its investment and commitment to address the next generation and modernization of IT and business, which requires organizations to be more adaptive no matter where work occurs across customer, partner and supplier interactions. In 2020, ServiceNow unveiled the 'Paris' release of its platform that elevated the focus on intelligence and manageability, including interoperability with other technology across the enterprise. Its use of machine learning to provide predictions and guide automation is essential to highly efficient operations. Its technology expansion to support business continuity management is the essence of every organization's mission for ensuring resilience and readiness no matter the location or situation. ServiceNow addresses our assertion that through 2021, one-half of organizations will realize that digital transformation investments have not met the organizational readiness requirements of business continuity, leading to a new focus on innovative digital technologies that more reliability sustain operations.
If you have not examined how the ServiceNow Now Platform can help your organization, it is well worth your time. Congratulations ServiceNow for your continued innovation.
Regards,
Mark Smith