Having just completed the 2021 Ventana Research Value Index for Product Information Management, I want to share some of my observations about how the market and category have advanced since our first examination over 15 years ago.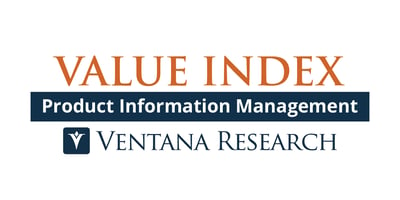 Even today, the market and category for PIM does not get sufficient attention in every organization. In essence, products and services are the foundation of every organization, regardless of its industry or size. In a black-swan event, demand for a product may spike or dip, making it essential that products get the attention they deserve as they are marketed, sold, serviced and enhanced with innovations.
In challenging times, a "customer-first" mentality tends to take hold. This is not unreasonable, but in a rush to satisfy customers, business leaders too often forget that the product experience is key to satisfying customers and buyers. An organization's agility and ability to invest adequate time and resources in products determines its sustainability, operational effectiveness and overall business health. Effective product experience and technology investments like PIM enable communication with customers and buyers to be impactful and interactive.
Ventana Research defines PIM as the practice of using information, applications and people to effectively support product-related processes across the front office; the customer and revenue areas of marketing, sales, commerce and customer and field service; and the supply chain of manufacturing and distribution. As an organization increases the number and diversity of products and services offered to customers and partners, it needs to address limitations in the ways it manages and distributes product information, including how related attributes and content that describe products are managed.
At the same time, competitive pressures require that organizations are able to incorporate large amounts of new content — video and images, for example — quickly, while ensuring that the information presented to customers is accurate, operational processes run uninterrupted, and timely data is available for business analysis. In an environment in which consumers, suppliers and partners use multiple channels to get to product information — websites, kiosks, smartphones, tablets — it is essential that the organization is always able to present complete, up-to-date product information to inspire interest and facilitate purchases.
Effectively managed information is also essential to support a range of decision-making processes about products and services. Analytics applied to product information can yield a variety of metrics: They can indicate where product information is missing, where it needs to be improved, the patterns of product usage and the meaning of any feedback received. In the preparation of product information, analytics can help profile and improve the quality of data and associated attributes to determine where action must be taken.
PIM is not the same as master data management, although the two are sometimes confused. This misunderstanding can distract an organization from focusing on what it needs in a PIM application. MDM technology can ensure a single definition of data across the enterprise, and improve the quality and integration of data across information systems. PIM systems must have built-in MDM and provide or connect to the data integration and quality processes that ensure there is only one defined master record for any given product. But product information encompasses more than just the defined name and attributes of a product in a database — it also includes all related information, such as digital assets and documents needed for reference or compliance purposes. Organizations should take care to understand the differences between PIM and MDM as well as how they can complement each other to inform decisions. PIM is essential to enable business units to manage product-related processes themselves, just as IT staff need broader MDM technology and integration tools to manage data throughout the enterprise.
Today's businesses must manage a continually expanding array of data, content and digital assets as well as satisfy the demands of consumers for comprehensive product information. Addressing these challenges requires unified processes and automated systems and, most importantly, the ability to augment and enrich product information. Our Benchmark Research in Product Information Management finds more than one-half (52%) of organizations have incompatible tools, and almost one-half (48%) must cope with disparate forms of data. These are situations that lead to wasted time and inefficiency in checking for errors and reconciling data across systems.
To provide an effective product experience for buyers, consumers, customers and partners as well as throughout the supply chain, organizations must deliver accurate, consistent and actionable product information. Doing this will enhance visibility into — and engagement with — product information, and can help organizations increase revenue and satisfy customers. Moreover, it is impossible to deliver the best customer experience without a great product experience; in our Benchmark Research, three in five organizations (61%) cited improving the customer experience as a benefit realized from investment into PIM. Engagement through digital systems like commerce and websites that present products, services and subscriptions, bolster more interactive experiences. Doing this requires more intelligent, streamlined and automated product information processes so responsible parties can focus on areas that need immediate improvement, be it velocity and volume of interest and sales, or outdated product information. The product information should include the price and promotional aspects that determine if the items will be purchased or subscribed.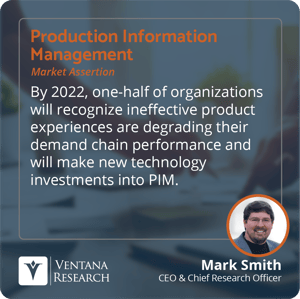 An organization's investment in its products will always determine its success, and success is impossible without high-quality, seamless digital experiences. In fact, Ventana Research asserts that by 2022, one-half of organizations will recognize ineffective product experiences are degrading their demand chain performance and will make new technology investments into PIM.
The product experience unifies an organization's efforts to not just sustain continuity but bring new value to digital merchandising and marketing efforts, helping exceed expectations for buyers and customers. Optimizing the product experience is more than just a nicety — it is essential for every organization that looks to make the most of buyer and customer engagement and relationships. This effort is especially important when depending on digital commerce to sell products and services. Without an optimized product experience, an organization will not be able to elevate the customer experience.
Many organizations have managed product information across an array of business applications, but few of these applications support a dedicated focus on optimizing the product experience across a range of business processes. The information for a quality product experience requires the right technology, which we currently do not find in the traditional enterprise resource planning or customer relationship management applications, or even in legacy PIM systems or technologies designed for MDM. It is important that an organization make investments into supporting product experience management that uses an automated and intelligent PIM approach to optimize priorities and resources, simplifying the execution of product-related tasks and activities to improve outcomes. The current movement in technology for product experience management can help enhance the digital and virtual elements of products, and use a common platform that can author and support endeavors to optimize interactions with customers and buyers.
Using the right technology is foundational to success and creates opportunities for breakthrough growth that far exceeds mere productivity improvements. Sustainable growth in PIM — and thus better product experiences — is only possible when the organization is deliberate about the technology it uses to work collaboratively with customers, partners and suppliers. Organizations with a unified approach will find that it is easier to achieve organizational agility when blended with digital communication and work platforms that can help increase the velocity of engaging in and executing product-related work.
Continuous improvement is a shared responsibility across business and IT leadership, and impossible to do without PIM designed to optimize the product experience. This approach is separate from MDM technology and achieving better data integration. Antiquated methods such as spreadsheets, databases and other tools or methods inside of ERP, CRM or digital commerce are not always designed for a modern digital product experience. They can decrease productivity, diminish accountability and increase risk. It is critical that organizations, especially in times of duress, use business continuity as a driver to improve planning for — and the intelligent use of — PIM and related communications and work, and thus should examine investments in technologies.
The use of digital technologies to reinvent the product experience from the outside in and from the inside out requires the right lens that supports business continuity rather than distracts from it. Organizations should optimize underlying product processes and technology not just for internal use, but for buyers and customers as well as suppliers and partners. This can have an immediate impact on top- and bottom-line results and reflects the priority an organization places on product experience. Organizations should ensure that existing and future PIM technology investments are designed for effective engagement and a fantastic product experience, not just for automation and efficiency. The product experience is much more than just the physical usage of a product, the digital usage of a subscription or the user experience of software.
Ventana Research believes a methodical approach is essential to maximize competitiveness. To improve the performance of your organization's people, processes, information and technology components, it is critical to select the right vendor and product. Many need to improve in this regard. Our Benchmark Research analysis found fewer than one in seven organizations (14%) at the highest innovative level of performance used PIM. However, a caution is appropriate here: Technology improvements alone are not enough to improve the use of PIM in an organization. Doing so requires applying a balanced set of upgrades that include efforts to improve processes and information as well. The research finds that such improvements are not only necessary but desired, as fewer than one-fifth (19%) of organizations are very satisfied with existing PIM processes.
The goal of PIM is to establish a reliable, single source of product information that can be shared across channels. Getting it right is not easy; more than one-quarter of organizations have over 10 sources of product information to integrate and manage efficiently. One-half of the participants in our Benchmark Research acknowledged that standardizing product information requires substantial effort, and only 27% said they completely trust their product information.
Organizations must effectively manage and improve product information outside of internal channels and systems to ensure accuracy and consistency across the entire enterprise's efforts. This approach enables organizations to more effectively align products to specific activities and processes, but it requires applications that allow an organization to manage product information to deliver an effective digital experience. The benefits of using dedicated PIM technology can be significant. More than 40% of organizations said it can help eliminate data errors, improve cross-sell and up-sell opportunities, and improve the customer experience through consistent product information.
The results of our analysis are reported in our 2021 Ventana Research Value Index for Product Information Management. We encourage you to review the results and consider how each of these vendors can support the needs of your organization.
Regards,
Mark Smith