Augmented reality (AR) is a critical component of digital technology. The role of AR is to virtualize the visualization and engagement of assets and products with information that can enhance the value of it for many purposes including manufacturing, marketing, sales and service. Consider how manufacturing and field service organizations are starting to use AR technology for hands-free call-up of service manuals using glasses so technicians can verify progress without looking away from their work.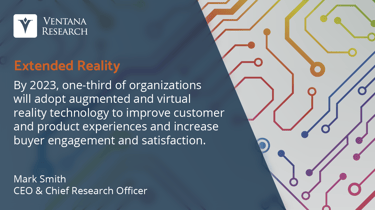 The pandemic has created a challenge for every organization to operate in a continuous manner where direct access to assets and people is not easy or impossible. As I outlined in my perspective on business continuity, when millions of businesses are not able to engage directly or are in remote locations, the need to have extended access to product information as contextual as possible is essential. By 2023, one-third of organizations will adopt augmented and virtual reality technology to improve customer and product experiences and increase buyer engagement and satisfaction.
Organizations should assess and determine the relevance of AR and virtualization to operations in what we call Extended Reality (XR). PTC, a technology provider for PLM and CAD solutions, Industrial IoT (IIoT) and AR, is a strategic software provider of enterprise-class AR called Vuforia that provides a platform and a set of tools to capture, design, simulate and deploy extended experiences. PTC has continued to invest into its portfolio of product lines that digitally streamlines the flow of information with visualization. To that end, PTC released Vuforia Engine 9.0 to advance its ability to produce immersive and engaging AR experiences by creating advanced models and simulations. Further incremental releases over the course of this year have continued to simplify the enterprise AR development and deployment opportunity.
Vuforia's latest release focuses on the usability and experience for developers, such as testing applications through its Vuforia Chalk, Vuforia Expert Capture and Vuforia Studio offerings. In addition, the release of the Vuforia Spatial Toolbox helps adapt AR with the motions of machines that traditionally happen in manufacturing. Given PTC's track record of Vuforia releases, objections to the adoption of new technology have been mitigated such that any organization can plan for new efficiencies to record and engage in enterprise AR applications. Our analysis of PTC Vuforia finds the vendor's efforts to be leading the market in helping broaden the accessibility of AR capabilities to as many organizations and workforce functions as possible, but most importantly, PTC evolves the blending of spatial computing to support interaction and manipulation by enabling digital twin applications and human interaction with merged physical and digital environments.
PTC Vuforia is a technologically advanced product that could become the defacto standard platform for enterprise AR on a variety of mobile and wearable devices. As with any nascent and emerging technology, its largest challenge remains broadening the community of ecosystem developers that are AR-enabling systems, platforms and applications. Enabling developers will increase adoption across more organizations and go beyond to include customers, partners and suppliers. Once achieved, a technology will be self-sustaining.
The advancements by PTC Vuforia and use of the spatial toolkit enable its platform and tools to meet a broader set of developer requirements and use cases for organizations. PTC flexible licensing methods help ensure it can meet the needs of organizations including academics, agencies and developers. While there are other providers of AR technology, PTC's global presence and investments continue to demonstrate its market commitment and increasingly creates a competitive barrier.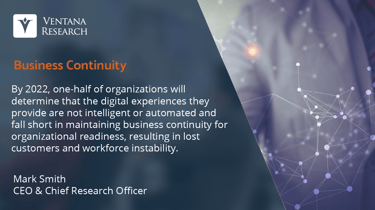 The heightened pressure to operate and support business continuity requires that organizations examine methods to virtualize the customer and product operations found in AR. We assert that by 2022, one-half of organizations will determine that the digital experiences they provide are not intelligent or automated and fall short in maintaining business continuity for organizational readiness, resulting in lost customers and workforce instability.
The advancements in AR that are blending with spatial computing align with our view that extended reality product experiences will help improve the accessibility, responsiveness and value for customers and workforce. You can learn more about the marketing and sales impact of AR for any organization in our white paper on this subject.
Manufacturers that built a competency and skillset in AR will be more agile to manage this virtual product representation that can benefit both the demand and supply chain. Opportunities for PTC include expanding its integration to support product related processes and technology used in product lifecycle management (PLM) and product information management (PIM) systems. It could also benefit from strategies to accelerate more large-scale technology deployments that reach to consumers and targeted to mobile devices.
Organizations providing physical products that need to be represented virtually for the purpose of marketing, sales and with customer and field service should evaluate how PTC Vuforia can innovate and enhance their processes to deliver better product experiences to their customers, partners and suppliers.
Regards,
Mark Smith