The annual Ventana Research Digital Innovation Awards showcase advances in the productivity and potential of business applications, as well as technology that contributes significantly to the improved processes and performance of an organization. Our goal is to recognize technology and vendors that have introduced noteworthy digital innovations to advance business and IT.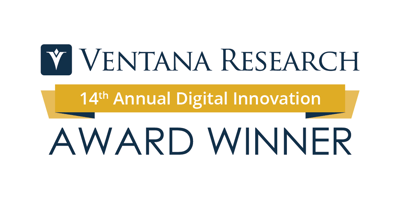 Ventana Research has awarded Moovila its prestigious 2021 Digital Business Innovation Award. This award is given to the vendor that best exemplifies innovation and change in support of an organization's need for business continuity, digital communications, digital security, digital transformation, experience management, governance and risk, performance management, sustainability management or work management. All finalists in the expertise areas of Digital Business were considered for this award.
Organizations must have the agility and readiness to achieve performance goals and support continuous operations. We believe organizations should embrace digital business technology to increase effectiveness, maintain competitiveness and enable organizational resilience. Backed by an effective strategy, technology-enabled processes can guide business decisions, providing the confidence and trust to support operational priorities and desired results.
Ventana Research selected Moovila for the 14th Annual Digital Business Innovation Award in recognition of its innovation in managing and executing work by any individual in any organization, including contractors, customers, partners and others critical to the interconnected aspects of work. Moovila monitors formal work accomplished through projects and portfolios as well as informal work assigned through tasks and activities, while helping ensure resources are available to complete the work assigned.
Moovila's Intelligent Project Control artificial intelligence software brings collaboration, efficiency and insight to project plans. Along with an AI virtual assistant called Carmen, Intelligent Project Control monitors resources, tasks and documents in a focus on work optimization and performance. A project debugger enables business and portfolio managers to identify issues before they happen to ensure optimal project execution. A scoring index provides a health indicator to highlight risk factors. This unique blend of digital innovation enables Moovila to help organizations effectively manage projects and support resources across the workforce and beyond — including customers and partners — via a common, secured platform.
If you have not examined how Moovila can help your organization, it is well worth your time. If you are looking to more intelligently manage work — from the simple but essential tasks and activities of projects, onboarding customers and partners, executing upon distributed work, or coordinating and collaborating projects across enterprise boundaries — you should consider Moovila and the reasons it was selected as the Ventana Research Digital Business Innovation Award winner. Congratulations, Moovila, for your continued innovation.
Regards,
Mark Smith