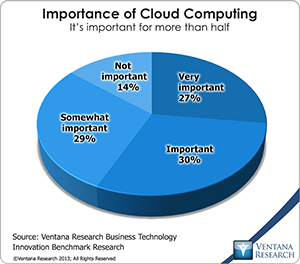 At this year's Dreamforce more than 140,000 people gathered in San Francisco to share the excitement about the use of technology for business. Salesforce.com's annual conference has reached megashow status, which is a mixed blessing: Dreamforce remains social in its design, but it has become impersonal due to its size. In any case Salesforce had plenty to show off. The company has continued to enhance its cloud-based business applications for sales and customer service, and in the last year it has added marketing through acquisitions. It also has advanced the attraction of its cloud computing platform; even IT departments see its approach as a simple way to use and build applications, especially mobile ones which the ubiquity of smartphones and tablets have made critical to business. Cloud computing is becoming the defacto approach for new applications and software for business and now IT, and its importance continues to grow: Our benchmark research on business technology innovation shows that it is important or very important to more than half (57%) of organizations. At Dreamforce, Salesforce announced Salesforce1 Lightning (available in 2015), a way to assemble mobile applications that can operate across platforms. Salesforce makes the technical details of the mobile platform transparent and facilitates assembly of mobile applications.
Probably the largest announcement was of Wave technology, that is part of the Salesforce Analytics Cloud, which originated in its acquisition of EdgeSpring in 2013. It fills one of the holes in Salesforce's product portfolio. For years the company has tried to provide in its SFA product reports and dashboards but has not been able to keep pace with the technological advances in analytics. Wave uses analytics to create metrics in dashboards that are easy to use and interact with on the Web and through mobile devices. Initially Salesforce will support the Apple iPhone and iPad, with Android to come later in 2015.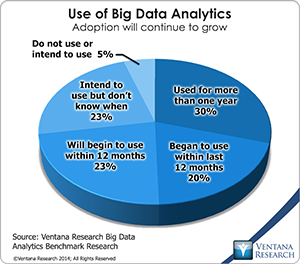 To address the potential weakness of not supporting data outside of its own applications, Salesforce pitched its partnerships with Dell Boomi, Informatica, MuleSoft and Talend that we cover in our research, all of which help move data from other systems and applications in the cloud and on-premises. Other partners like SnapLogic who have taken a pure cloud computing approach were not referenced but can play a critical role in supporting Salesforce Analytics Cloud. This collaboration will make Salesforce analytics more robust and able to access data anywhere including the Internet. This focus on integration is critical because in the past Salesforce has left it to partners while taking the position that customers should make Salesforce their operating environment. But the next generation of analytics requires access to big data, which is becoming widely dispersed and should be integrated to derive full value from investments; Salesforce has not referenced this need in any substantive manner, but it ought to be more inclusive of other big data technologies. Our research in big data analytics finds that half of organizations are already engaged into this activity.
At the conference Salesforce executives emphasized that its differentiator is its platform and its own database technology powering its analytics. I am not as convinced and because none of the current analytics and BI partners are operating on its platform, this claim from my analysis is more hopeful marketing than reality. The push to position its platform as the differentiator is meant to support Salesforce's effort to be seen as a key provider and to deflect notice of any tool limitations in the first release of Wave. I do not see the latter as an issue as it has many positives that are more important to business users than the platform. The first is the user experience of interactions with the dashboards and the elegant presentation of charts that materialize in a wavelike manner. Having differentiation in the usability of its products is a strong position; that is the top software evaluation criteria for organizations today according to all of our benchmark research.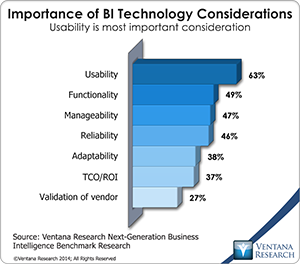 Another potential differentiator for Wave is its interoperability across mobile devices. As noted Salesforce initially is focused on Apple but will expand to Android and hopefully to Microsoft Windows Phone and the Surface tablet, which slowly are gaining adoption as organizations update from legacy notebooks running older versions of Windows. Salesforce has designed the native mobile user experience to adapt to the design of devices so users do not have to resize windows; it also is good at displaying the context and attributes of what is being shown. It also enables synchronization across devices to enable collaboration for coaching and interacting within the organization. Its annotation capabilities help supply context on issues or opportunities that can be shared by users. Our latest Value Index on mobile BI providers found many analytics and BI providers have lagged in full support of mobile platforms, often just publishing to Web browsers or just supporting Apple, which is ineffective in business and frustrating to users. In our next-generation business intelligence research usability is an important purchase consideration for the most (63%) organizations. Mobility is essential to the future of analytics, and Salesforce is smart to emphasize its work in this area to support analytics along with the rest of its applications.
With Wave Salesforce is not disrupting the analytics market but moving into the existing market of providers in the cloud. Some have offerings across the lines of business while others specialize in areas such as sales analytics. Many of these other providers are current partners of Salesforce including Birst, Domo, GoodData, MicroStrategy, Qlik and Tableau Software; they are now direct competitors that focus on the same audience of buyers and users in the lines of business. While Salesforce and its partners tried to downplay the competition, this is just deflecting from the reality of the situation. I predict that these partners will see that Salesforce will make it harder to close deals as they have in the past with customers in the lines of business, which have been the major growth area for analytics deployments featuring dashboards and visualization. On the other hand, partners like FinancialForce.com and others that use Force.com as their application platform will find Wave can improve the robustness of their applications through embedded analytics.
The Analytics Cloud should help Salesforce in customer service and marketing, for which until now it did not offer analytics or access to metrics. It will especially help in sales force automation, whose existing dashboards and reports are more than challenging to use. Potential customers will have to decide how important it is to have state-of-the-art dashboards. For reporting Salesforce Analytics Cloud is not going to solve the needs of organizations as it is limited in tabular presentation and formatting of data that most know and use in reporting, and anyway reporting is free in its existing Salesforce Sales Cloud. Merely addressing the need of sales organizations for dashboards and reviewing information on past performance is not certain to meet other needs to manage and plan quotas, territories and compensation, forecasting, quota and other areas for which it is not designed. Salesforce has its Analytics Cloud Excel Connector to provide any flexibility and address limitations in its current product through providing access from spreadsheets. There is a need for this, as the majority (59%) of organizations in our research on sales forecasting said that spreadsheets undermine efficiency.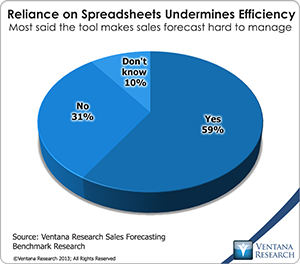 Salesforce1 Lightning will exploit further the potential of assembling custom applications that use components of Salesforce Analytics Cloud. Helping organizations and partners build analytic apps is likely to be significant for the company's future. Salesforce wisely is encouraging people to work with it as doing so quickly demonstrates its differentiation in the user experience and mobile support, and I spent some time at Dreamforce reviewing Wave and trying it on my mobile device. Salesforce also made sure its roadmap in 2015 was open to everyone at Dreamforce. Its plans include support for mapping as visualization or storytelling; the ability to record and play back so others can see and learn; Android support, real-time collaboration and offline support. What was not clear was the roadmap to improve or replace dashboards that are currently part of its Sales Cloud offering that are less than intuitive for sales but are used by many organizations. Salesforce is not being secretive like many vendors; being late to enter the analytics market, it has to build trust and confidence in its customers.
As well as its pluses, Salesforce Analytics Cloud has negatives that will prevent it from being the only tool needed for analytics; again, it is designed for assembling and deploying dashboards and has elegant selection methods. Analysts and operations personnel who perform data discovery and exploration and want forward-looking forecasting and planning or predictive analytics will need a separate tool. Therefore organizations will have to budget their allocations for the needs of various roles. Salesforce has set a premium price for Wave: $125 per user per month for those that consume and interact with it and $250 per user per month for the analyst and administrator license. Salesforce is likely to gain adoption among Global 2000 customers that can afford the price point, but small and midsize organizations will find it challenging: The price is twice as expensive as Salesforce's basic SFA offering, which is $65 per user per month. Comparatively its major applications competitor Oracle embeds the price of analytics in its Sales Cloud at $100 per user per month. Salesforce's analytics and SFA combined will cost at least $190 per user per month. Whether it is worth this steep price will require a thorough assessment by organizations that do not have unlimited budgets for technology.
Salesforce Analytics Cloud is a good first step that will enable Salesforce to be taken seriously as an analytics provider. Our research finds that analytics is the top technology innovation priority, called important by 39 percent of organizations. Salesforce Analytics Cloud will gain attention for its sophisticated dashboards, but it is likely to complement established analytics products rather than replace them. Potential users excited by the new product and its engaging marketing should keep this context in mind. This reminds me of the advent of sales force automation, which helps in automating the recording and review of accounts, contacts and opportunities during the sales process but does not automate or manage the sales force itself. Many sales executives excited about SFA did not allocate sufficient budget and resources to applications that focus on other essential aspects of sales, such as managing coaching, compensation, quotas and territories. Organizations looking for interactive dashboards should examine Salesforce Analytics Cloud closely. While the price is high, it could eliminate the pain of using less intuitive approaches. Organizations also can examine alternatives from partners that are integrated with Salesforce today and are less expensive to deploy and use.
Organizations using Salesforce applications for sales, marketing or customer service should evaluate Salesforce Analytics Cloud. Its elegance and interactivity in dashboards for both the Web and mobile devices are ahead of many competitors. Its sophisticated dashboards will attract organizations that want to present metrics more intuitively to business professionals. They should balance the price against the capabilities and determine whether to take this step toward being an analytics-driven organization. Salesforce Wave will impact the analytics market now and in the future, changing what businesses will expect from providers.
Regards,
Mark Smith
CEO and Chief Research Officer
Ventana Research