I recently attended the 2014 global analyst summit in San Francisco hosted by Pitney Bowes, an old technology company (now in business for 94 years) that has a new focus in its software along with an entirely new executive team. These leaders unveiled a business and technology strategy meant to demonstrate the company's commitment to software. For many years it has been known mostly for mail services and postage metering, but Pitney Bowes also has made investments in software that can help companies change their business processes by optimizing their information assets. Over the past few years the company has had its ups and downs as regards its corporate mission, as I wrote in 2012. Most of the turmoil was due to conflicting agendas from past management, but other factors were the company was not as clear in communicating the value of its combined software portfolio and not capitalizing on the demand in lines of business and IT for information management and analytics software.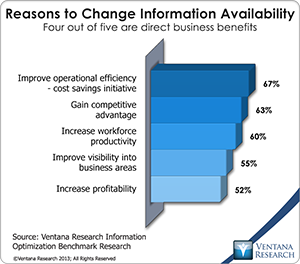 Pitney Bowes has several important assets. Its location intelligence software can provide consumers with accurate information about and directions to locations, enable businesses to target customers more accurately and help businesses be more responsive by adding a geographic context to customer information. Pitney Bowes also has advanced its efforts in information management to integrate and enrich data through spatial processing with a specialization in customer information. My analysis of Spectrum, its information management software suite, found innovation in its support for analytical and operational use. Organizations are changing how they make information available as lines of business and IT share responsibility for improving information availability, which they do in 42 percent of organizations participating in our information optimization research; the most common reasons for doing so are to improve operational efficiency (cited by 67%) and to gain a competitive advantage (63%).
The latest version of the Spectrum Technology Platform includes data enrichment and quality in its data integration offering. It has advanced in search, query design, in-memory caching and support for Hadoop. The platform also is the foundation for a master information hub that can build relationship-based maps that Pitney Bowes calls knowledge graphs. These maps are more powerful than data relationship-based models that can't map complex relationships and present them visually. In IT domains this is called master data management, but it goes beyond the usual entity relationship modeling to visualize and manage customer information from a business perspective; this can help bring business users into the process. It also can discover the locations of any information, which our information optimization research finds is important to more than one-fifth (22%) of companies. Having consistent information, particularly about customers, is critical for interaction across a business in providing the best possible customer experience. The Spectrum Platform also can process data in real time, which is attractive to the company's new customers including large retailers and social media companies like Facebook. We find that only one-fourth (26%) of organizations are happy with their current technology used to provide information, which indicates an opportunity for Pitney Bowes to take a more aggressive position in the market.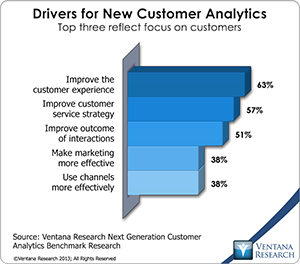 In addition Pitney Bowes has customer and marketing analytics software called Portrait Analytics, which offers an engaging way to visualize and interact with customer information. It also can predict potential results through the Portrait Miner application. Another product, Portrait Uplift, can help companies can use the analytics to apply adaptive learning from customer interactions to model how customers will interact and where changes might be needed to stimulate purchasing and reduce churn. These applications have significant potential for marketing and other customer-focused functions because they do not require a data scientist to use them. In our next-generation customer analytics research more than half (59%) of participants said it is very important to improve them while only 15 percent are satisfied with their current efforts. Predictive analytics is the type of advanced analytics most important to 69 percent of organizations, and only one-fifth (22%) are happy with their current software. Pitney Bowes is in position to look for opportunities here as long as it focuses its efforts to the top drivers that are improving the customer experience (63%) and improve the customer service strategy (57%).
The company has not lost its focus on location intelligence software. Its flagship product here remains MapInfo, but it has made investments to highlight its potential for enterprise location intelligence by supporting it in social media and Internet location-based services. A series of new releases of MapInfo after the current version 12 are coming in 2014. The company says that enhancements will include the user experience, a more contextual interface, 64-bit processing, a layout designer, contextual menus and display management. To take advantage of multiple-core processing, Pitney Bowes has segmented processes to accelerate performance. Our latest research in location analytics found that reliability, which includes performance and scalability, is the third-most important software evaluation criterion. The updates also will expand mapping from vector-based to grid-based analysis. In addition mobile technology is a priority for MapInfo, as it should be: This is the second-most important technology innovation according to our location analytics research. MapInfo Stratus is a cloud-based extension of MapInfo Pro. Some support for mobile devices is available today, and more improvements to the experience are coming. This and other advances address the innovations that are changing computing and users' expectations and are critical to keep MapInfo relevant.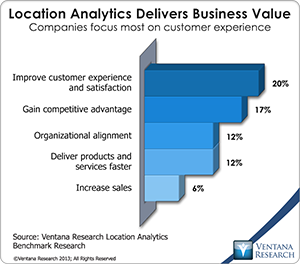 Pitney Bowes built its position in location intelligence on geocoding, integrating data sets across on-premises and cloud systems for access from a range of applications. Pitney Bowes includes 122 countries in its geocoding, and its software can provide multiple levels of accuracy based on what is available in a cascading approach. It also provides reverse geocoding, which helps identify locations through longitude and latitude; this is used by major social media. Pitney Bowes has advanced the capabilities so users can type ahead to find locations in proximity; this is especially critical for mobile application support. The ubiquity of mobile devices and Internet use and the growth of complex event processing and visualization are bringing new opportunities for Pitney Bowes' geocoding and location processing. Our location analytics research finds that many organizations view current methods as not reliable, taking too many resources and too slow. Using a dedicated approach can deliver business value like improve customer experience (20%) and gain competitive advantage (17%).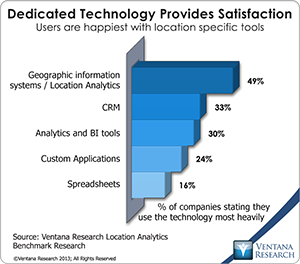 Pitney Bowes has announced the release of Spectrum Spatial, a location intelligence platform built on MapInfo. Additionally Spectrum Spatial Analyst is an interactive tool to examine spatial and location attributes of data. The Spectrum Spatial technology and Spectrum Spatial for BI are the basis for Pitney Bowes establishing new partnerships with IBM and SAP. Having location analytics with business intelligence is still rare and has potential to enhance business analysis as found in almost a third (30%) of organizations while using a dedicated approach with GIS and location analytics provides satisfaction in almost half (49%) of organizations.
Our big data research finds that only 16 percent of organizations are using geospatial analysis in big data analytics; we think this is an overlooked opportunity given the value of location in enhancing information assets. Pitney Bowes has focused on providing location intelligence to suppliers of standard RDBMSs and data warehousing, which are only a subset of the big data environment. But the company realizes the importance of big data and has announced expanded support for it in Spectrum to ensure it can rapidly access these new sources. It includes new in-memory support (50%) for SAP HANA and Hadoop (42%), which are the two types of big data support revealed as most important in our research.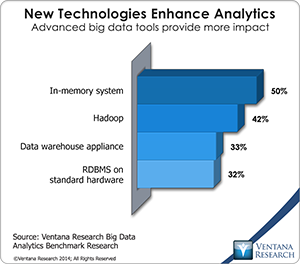 Overall Pitney Bowes software combines data management and analytics with its specialization in location to meet today's need to optimize information in real time to support both consumers and business decision-makers. In the past year it has gained traction with social media companies and other types of businesses through direct approaches. Its main challenges are that its brand is not known for solving these types of problems and that it has not been able to assert its presence through marketing. Our research on buyers and users of software for information management and big data analytics has identified demand for these capabilities; Pitney Bowes should use its own software to better market and sell its products as well as the technology deserves. Its new executives have made the strategy more clear; now it is time for the organization to execute it through more and better marketing to ensure that potential customers consider its products that deliver business insights.
Regards,
Mark Smith
CEO & Chief Research Officer