At Oracle's first-ever HCM World conference, the technology company demonstrated its commitment to human resources customers, explaining its strategy for Modern HR in the Cloud, which is focused on meeting the needs of employees in a large, dispersed workforce. The conference was insightful both intellectually and practically in its discussions of how workforces are changing. Oracle also showed its commitment by having both President Mark Hurd and CEO Larry Ellison present keynotes. This was the first time both have addressed a conference other than the flagship Oracle OpenWorld. It is worth watching the replays of their talks, which reveal the company's motivation and investment in human capital management (HCM). In developing its HCM products Oracle has in mind multigenerational workforces that require software that is adaptable to people, competencies and new technologies such as mobile devices and social collaboration and recognizes the imperative to access workforce information and analytics immediately. The rebranded Oracle HCM Cloud Service has gained significant momentum, as my colleague Stephan Millard pointed out in his recent analysis of Oracle's HCM portfolio. Taking a global approach it supports users in 196 countries, 34 languages and multiple currencies and operates entirely in a cloud environment.
At HCM World Oracle announced updates to its HCM offerings as part of release 8 of Oracle Human Capital Management Cloud. These include Oracle Global Human Resources Cloud, Oracle Talent Management Cloud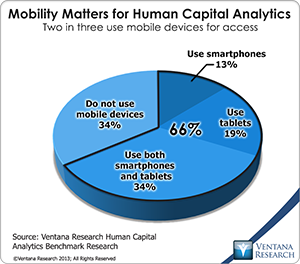 and Oracle Social Cloud. Introducing updates every quarter is another indicator of its commitment to the HR sector. Among the advances in mobile technology is Oracle Tap for Oracle HCM Cloud, which enables both managers and employees to access their HR information and share tasks on smartphones and tablets. According to our human capital analytics research mobility matters to two-thirds of organizations, and Oracle provides easy access and interact through its mobile offering. Its innovations in mobility continue to lead the market and can be evaluated freely without involving sales people by download from mobile technology app stores.
Also at HCM World Oracle demonstrated its efforts in the new area of wearable computing. This presents mobile technology as part of clothing or attached in other ways to the user's body. Through Bluetooth or WiFi these new technologies can transmit information bidirectionally from the device to the cloud or smartphones. For example, addressing the area of employee wellness, Oracle gave all attendees a free Fitbit tracking device so they can measure their exercise through walking and see how this works with Oracle's software. Presenters at the conference demonstrated how this information is transmitted from a wearable device to a central cloud application and can be accessed and integrated to HCM for promoting wellness in an organization. Wearable computing has the potential to be used for a range of information recording and notifications that employees agree to allow or employers require, and the technology is now available at retail outlets like Best Buy in the United States. Even technology like Google glass are part of the wearable computing technology market. Oracle's work with wearable computing is another part of its commitment to HCM.
In the area of recruiting, Oracle showed how its Oracle Taleo Social Sourcing Cloud Service can help organizations attract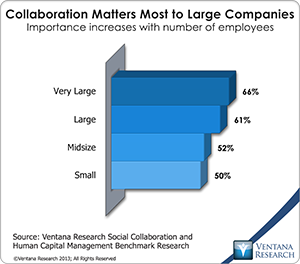 applicants through social media. It emphasized integration of data between core HR and talent management products. Oracle also demonstrated advances in mobility for candidate review and social interaction through its integrated Oracle Social Network. Our research on social collaboration and HCM shows that collaboration is important in half to two-thirds of organizations of all sizes. I hope to see more progress in the use of video for conducting and capturing live interactions, which could be used not only in the recruiting process but also across the spectrum of HCM activities. In a related area Oracle has integrated its business intelligence and big data technologies to support interactive analysis of metrics from recruiting processes.
Oracle's biggest area for improvement is in workforce management. The need to support time and attendance tracking for hourly workers continues to grow, as Stephan Millard outlined in his recent assessment of the market. Oracle has multiple offerings for time and labor through Oracle PeopleSoft Workforce Management and E-Business Suite Workforce Management but will need to invest faster and further in Oracle HCM Cloud Service's support for
hourly workers to be a force in workforce management. In the adjacent area of labor regulation, Oracle explained how in-memory technology can help with labor rules and monitoring. This furthers its support for industries that need this type of immediate look-up and processing. Oracle has been outlining its new direction in workforce management in the last couple of years at Oracle OpenWorld, and I expect to see more here in 2014.
Adding it all up, Oracle over the last two years has jumped ahead of most of its competitors by taking an integrated approach to human resources and talent management while innovating in analytics, mobile and social technologies and cloud computing. This is why the company received our 2013 Technology Innovation Award in Human Capital Management. Now Oracle continues to streamline work activities to increase employee productivity and, just as important, to improve the employee experience. Oracle's applications for HR and talent management should also be evaluated for organizations and industries that have large numbers of employees in areas such as customer service, field service, manufacturing and sales. These and others should evaluate its products to support efforts to motivate and engage their talent and provide the best possible employee experience.
Regards,
Mark Smith