Anaplan's software is designed to help organizations across finance, sales and operations improve accuracy, timeliness and collaboration in their business analytics and planning. I recently attended the company's first user conference, Hub 2013, in San Francisco, which featured customer success stories and latest on product information. Anaplan has built its business on the subtleties of modeling and planning that are shared between sales, operations and finance departments, and it enables them to apply analytics to projections in revenue, sales, forecasting, territory planning, commissions, quotas and profitability – areas that are intertwined through many business processes. Anaplan's team has more than decades of experience in the analytics and planning software markets that has led to its devised cloud-based, in-memory computing software.
At the conference Anaplan customer companies discussing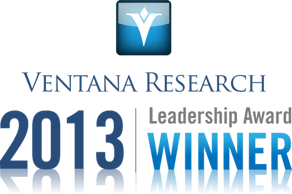 their deployments included Diageo, McAfee and Pandora. Anaplan also announced that both HP and Salesforce have chosen its product; these global technology companies are not easy wins, being both demanding and skeptical about using other companies' software. My conversations with many of its customers suggested that they chose Anaplan because it is easy to use and to engage with the cloud deployment, which offers a secure method to do business planning across the enterprise. Pandora gave a compelling presentation on its use of the product. It is both one of Anaplan's earliest customers and the winner of our 2013 Ventana Research Leadership Award for the benefits it has derived in planning and collaborating across the business. Pandora models and analyzes its business needs in Anaplan.
Also at the conference, finance, operations, sales and IT people from McAfee had a frank discussion of the latency and lack of efficiency in its planning process before adopting Anaplan. A member of the audience asked the McAfee speakers about the security of data from planning in the cloud. McAfee of course is in the business of security and virus software and said that this approach is safer than the company's prior practice of sending spreadsheets via email. McAfee, which won a 2012 Ventana Research Leadership Award, provided one of the most informative panel discussions that I have heard; it was probably the first time I have seen an entire team from across business lines on stage; usually you get one person to talk about a company's use of a vendor's products. By the way, we did a webinar on getting smart with planning with McAfee, and the replay is available.
Since my analysis of Anaplan last year, it has made great strides in simplifying the participation of contributors to the planning process and gaining input across the organization. Its new advances include more powerful presentation of embedded microcharts and maps, and more single-screen unified user interfaces, which should attract a range of business users who are not analysts but need to do interactive planning. Anaplan's product is now more reliable in performance and scalability for both data and users, and its patented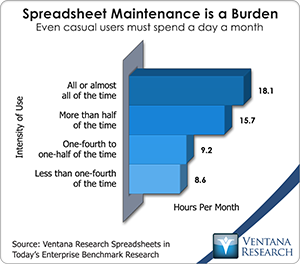 in-memory HyperBlock architecture provides robust processing of analytic computations on models with a range of dependencies and interrelationships. At the same time Anaplan is making it easier to change model and business unit assignments, and creating new members of a model and recalculating values based on the changes is dynamic and interactive. This dynamic what-if modeling is essential for scenario planning and simulations to determine how changes could impact performance and is very efficient and saves significant time compared to other approaches that would require changes to data model or scripts to modify how calculations are performed. Our research into long range planning finds that those organizations that can perform what-if and scenario planning dynamically and to any level of iteration make better decisions in 84 percent of organizations compared to those that can only perform limited number of them. The ability to create and maintain models dynamically is the top capability requested as very useful or useful in 81 percent of organizations. Using Anaplan there is no need for complex spreadsheet approaches, which according to our spreadsheet research, could require up to 18 hours per month for spreadsheet maintenance; that's a waste of critical resources, especially when you could directly update and interact with the model and the plan and it will reduce the risk of manual errors within spreadsheets. Our research into long range planning found that when teams of 20 or more people are involved that spreadsheets are a problem in 67 percent of organizations. The product also now enables dynamic filtering using the business levels of a hierarchy to automatically show information without interruptions from intermediary screens or dialogues; this ultimately saves time and helps analysts work more efficiently.
Anaplan has a significant opportunity to change how business analysts model and plan and also how they access the tools in the cloud, where they are easily rented and configured for use by anyone in business. Many organizations still use legacy technology installed long ago, in outdated versions of products like Oracle Essbase,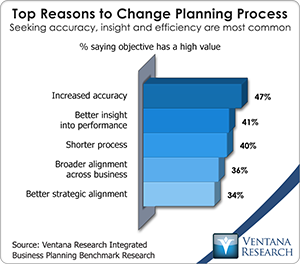 IBM TM1 and Microsoft Excel spreadsheets. Anaplan's main challenge is to convince such prospects of the value of making the transformation to modeling and planning that can be used across the enterprise. It should emphasize the enhanced efficiency of business processes, the time saved from more effective modeling and planning, and the faster response to conditions and actions that can be taken and decisions made. Our research into integrated business planning found that the most important reasons to change planning processes with technology are increased accuracy (for 47% of participants), better insight into performance (41%) and a shorter process (40%). Anaplan is addressing these aspects and was validated by its customers at the recent user conference. Anaplan is growing rapidly in terms of new customers. Recently secured private financing will enable the company to invest more in marketing and sales to strengthen its market position and also to support other necessary technology advancements, for example, access through tablets and smartphones, which play an increasing role in the business environment. Anaplan enables a new class of business optimization through its modeling and planning software. It not only gives analysts more power than spreadsheets but enables them to collaborate and interact across departments to synchronize planning and improve performance. In my opinion moving beyond spreadsheets for business processes like this one is a sign of maturity and reflects an organization's readiness to compete and be as profitable as possible in its chosen markets. Those in business aiming to dramatically improve its analytics and planning through dynamic modeling operated and managed by analysts should evaluate what Anaplan offers.
Regards,
Mark Smith
CEO & Chief Research Officer