At this year's annual SAP user conference, SAPPHIRE, the technology giant showed advances in its cloud and in-memory computing efforts. It has completed the migration of its conventional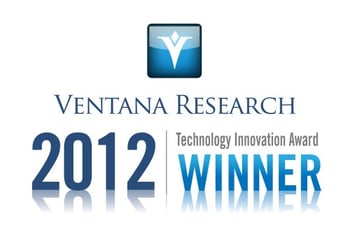 application suite and portfolio of tools to operate on SAP HANA, its in-memory computing platform, and made improvements in its cloud computing environment, SAP HANA Enterprise Cloud. The last time I analyzed SAP HANA was when it won our firm's 2012 Overall IT Technology Innovation Award. Now HANA has been transitioned from just a database technology into a broad platform. SAP wisely consolidated its efforts previously known as SAP NetWeaver into SAP HANA. This resolves some confusion regarding HANA and NetWeaver in the cloud, which I assessed. The recently announced SAP HANA Platform now provides the enterprise class of HANA implementation in the cloud. It comes with a trial edition of the data and visual discovery technology now called SAP Lumira, whose price has been reduced to encourage adoption (and which I discuss more below). The use of in-memory databases for big data is accelerating: According to our technology innovation research, 22 percent of organizations are planning to use this technology over the next two years, and through 2015 it will have a higher growth rate than other approaches.
SAP HANA is gaining functionality as a platform and has made an important step forward with its service pack 6. This new release expands integration of the technology into data across its applications and systems. HANA now has virtualized access to data in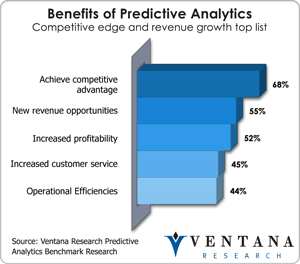 Hadoop and a range of other databases along with supporting the necessary data integration. Integrated with Sybase SQL Anywhere, HANA enhances mobile use of that technology; it also works with Sybase ESP to integrate event streams and machine data, and with Sybase Replication Server to connect with Sybase ASE and other databases. HANA's increased spatial processing capacity handles this type of data, which then can be accessed by tools and applications. Our latest research into location analytics finds new applicability for this across business processes and our next-generation business intelligence research reveals that applying location-based analytics is important to 40 percent of organizations. The latest version of HANA has advanced data modeling capabilities through SAP HANA Studio to make it easier to use data and build a range of business models including predictive ones. Majorities of research participants said that such capability through predictive analytics provides a competitive advantage (68%) and new revenue opportunities (55%).
SAP supports text or natural-language processing needs. At some point I hope it enables HANA to dynamically create text as a result of its analytics; that could communicate better with people than just showing charts and data. This capability already is available in the workforce analytics products of SuccessFactors, whose Headlines technology won our 2012 Overall Business Innovation Technology Innovation Award; however, that does not yet seem to be part of SAP HANA and other applications, which could be a business benefit and product differentiator.
SAP also is expanding its software partner ecosystem to spread use of HANA with a range of applications. An early example is Tagetik, whichprovides its financial application suite on HANA for in-memory computing. SAP also announced recognition of innovative SAP HANA based applications including Warwick Analytics and Semantic Visions that are well worth examining. SAP also is adding integration points with other network storage, data center integration and even business intelligence and analytics. To this point, however, not many vendors are certified on SAP HANA, and my inquiries with various software company executives found they have more work to do and are not getting strong support from SAP to streamline the process to become certified. Elsewhere in its technology ecosystem, SAP announced further cooperation with HP in what is called Project Kraken to create an appliance with 16 processors and 12 terabytes of memory, designed to operate SAP HANA effectively for any range of analytical and transactional needs. Success of this computing appliance is equally important to HP, which is in a do-or die-battle against IBM and Oracle who are advancing in this area. At the same time SAP's one-time partner Teradata has a competitive approach, whose recent advances in in-memory computing with its new intelligent memory and appliance that I assessed is well worth examining.
HANA is now part of SAP's overall business intelligence strategy, as my colleague Tony Cosentino has pointed out. This is a positive step as the company works through the challenges of keeping a very large customer base happy as it moves its product line into the future. One of its key points for its future is the newly announced SAP Lumira, which was previously known as SAP Visual Intelligence, a more self-explanatory product name for the intended audience that is engaged in business analytics or even big data analytics. SAP Lumira is really the new face of its business intelligence products whether on-premises or in the cloud; it meets a need for discovery technology, which I outlined and is important to the future of business analytics. This was challenged by partners MicroStrategy and Tableau who were demonstrating their approaches at SAPPHIRE showing its competitive approach and how it can make good use of data from SAP and inevitably SAP HANA as they work through integration of the technology. Our research into technology innovation found that data and visual discovery is not available to 19 percent of organizations, ranking third behind the most unavailable predictive analytics (27%). SAP Lumira interoperates with other SAP products along with supporting Microsoft Excel spreadsheets. SAP also has released SAP BusinessObjects 4.1 with improved access to Hadoop through MapReduce and Hive, and also to Oracle's Exadata and Essbase technologies. A new edition of SAP Crystal Server and Edge edition furthers support of BI for small and midsize businesses (SMB). SAP continues to have fierce competition in IT departments for BI and to overcome it is working to help business analysts and management use business analytics.
In the realm of business applications, SAP has fulfilled its promise to make HANA the underlying platform across on-premises deployments and the cloud. Its SAP Business One application suite version 9 is designed for SMB and runs with HANA and even Microsoft SQL Server. Simultaneously, the SAP Business Suite is now available on SAP HANA. As my colleague Robert Kugel explained, that makes it possible for customers to avoid using Microsoft or Oracle database technology and take advantage of new technology and applications built on HANA. Examples of this are SAP's release of its fraud management application on HANA, which Robert assessed, as he did for advances in its EPM portfolio for finance. A word of caution here: Companies that use SAP's applications on third-party databases have to be careful as the license in most cases only allows for application-specific access to the database, limiting the potential of other business uses. The range of new applications and tools running on HANA is steadily increasing as partners make progress adapting to it; SAP's digital marketplace dedicated to HANA shows what is available.
SAP is so bullish on its ability to design consumer-friendly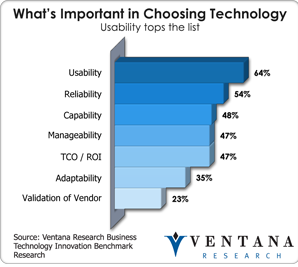 applications that it also announced efforts to bring that quality into the enterprise through the SAP Fiori apps for common business functions; it also has simplified the user experience of its applications. This is nothing new for SAP which has long emphasized usability and made improvements in a continuous improvement cycle. SAP has invested significantly into the user experience and created AppHaus to build demonstrations of the latest advances. Even so, after looking at the range of new applications, I think SAP still has to improve upon the user experience and design of the applications. SAP is heading in the right direction, but it ought to build an application assembly and design environment that the teams at SAP, and its customers and partners, all can use to build people-centric applications, especially for use on the Web and mobile devices. I got to test applications that demonstrate user experience advancements, but they all were custom-built, and I saw others with primitive user interfaces for business applications; these fall short in trying to engage users across a range of experience and facilitate the natural collaborative aspects of their responsibilities. Those aspects are critical, as our research across every line of business finds usability to be the top evaluation category for software evaluation, and it was the top criterion in 64 percent of all organizations. My analysis suggests that SAP needs to consider the critical aspects of personalization based on role, responsibility and experience and adapt the user experience to them. As well, less can be more when presenting information for the majority of business purposes, and guiding individuals to what is relevant is more important that piling up charts or information on the screen.
Separately from its HANA efforts, SAP has advanced enterprise-class readiness for mobile technology, has outlined a comprehensive mobility framework and deepened support for security through a partnership with Mocana for any applications that embrace SAP's mobile portfolio and technology. This addresses an evident need, as our technology innovation research into mobile technology finds the top barrier to business deployment is security and risk issues, found in 47 percent of organizations. SAP has to also consider in the world of BYOD the preference for native platforms (39%) over the Web or HTML5 (33%), along with no preference (20%); it won't be easy for SAP to make everyone happy, especially when half of individuals have a distinct preference for their type of smartphone or tablet. Our research finds fewer than one-third (32%) of people satisfied with their organization's mobile access to applications and information. I did not hear much about SAP HANA in the company's mobile strategy except that it powers tools and applications that operate on a smartphone or tablet. But overall SAP is investing more into advancing mobile technology than other technology suppliers, and its potential is yet to be realized as business and IT begin a transformation to mobile readiness.
Since my analysis after last year's SAPPHIRE SAP has brought to reality its cloud computing strategy with products that are now available. I thought that more could have been highlighted in SAP's sustainability efforts in including its software, for which last year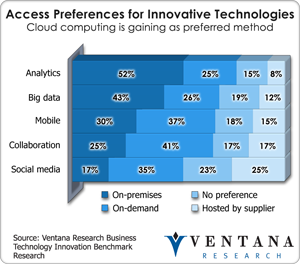 we provided a 2012 Leadership Award to its customer Danone for its use of SAP products. I was more surprised that SAP was rather quiet about its efforts in business and social collaboration as it works to transform its technology by embedding the Jam product in its software. SAP is working to ensure its products are simple but sophisticated, available on any platform or device and localized to any country in the world – and that they operate on SAP HANA. It is also working to deliver faster methods to onboard and experience its software through rapid deployment. SAP's focus is to inject the technology innovations into its platform and applications while also supporting what our technology innovation research finds is the desire for a variety of access methods: on-premises, on-demand and hosted approaches that are distributing quite rapidly. It is clear that organizations want choice in how they access technology and applications; SAP is prepared to address this as it enters a new era of opportunity built on SAP HANA.
Regards,
Mark Smith
CEO & Chief Research Officer