Organizations succeed through continuous planning to achieve high levels of performance. For most organizations planning is not an easy process to conduct. Planning software is typically designed for only a few people in the process, such as analysts, or organizations might use spreadsheets, which are not designed for business planning across an organization. Most technologies only allow you to examine the past and not plan for the future. For decades organizations have tried to focus planning on driving better results through higher participation, but they have usually failed, as technology has not advanced enough to support this business need.
Tidemark has been working to help organizations plan and perform more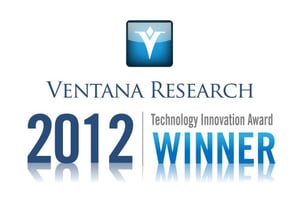 effectively across business, including finance and operational areas. My colleague Robert Kugel a year ago analyzed the launch of the company. Last fall it came to market with generally available applications that operate across the web and mobile technology. They are designed for business but also illustrate my point about business leading the way to cloud computing. Ventana Research awarded Tidemark our 2012 Technology Innovation Award for Finance, as the company's efforts make finance more effective and smarter in business planning operations. Tidemark's focus on the user experience engages users with easy–to-read metrics. The software's ability to update the plan and let users collaborate has gained it attention from organizations looking for a better approach to planning. Early customers such as Acosta, Chuck E. Cheese's and G&K have validated its premise of a smarter way for organizations to manage performance through analytics and planning designed for everyone in business.
Using dedicated applications to support a business process like planning is a smart idea. Our recent research into business planning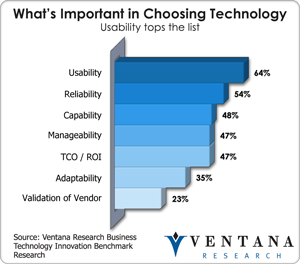 found that organizations that use dedicated applications report a level of accuracy of 86 percent, compared to those using spreadsheets at 60 percent. Increasing the accuracy of the plan was the top item (47%) where change could improve the value of the financial and business planning process. More importantly, 82 percent of organizations using dedicated applications indicate they have all or most of the numbers for aligning performance through planning, compared with 39 percent of those using spreadsheets. Businesses struggle to blend planning and business analytics. Integrated business planning that encompasses every department should be available for any range of customer, operational, financial, HR, sales and revenue-related needs.
Tidemark focuses on usability, which our research into business technology innovation found to be very important in 64 percent of organizations, higher than any other evaluation criteria. Its metrics and planning processes are easy for people to read, view and understand, unlike today's typical mashup of email messages, presentations and spreadsheets, or attempts to push a set of standard charts into a dashboard view, which I have already said to be pathetic.
The new Spring 2013 release is the company's next major product milestone. It introduces the ability to present analytics and metrics in what the company calls Tidemark Storylines – visual business-focused infographics that are dynamically created to interpret and present information about the business in a past, present and future approach that I have not seen in a product to date. Beyond this tool to help inform business and provide better methods to interpret the data, Tidemark has enhanced the business modeling capabilities that make this all possible, and this is what business analysts will love about the product. By using driver-based planning and other important approaches, the application can help provide a unified view of actual and plan data along with business charts to let users examine what changes are needed or envision what-if scenarios. Addressing one of my personal rants over the last decade, the software's English statements on the analysis and analytic computations (metric or key indicator) make it easier to understand what you are examining, and you can change a statement to drive the presentation of the analytics. Tidemark's focus on the visual presentation of business analytics goes well beyond that of the majority of technology suppliers in the market today. It takes only a couple of minutes of seeing the application to understand how the intuitive and interactive charts tell the business story and don't just present the numbers.
This new release provides advancements in collaboration,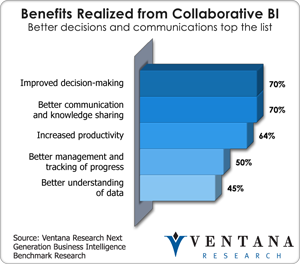 with annotation and collaborative methods built in as part of the application. For years IT analysts have failed to understand that collaboration is the essence of what people do every day to drive improvement, and what those held accountable for business actually need. Our technology innovation research found collaboration to be the second most important priority after analytics, and having collaboration embedded within applications was the preferred method in 43 percent of organizations, over use of Microsoft Office or standalone tools. Tidemark provides collaboration within the context of the analytics and plan. It is able to integrate a range of comments or a document relevant to the analytics. It can securely store content to help with the need for disclosures, or any level of secured document storage, through a partnership with Box. Our recent research into next-generation business intelligence found that by using collaborative methods, organizations improve decision-making and have better communications than those that do not. I would assume that every organization would like these types of benefits for their business.
The next largest advancement is in how Tidemark allows for rapid configuration to make the application quick to deploy and use for a wide range of analytics and planning needs, no matter how strategic or operational they might be for an organization. It is not a one-size-fits-all approach; the Tidemark application can be adapted easily for any business process or planning needs.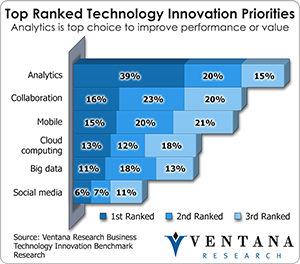 As organizations begin to realize the drawbacks of using spreadsheets and legacy applications not designed for the planning and performance processes, they will find that almost half (47%) can get to the details faster with dedicated applications compared to those that use spreadsheets alone (21%) or those that use spreadsheets with other applications (16%). Respondents in our recent benchmark research in business technology innovation ranked business analytics their top priority (39%), in part for their importance in business planning. As organizations look at how to get better at strategic and long-range planning, they need to ensure they spend the right amount of time, as my colleague eloquently points out.
Tidemark partners with Workday to provide its products integrated with Workday's HR and accounting applications that operate in the cloud, which are rapidly replacing on-premises ERP implementations. Tidemark also takes advantage of big data related to unstructured content using new technologies like its partner Cloudera.
Just investing in business analytics to analyze the past is not sufficient for achieving higher levels of performance. Without planning it is hard to determine what business should do to improve. Tidemark uses cloud computing and mobile technology in a unique way to advance business planning across the enterprise, and is worth your time to evaluate. Tidemark provides a strong foundation, but it should provide easier access for people to try the application for a short period of time, as I believe that once organizations try it, many will become customers. Tidemark can help meet organizations' planning and performance needs and determine how a business can reach its full potential with its new and innovative release.
Regards,
Mark Smith
CEO & Chief Research Officer