Cloud computing has given business a new way to improve the effectiveness of business processes and ultimately the outcomes of their efforts. In the last five years, business across marketing, customer service, sales, human resources, finance and other areas have embraced the practice of renting access to the applications and technology they need when they need them. Organizations' use of operational expense budgets helps them get what they need and avoid IT politics or standards that impeded their agility.
The cloud computing trend that I outlined earlier this year has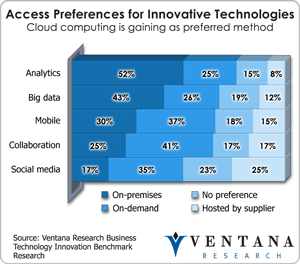 escaped recognition by traditional IT press and analysts that do not research or assess business, which is just beginning to understand that business does not do just what IT tells it to do. This is especially important because people on the business side are held accountable for the results of their operations and should have a larger voice about what they use to improve their business processes. Over the last year I have seen IT getting more involved in understanding business needs as it looks to add value to business and also to interconnect cloud computing deployments into the enterprise.
Our latest research into technology innovations for business found a significant shift toward the use of on-demand and cloud computing approaches. Business and social collaboration technology had the highest preference for cloud computing at 41 percent, followed by mobile (37%) and social media (35%). Less critical was big data (26%) and analytics (25%), but finding that one out of four respondents prefer cloud computing is significant considering that no more than five years ago the preferred approach was to have IT buy and install all technology. Times have changed, and business is now using what it needs to be more productive and drive the most effective results.
Cloud computing has improved the availability of applications and information, according to a third of organizations (34%), with executives realizing this more predominately (46%). Furthering those efforts is why business continues to lead in the adoption of cloud computing. Those that use it see the largest benefits of the cloud as lowered costs (40%) and improved efficiency of business processes (39%).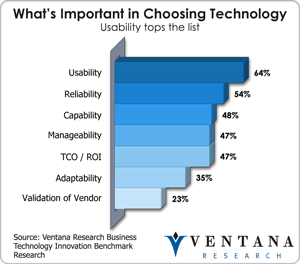 As business gains the confidence and skills to evaluate applications and tools, we are also seeing a dramatic shift in the factors it uses to evaluate technology. Usability (64%) is significantly more important than validation of a vendor (23%), for example. Having applications that meet the needs of the people who use them is more critical than satisfying IT, which will never use the applications. IT may try to simplify and force business to use applications and technologies from large technology vendors where they get the best deal, but business is more concerned about the use and effectiveness of technology. We are also seeing the smaller vendors earning just as much if not more opportunity to gain credibility with businesses looking to rent and use applications.
One of the challenges in using cloud computing is integration of data from the applications in the cloud with that of on-premises applications, which is very important to 44 percent of organizations.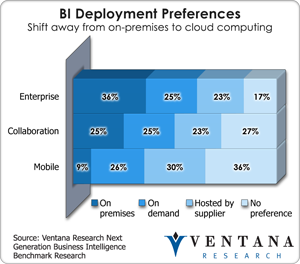 As business continues to adopt more cloud applications, they need to synchronize or access more data for a range of business process and analytics needs. Our recent research into next-generation business intelligence found a growing shift to on-demand and cloud computing approaches for business intelligence across mobile, collaboration and even broader enterprise use in a quarter of organizations. We found an openness to supplier-hosted or private cloud computing, along with many organizations that have no preference as to deployment approach. We found business focusing on getting the value of its investment in the most efficient manner, or what we call time-to-value (TTV), and if cloud computing helps in that goal, then it will be adopted.
You should consider how your business can exploit cloud computing, especially in places where you are running older applications or tools that need to be replaced, or where you need new innovations in efficiency or methods to engage customers and promote growth. The largest barrier we found to taking advantage of technology is lack of resources (51%); cloud computing can take fewer IT resources to evaluate, onboard, configure and deploy, and such systems can be managed by people in business departments or divisions. While cloud computing comes out of the general IT budget in more than half of organizations, our research finds that the business budget (35%), line-of-business technology budget (28%) and shared service funded by business (24%) are also major places for investment.
Cloud computing is less of a benefit of any one vendor's products but rather an approach that can give business a competitive advantage. Businesses should evaluate cloud-based solutions whenever they evaluate new investments. As your organization examines business applications and discusses how to accelerate your time to value, consider how cloud computing can become a critical path to meeting your business and IT needs.
Regards,
Mark Smith
CEO & Chief Research Officer