Business is starting to realize that taking advantage of big data is not just technically feasible but affordable by organizations of all sizes. However, as outlined in our agenda on big data and information optimization, the technology must be engineered to the information needs of business. Hortonworks has been steadily advancing its big data technology called Hadoop and contributing its developments back to the Apache Software Foundation for a range of projects. The company performs enterprise-level testing to ensure Hadoop not just operates but scales across operating systems, cloud computing, virtual machines and appliances. Over the last year Hortonworks has released a number of certifications and benchmarks for an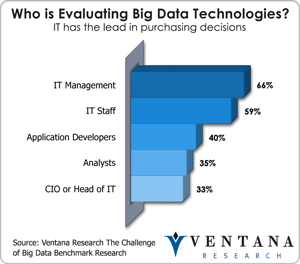 enterprise-ready version of Hadoop for which it provides support and services. These are important steps forward in meeting the needs of IT management, which is the audience evaluating big data technologies in 66 percent of organizations according to our big data research.
Hortonworks Data Platform, the enterprise offering that I analyzed last year, is a Hadoop technology stack that is being adopted because of its enterprise readiness. At beginning of this year, Hortonworks released its latest version, which advanced management and monitoring through the use of Apache Ambari and improved security and authentication. It supports multiple concurrent query connections to Hive, making it more scalable in support of business intelligence and applications. While many of the competitive approaches to Hadoop and Hive point to its performance challenges, Hortonworks points out the improvement they are contributing to advance it and these competitive benchmark are significantly flawed in their design. It also offers improved SQL access to Hadoop, and while it is not the only application that provides it, Hortonworks worked with Simba to provide a Hive ODBC connector to support SQL-92 access from business intelligence tools. Hortonworks also includes Talend Open Studio to help with Hadoop integration needs. To support testing and development for enterprises, the company released Hortonworks Sandbox at beginning of 2013.
Hortonworks is working with Microsoft to have Hadoop operate on Windows platforms. It's now available for download in beta and is expected to be generally available in the second quarter. By working with Microsoft, Hortonworks helps IT organizations that use Windows Server as the platform for their big data initiatives. Microsoft HDInsight Server and Windows Azure HDInsight Service are built on Hortonworks Hadoop Data Platform and make Hadoop readily available on Microsoft Windows. This strategic alliance helps IT organizations bring the power of Hadoop to Microsoft platforms. It is important for Hortonworks to broaden its reach to the large and global audience that uses Windows, especially given that our research on big data finds that 89 percent of organizations today use RDBMSes like SQL Server, and they can now use Hadoop more closely on a Windows platform.
This new approach with HDInsight can then connect with Microsoft SQL Server 2012 for sourcing or accessing data into Hadoop. Microsoft Excel can easily direct access to Hadoop through SQL which opens up further support for a large number of organizations. Microsoft HDInsight provides integration with Microsoft Systems Center for management of deployments, and security is integrated with Windows Server Active Directory. Making Hadoop available from Hortonworks on Windows is a significant step forward for Microsoft and its big data efforts. The company is not usually part of the discussion in the big data market though its technologies are used in many deployments that easily could be described as big data in nature. Both Microsoft and Hortonworks are highlighting this alliance and technology availability at the Strata 2013 conference in Silicon Valley this week.
In addition, Hortonworks has announced new Hadoop initiatives to further advance its potential. It has a project underway to improve Hive performance through support of interactive queries and a new project with Tez to get a newer-generation runtime to improve performance of Hive and not depend on MapReduce. It is also working on Hadoop Gateway to provide a single point of secured authentication to Hadoop that will help in operations across clusters. Part of Hortonworks approach is that each of these new advancements are contributed to the open source community where other developers and organization can contribute and help or use it once finalized and ready for distribution. This is a much different approach than others in the market who source Hadoop from the community and make proprietary extensions to it or embed it in their software and sell the license to the customer.
Hortonworks operates in a very competitive Hadoop market, let alone the broader market for big data technologies. Within the Hadoop market it has many competitive forces but Hortonworks states their pure support for working through the open source community and having not just their large number of committers to Hadoop but the power of all the developers and organizations that work to advance this big data technology is their competitive advantage. The company previously partnered with Teradata to have its Hadoop technology integrated with the Teradata Aster Big Analytics Appliance, a device that we awarded the 2012 Technology Innovation Award for Big Data for its sophistication in blending Hadoop and AsterData into one appliance. I expect Hortonworks to continue investments into partnerships in areas from integration to analytics, as it has done to support data integration with partners like Talend and Informatica; as I have pointed out, big data is broken without having an array of support for integration technologies.
I like the work that Hortonworks is doing to supporting Hadoop deployments. Our research on big data finds that 43 percent of organizations prefer on-premises deployments and 24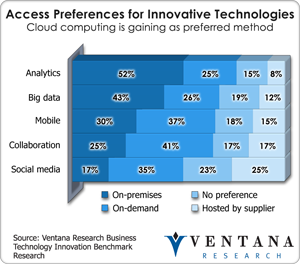 percent prefer it in the cloud, which Hortonworks addresses with a partnership with Rackspace and now with Microsoft and Windows Azure. Hortonworks offers many opportunities to help IT organizations use Hadoop across platforms and environments, and supports existing technology interoperating with it, allowing organizations to use employees who are already trained and ready to be leveraged. Organizations that are interested in examining certified and supported Hadoop should evaluate Hortonworks. Businesses looking for Hadoop support on Microsoft Windows will find Hortonworks their only option, as it is the strategic choice by Microsoft for operating Hadoop on its platforms. Hortonworks support for contributing to Hadoop openly, its significant sized partner ecosystem to complement Hadoop and the flexibility of operating across Linux and Windows to on-premises and in cloud computing environment make it a strategic provider of big data technology.
Regards,
Mark Smith
CEO & Chief Research Officer