The technology ecosystems are expanding rapidly and the use of big data and cloud computing challenge organizations to process information efficiently and deliver consistent high-quality data. To address these issues, Informatica has introduced two new offerings.
In the area of big data, much effort is spent on storing and accessing data using tools such as Hadoop, data appliances and in-memory computing. Informatica has announced Informatica PowerCenter Big Data Edition, schedule to ship in December, to help companies deal with large volumes of transactional and interactional data employed to promote efficient business processes and satisfy informational needs.
The new release works with Hadoop, which our big data benchmark research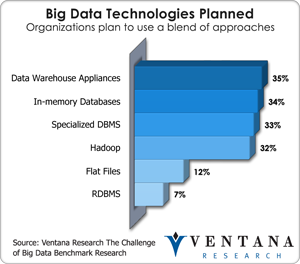 shows is one the top planned big data technologies in 32 percent of organizations. Hadoop has been a labor-intensive technology to deploy, with hand-coding of scripts and interfaces common. PowerCenter will support Hadoop visually as it does other sources of data, and support profiling of data in Hadoop to help analysts understand where data can be used in the enterprise, then parse it for inclusion in processes. In a world where our Hadoop and information management benchmark found that 71 percent of organizations need to train staff for big data projects, PowerCenter will make it easier to support Hadoop in a production environment. Informatica's largest challenge is to ensure PowerCenter is seen by the Hadoop and developer community as easy to access and adopt, given the high price Informatica is charging. To do this, Informatica will need to provide more examples of resource and time savings to show organizations that it is not smart to continue manually developing scripts and custom-coding Hadoop.
To address cloud computing, Informatica's Cloud Winter 2013 release will support master data management to help ensure consistency of data across applications in the cloud. The software will also integrate with any enterprise-level MDM and data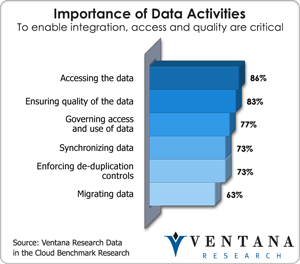 governance processes that use Informatica. Ensuring the quality and governing the use of data are key activities for more than three-quarters of organizations in our business data in the cloud benchmark research. Informatica has introduced a wizard to facilitate the steps to ensuring consistency in data definitions and apply MDM to cloud computing processes, and has made advancements in hierarchy management. To ensure consistency in addresses, it has integrated AddressDoctor to help connect with cloud computing applications such as Salesforce.com. Informatica also crowd sources its community the improvements that matter most to community members, leading to improvements on lookups, custom parameters and integration templates. Informatica will also introduce new cloud computing integration connectors, including ones for Workday, Marketo and Concur, which are in their own segments important applications with data that needs to be integrated and used across broader business processes. Probably just as important is the continued growth of the Informatica Marketplace, which provides further connectors and templates. Informatica has also made it easier to integrate applications and manage integration jobs – tasks that are growing in importance as the skill sets of accessing and integrating cloud-based data sources become more critical.
Informatica could make is easier to understand how to connect these cloud computing environments by line of business areas, where for example the efficiency of marketing and sales processes depends on a range of applications in the cloud and from on-premises providers. There are dozens of cloud computing providers across each line of business, and Informatica could offer a bounty or reward for anyone who brings an integration template to the marketplace first. Having such templates available would make it easier to know how easy integration would be in a specific line of business; if nothing is available, the company and its users should be able to make a request to the marketplace and community for what is needed.
Informatica continues to expand its PowerCenter platform to help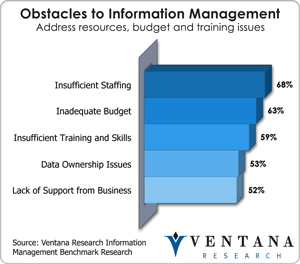 organizations support distributed information management operations. This should be a top priority for all CIOs who spend too little of their time, budget and resources on the information component of their titles. I like what Informatica has done to automate and improve the use Hadoop and big data. Our firm awarded Informatica the 2012 Ventana Research Technology Innovation Award for Information Management for its expansion of data management and operations to include the use of Hadoop. Informatica focuses on addressing the obstacles to information management, which in turn helps address the staffing and training issues that are found in more than half of organizations according to our information management benchmark research.
Today, when data may be created and housed anywhere but needs to integrate across business processes, the use of data integration software to support information management saves time and resources and meets a variety of needs. Informatica has expanded its portfolio to support big data and cloud computing efforts. Organizations should step up and look at its software more closely.
Regards,
Mark Smith
CEO & Chief Research Officer