TribeHR has brought to market an HR application suite that uses social collaboration to empower workers and managers to perform tasks that might once have been done mostly by HR professionals, or not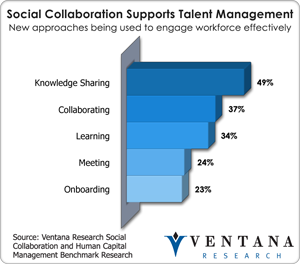 done at all. The software-as-a-service-based TribeHR application helps businesses with fewer than 500 employees with recruiting, applicant tracking, onboarding, performance and goal setting, and time and vacation management – but with a twist. By using social collaboration as a foundation for its functionality, TribeHR takes advantage of knowledge sharing, the most valuable approach our human capital management benchmark research found for engaging the workforce.
Recently the company announced a new release of its software that provides further social media integration to more easily get candidate information from LinkedIn and Facebook, lets users post feedback and kudos on Facebook, and captures feedback from that channel. It's easy to register for a trial of the product, so I did. I found the product easy to engage with, and thanks to its collaborative approach, it's easy for employees to share information and converse with each other. The application lets you easily see staff profiles across the team, which helps drive better understanding of team members.
The latest release introduces a simple approach to performance management that is part of the new approach to engaging workers. Managers can assign individual and team goals, track progress and post recognition when goals are reached either in a peer or public manner, and even publish recognition to Facebook. I also like the ease of having actions and goals defined in the system. Companies can share their list of corporate values, and review how employees support the values through their actions. This approach helps engage teams of people as human capital.
For recruiting, TribeHR can automate job postings to external websites, job boards and Facebook, and post applications back into TribeHR. It can use a LinkedIn profile for a job application. The software makes it simple for applicants to be reviewed and prioritized for interview and potential future hiring which save valuable business time of hiring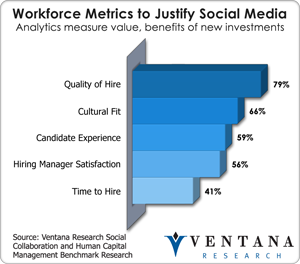 managers. This level of integration with social media addresses factors our benchmark research found improve the quality of hire (79%) and address metrics like cultural fit (64%). Other key features include:
A corporate calendar that can be integrated with existing Outlook, Google or iCal calendars
The ability to track time off
Storage of corporate documents for easy access
Simple ways to develop and maintain personnel profile and support time tracking.
Many of these capabilities can replace personal productivity tools, such as Microsoft Office, that do not foster collaboration or common goals among a workforce.
TribeHR can also integrate easily with Salesforce.com for sales force automation and FreshBooks for accounting. I hope to see it further integrate with Intuit QuickBooks, both of which are often used by small businesses. The company recently announced a reseller program to further extend access to its offering through a range of consulting firms.
TribeHR keeps it simple when it comes to pricing, with a low per-user per-month charge starting at $2 and going higher based on a company's needs to engage across groups and teams. With its foundation of customers, the company can provide aggregated information in the form of metrics to give guidance on best practices; for instance, its recently announced pay raise index provides a benchmark to compare a company's business practices to those of others of similar size. While I usually can find places for improvement in vendor offering, TribeHR provides a very robust offering for the price it charges. I expect we will see more of its offerings available on smartphones and tablets to further extend into the new reality of business computing.
Small businesses may lack an HR department, but they must have human capital management applications and processes that can operate with no or little administrative support. When it comes to helping organizations recruit, engage and retain talent, TribeHR provides a robust offering for an affordable price to help small businesses act smarter than the majority of big businesses. If your small business has not taken a look at TribeHR, don't miss it.
Regards,
Mark Smith
CEO & Chief Research Officer