Workforce management software vendor Kronos released its financial results at its 15th annual KronosWorks conference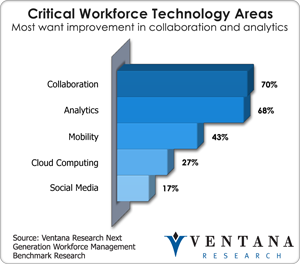 (#KronosWorks12) this week. As a private company Kronos had $870 million in revenue for its 2012 fiscal year ending in September, making Kronos one of the largest software and technology companies in the world. Our benchmark research into next-generation workforce management finds the most important technology priorities are collaboration (70%), analytics (68%) and mobility (43%). Kronos addresses these trends with its portfolio of workforce management applications.
Building on its introduction of Kronos InTouch at last year's conference, Kronos meets a new generation of managers' needs for overseeing and analyzing the contribution of workers. Its new Workforce Tablet application provides analytics, geosensing, scheduling, staffing and time card approvals via a native iPad application available from the Apple App Store. I tried the demonstration and found the application easy to use. It's designed for a range of competencies and skills across industries. Our research finds 28% of organizations use tablets today, and another third (34%) plan to use them in the next year. Since the iPad is the preferred device in almost two-thirds (63%) of organizations, Kronos has made a smart bet on Apple. Android devices are a logical next step and beginning to show up in business; currently Microsoft has little to no mindshare and it just introduced its Microsoft Slate that it hopes will gain adoption in organizations.
This has been a big year for Kronos. The latest release of Kronos Workforce Analytics,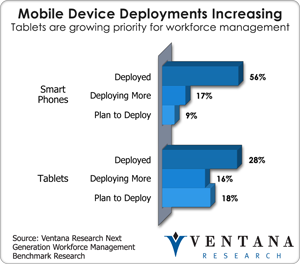 as I assessed, was a significant point of expansion. This week's released of workforce analytics that operate on a tablet should help managers get better insight into labor and high-level worker performance metrics. Kronos' labor analytics capabilities, accessible now via tablets, can help with overage and compliance metrics. Our latest research found that almost two-thirds (61%) of organizations plan to improve workforce analytics; most currently use spreadsheets. Kronos provides prebuilt content for specific industries but can also provide its analytics technology for any organization that wants more sophisticated analytics.
Kronos' InTouch device can be used as a time clock and for a range of worker interactions, from notifications and access to service and applications. I would expect to see even more options from Kronos to support capabilities like WiFi and playing learning vignettes through video streaming which are natural expansions for its technology. Kronos has new partner applications for InTouch, such as Wayfinder, to help guide employees to work locations; EnrollMe, to help with benefit enrollment; and Employee Survey, to provide employee surveys at point of check-in. These applications help demonstrate the viability and extensibility of the InTouch platform. I hope that Kronos can demonstrate its own expansion of applications and services that could extend to what workers might need after punching out from ordering food for home delivery or pickup to providing reminders on life events or what might be coming up at work on the following day.
Kronos also has released Kronos Workforce Task Management to give managers and workers in the retail and hospitality industries better management of tasks that need to be completed. Our research finds that Kronos is addressing organizations' top three workforce management priorities: aligning workforce to business goals and objectives (29%), increasing productivity (14%) and improving the efficiency of workforce processes (11%). Kronos software helps guide workers and goes beyond just depending on communications to ensure tasks get completed. I hope to see Kronos take the next step and integrate recognition and rewards to provide further acknowledgement for those who complete tasks satisfactorily and use social collaboration techniques to engage managers and workers.
Kronos makes its applications accessible through software as a service (SaaS) and cloud computing efforts, which our benchmark research finds is a priority in 19 percent of organizations, versus a preference for on-premises in 42 percent. Kronos announced it now has more than 6,000 customers in the cloud, where it provides a new core HR and payroll offering called Workforce Ready. Its expansion into cloud computing and even providing a hosted service that sometimes is called a private cloud are smart moves to ensure it provides its customers the choices it wants in using its technology. Kronos had no lack of customers at the conference vocalizing support for its cloud computing efforts.
Kronos' largest challenge is less about technology than about educating existing and potential new customers on the productivity and performance improvements they can gain. Our search found the demand for productivity improvement was the number one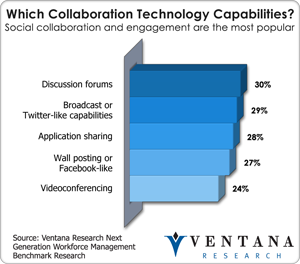 motivation for new investments in workforce management (63%). Kronos will have to provide more examples and measurements of time to perform tasks, as competitive technology providers are quickly moving to communicate what they do to address a new generation of worker applications. Vendors are not sitting still: Oracle offered some recent demonstrations of its future directions with its Fusion applications, SAP is partnering with Workforce Software, Workday announcing they are supporting workforce management, Ceridian has expanded with Dayforce HCM and SumTotal is reenergizing its efforts; meanwhile, Red Prairie could be distracted given its recent merger announcement with JDA. Kronos will also need to examine methods to expand collaboration methods so workers and managers can interact more through a range of channels, from forums to new broadcast and activity streaming, which our research has found to be growing in importance. Kronos is also making it easier for customers to use its latest mobile and analytics advancements on older versions of its Workforce Central platform and not requiring an upgrade.
Kronos has made significant technology advancements to help make workforce management simpler. It has addressed usability, which our research found to be most important consideration in 81 percent of organizations. Kronos is focused on increasing productivity; now it just needs to promote its advancements better to ensure it can take credit for the inclusion of innovative technology in its applications. The move to embrace mobile technology like tablets and supporting tasks and direct support of daily tasks are critical steps to be a leader in the workforce management technology market. If you have not seen what Kronos is doing, just download and run the demo yourself to see what they are doing to advance applications and usability for their customers.
Regards,
Mark Smith