At the SAP TechEd conference in Las Vegas this week, the global software giant unveiled the latest versions of its technology, platforms and applications across the cloud, mobile and on premises. SAP executive Vishal Sikka followed up in person to his written response to the statements Oracle CEO and Chairman Larry Ellison made at Oracle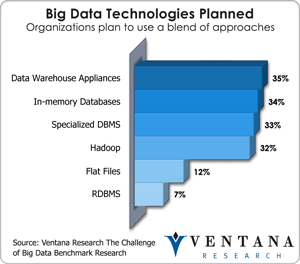 OpenWorld on the limited nature of SAP's HANA in-memory computing technology. Sikka presented a SAP HANA server with 100 terabytes of DRAM processing 1 petabyte of raw data to counter Ellison's commentary, and Oracle has yet to release its comparable Exadata X3 appliance. SAP also announced that SAP HANA Cloud is available in Amazon Web Services (AWS) to provide anyone the opportunity to use the technology, though the AWS version will be limited in the size of data it can process in its in-memory environment. Amazon's Andy Jassy, the senior vice president of AWS, spoke about the company's work with SAP to advance cloud computing's utility for developers.
In truth, appliances and in-memory computing have varying use case scenarios. Our big data benchmark research finds a place for both approaches. They are just about even in demand, and our research finds that those who provide the highest business value in the shortest period of time will gain the most adoption.
SAP also unveiled its rearchitected SAP NetWeaver Cloud platform as a server for use across the Internet. SAP announced free developer licenses for NetWeaver, designed to help build a community of cloud developers. However, SAP lacks a simple port and transfer from on-premises applications to the cloud edition; an organization's applications will require some adjustments to migrate across these environments though its data services can help transport data from the platforms.
The HANA Cloud and NetWeaver Cloud announcements indicate SAP's commitment to cloud computing, where Oracle and Salesforce.com also compete. SAP uses open source and standards-based interfaces with SAP NetWeaver, such as the Eclipse IDE, which helps developers ease into this environment while extending it for a range of interoperability with other SAP technologies and applications.
After some analysis and detailed conversations with product executives, I started to assemble use case examples of how the technologies could work together, and began to see how a common set of data services across the technologies work. Meanwhile, SAP is working to provide more data integration and information management services that can interoperate between the cloud and on-premises environments that is probably one of their largest technology challenges. SAP will need to provide more clarity to help developers and IT management understand how these technologies operate to ensure it will be considered for developing and deploying applications in the cloud.
Also at TechEd, SAP demonstrated a new AppDesigner product for application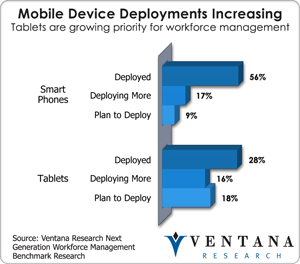 assembly. It deploys HTML5-based applications that can be accessed from mobile platforms, including Apple and Android smartphones and tablets. SAP executive Sanjay Poonen outlined advancements that provide more in-depth application and data-level security, which our newest benchmark into next-generation business intelligence found to be the top technology concern for making business analytics and metrics available on mobile technology. SAP's approach – to reach multiple mobile platforms – is important, as our recent benchmark on technology mobility for workers and managers found a growing volume of mobile device deployments in organizations. To support tablets with its applications, SAP also announced the release of its EPM Unwired applications, which provide support for a range of finance and operational management issues today. Coming soon it promises a mobile application for business planning that operates via HTML5 or via a native application for Apple's iPad. These are important steps forward for SAP, which provides a broad range of mobile applications that complement and extend its existing cloud and on-premises applications.
SAP also discussed of the upcoming SAP HANA SP5. It will support the OLTP and OLAP needs of organizations, and further integrate in the enterprise. I got some insights on HANA Studio and how it has advanced business process management toward what the company calls operational process intelligence. SAP aims to be as open as possible in terms of the hardware on which it can operate. It has configurations with Cisco, Dell, Hitachi, HP, IBM, Fujitsu and NEC hardware, and is creating a certification program to ensure it can operate anywhere where there is market demand. This approach will make SAP HANA a very open platform for big data, which is the complete opposite of the engineered approach by Oracle, which is pushing its single integrated platform for software, hardware and storage.
I have been tracking the technology and customer advancements with SAP HANA since its introduction in 2011 at SAPPHIRE. At this year's SAPPHIRE SAP hinted that SAP HANA and SAP NetWeaver would be transitioning to cloud technologies; now that has been officially unveiled. SAP continues to execute on SAP HANA technology advancements and its other platforms and applications for cloud computing. It now faces a mindshare battle for the attention of developers and IT management. It will have to reassess its efforts at SAP TechEd to ensure they are on par with if not better than those at Oracle OpenWorld and Salesforce Dreamforce and Cloudforce events. My assessment, after attending these events, is that SAP has some work to do to gain the attention of this audience. SAP will also need to gain more commitment from its consulting, systems integration and software partners. They lacked any significant presence at SAP TechEd, but should see the new services as a great opportunity to be part of a new generation of cloud computing.
As for the rest of SAP TechEd, I found a significant focus on cloud and mobile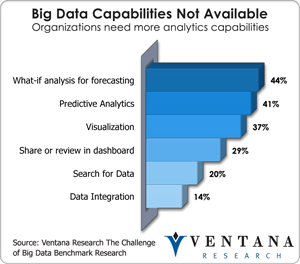 computing, with less attention provided to areas like business intelligence and information management. The company did demonstrate SAP Visual Intelligence, which provides a critical component of business analytics for analysts who need to perform root cause analysis and exploratory tasks on large volumes of data, which is not possible in tradition BI with its chart and tables. This visual discovery offering is critical, as it is one of the capabilities not available to more than a third (37%) of organizations doing big data computing today, according to our big data benchmark research.
Bottom line, if you are a CIO or part of the developer and IT organization, you should learn about SAP's advancements in cloud and in-memory computing. SAP is investing heavily in these areas in order to build a foundation for the future of its business applications, no matter whether customers want to run them in the cloud or on mobile platforms.
Meanwhile, you can catch my live commentary from the event on Twitter with the #SAPTechEd hashtag and my handle @MarkSmithVR.
Regards,
Mark Smith
CEO & Chief Research Officer