Kognitio has been serving the analytics and data needs of organizations for more than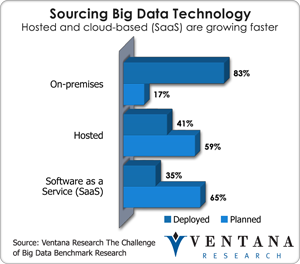 20 years with an in-memory analytics platform that meets many of the big-data needs of today's organizations. Kognitio Analytical Platform provides a unique massively parallel processing (MPP) in-memory database that can rapidly load data and calculate analytics; it is available both in an analytical software appliance and via cloud computing.
Its software can be installed on commodity x86 servers or used in the cloud on Amazon Web Services. The technology is fast to load with the company's own tools or through data integration tools such as Informatica's. Kognitio's in-memory platform can take data from a disparate set of sources and process the data using analytics that can operate simultaneously across processors. As we noted last year Kognitio expanded to support MDX analytic query expressions, which through its Microsoft Excel interface can help conduct specific types of analytics faster than just using SQL. The challenge is that the use of MDX has not grown significantly among business analysts, nor has it been widely supported with other BI and analytics products. Kognitio has worked to reduce administrative complexity of its product; the appliance does not require a DBA to manage indexes or partitions.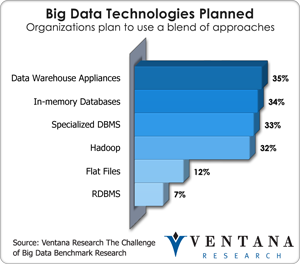 In light of the significant growth in the use of Hadoop to process large volumes of data, Kognitio has formed a partnership with Hortonworks to integrate its technology with Hadoop through an accelerator. I assessed Hortonworks Hadoop Summit and how the use of Hadoop can accelerate the processing of analytics and data. Use of Hadoop is growing fast in big-data technology ecosystems; almost one-third of organizations now plan to use it, according to our big-data benchmark research. Kognitio has expanded its partnerships to reach analysts; for instance, it established a partnership with Alteryx, which provides a unique workflow and process-centric approach to analytics that I analyzed. It also announced a partnership and integration with Advanced Visual Systems for visualizing large volumes of data like consumer behavior and social media. These types of partnerships are critical for Kognitio, and it needs to explain their value better to prospective buyers and also promote them, which have yet to appear in the partner listing on its website.
Kognitio has struggled to grow as much as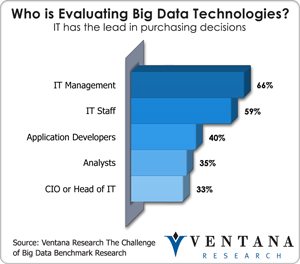 its unique technology probably deserved over the last ten years. Last year the U.K.-based company brought in new management to help guide its growth, especially in the United States. It also established new pricing for its technology based on the amount of memory used for processing the data. My analysis is that management needs to more directly publicize the performance and scalability of its approach compared to others to ensure it remains relevant in the conversation on big data and business analytics. Increasing its visibility will also help it reach the professionals who evaluate big-data technology, who according to our research are mostly in the IT organization.
Kognitio has some cost/benefit and computing efficiency advantages that should be very important to IT. While organizations usually know that analytics provide benefits, they also are looking for efficiency, streamlining their information architecture and providing operational support for business analysts, who are looking to be freed from manual work with preparing data and more automation so they can focus on analysis. If you are examining methods to increase the response time for analytics using big data and decrease the costs to do so, you should look at Kognitio.
Regards,
Mark Smith – CEO & Chief Research Officer