Pitney Bowes (PB) opened its annual technology summit (Twitter: #TechSummit12) with a review of its organizational assets and its rich history of engineering hardware and systems for physical and now digital delivery of communications. The multibillion-dollar technology giant is transforming itself to address the digital needs of business for interaction with consumers. It also is working to transform how business communications and interactions work across all channels. Handling new media interactions using Facebook, Twitter, e-commerce and mobile technologies are critical to managing communications in a consistent manner and improving the customer experience.
Over the last several years Pitney Bowes has advanced its business through acquisitions and the integration of its own software into its traditional areas of business. It also has further integrated its software efforts to emphasize that it is not primarily a mail-related hardware company. The company reports that its software revenue is $407 million and that it invests 15 percent of overall corporate revenue into software. It also is investing in growth initiatives to expand its presence into markets where it does not currently operate.
Pitney Bowes CEO Murray Martin discussed the company's philosophy of helping its clients develop value in lifetime relationships with their own customers through communications management. It does this by providing profiling and segmentation, data preparation, multichannel response management and analytics. Martin explained that the days of businesses telling customers how to communicate with them are over. I agree that customers and consumers will take control of communication, and this means businesses must adapt, as the channels will not be predetermined but will change with customer preferences.
To help companies move ahead on this path, Pitney Bowes introduced Volly, which provides secure communications for digital billing and payment for customers and providers. It also takes advantage of mobile computing, with native applications for smartphones and tablets and the ability to get quick access to applications and information using customized QR codes. PB currently has more than 50 billers using the service.
Pitney Bowes has been improving its applications for helping organizations understand and act on customer communications more intelligently. It now has one of the most sophisticated sets of applications for increasing the value velocity of customer relationships. To accomplish this, PB has organized its software offerings into four areas. First, the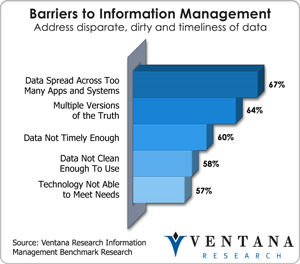 data area includes a collection of data integration, quality and master data management capabilities to address the two top barriers to information management according to our benchmark research: having data spread across systems and having multiple versions of the truth. In this area, location intelligence improves the quality of the information through geocoding, use of its Spectrum technology platform and partnerships with Experian to help enrich the data. The company has announced a new master data management (MDM) solution that does not take a traditional data-centric IT approach but is built for businesses that need to establish a consistent definition of customers and the social networks they operate within, and thus is more of a customer information management application. While MDM is an engaging topic and focus for IT, its time to value for businesses has not been short, as it requires a degree of data transformation.
The second area of its focus is insight, where the company can help with building strategies to better identify the direction of communications and interactions with customers through the use of customer analytics and location intelligence software.
The third area is strategy, where software can help define customer segments and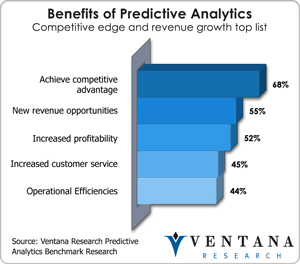 direction to show where to focus to get the most value. This area is powered through business unit Portrait Software's analytics and segmentation. PB recently released a new version of Portrait Explorer with a new user experience for assessing customers and segments. The new release simplifies ways to assess and understand customers and allows for enrichment of the data through its partnership with Experian. It uses predictive analytics, which our benchmark found is helping businesses take advantage of new revenue opportunities and increase profitability, among other benefits.
The fourth area is communications. Pitney Bowes helps users design and deploy communications across channels to improve customer dialogue. It offers multiple products in this area, including Portrait Interaction Optimizer and a new version of Pitney Bowes EngageOne that was announced in April. The EngageOne product provides a robust way to design templates for personalized interactions with customers and can manage interactions in a secure document vault.
Pitney Bowes is evolving the focus of customer communications management from transactions to marketing and customer service, and turning itself into a more strategic and analytics-driven software provider for this. By stratifying the message, method and relevancy of its efforts, it can articulate the value of its offerings. The company has a large potential market to tap; our benchmark research into customer relationship maturity found that marketing, customer service, sales and contact center are the most popular channels in more than half of organizations but are not necessarily where personalized interactions are occurring across multiple channels.
Pitney Bowes' biggest challenge is not the market or its technology advancement but communicating the value of its products through its website and social media channels. It will need to dramatically improve its marketing efforts to gain recognition for what is has developed and made available today.
If you are interested in an analytical, interactive approach to developing effective customer communications and interactions for improving the customer experience, consider the depth of the software Pitney Bowes provides. It is advancing the efficiency and outcomes of communications with customers, which is an area in which just about every organization has room for improvement.
Regards,
Mark Smith – CEO & Chief Research Officer