I attended SuccessConnect (Twitter: #sconnect), the annual SuccessFactors conference, to hear the latest from this talent management applications company. A lot has changed for the formerly independent company since it acquired Plateau less than a year ago and Jobs2Web. In turn, earlier this year SAP acquired SuccessFactors to expand its cloud computing business. Its recently outlined expansion as part of SAP's overall cloud computing strategy is beginning to take shape.
SuccessFactors is expanding its talent management applications to a larger portfolio of human capital management applications. First, SuccessFactors announced the availability of its Professional Edition, which is focused on providing performance and talent management to small and midsize businesses. It handles employee profiles, goal management, performance management and 360-degree reviews, and includes Jam, the company's social collaborative environment. Organizations that want to add compensation, recruiting or a more advanced edition of Jam can rent them as well.
Second, SuccessFactors announced it will adopt SAP HANA as the in-memory computing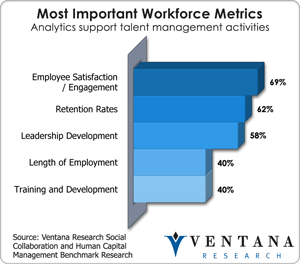 technology for big data to underpin its workforce analytics and planning technologies later this year. HANA should significantly enhance the computing performance of its offering while appearing mostly transparent to organizations. In addition, SuccessFactors has introduced new capabilities to help users develop reports and metrics that can be accessed from not only desktops but also tablets such as Apple's iPad. SuccessFactors' product is built on a robust library of workforce content including prebuilt analytics and metrics. Our benchmark research on workforce analytics found that analysts spend two-thirds of their analytic process time on data-related tasks, which includes time wasted using spreadsheets; this product significantly reduces both liabilities. Our recent research on human capital management found that employee satisfaction and engagement is the most important metric in 69 percent of organizations, and reducing frustrations like this can contribute to improving that.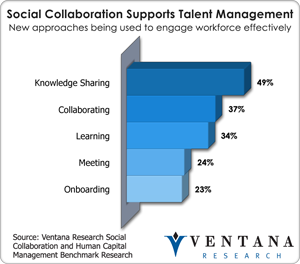 Last is a series of introductions of applications relating to the use of social collaboration and mobile technologies; this expands the reach and value of SuccessFactors to the broader workforce. BizX Mobile Touchbase is a task- and activity-centric application to help users keep track of issues before meetings scheduled to address them. It runs on BlackBerry, Android and iOS devices and can interoperate with other calendaring systems. It can run alongside other BizX mobile technologies such as Jam for social collaboration. SuccessFactors has also released a mobile feature for knowing who is in a meeting no matter who they work for by integrating a social connector to look up individuals in LinkedIn. It supports informal performance management activities, including team overviews and feedback requests to help managers conducting reviews. This feature addresses a need found in our benchmark research on performance management for talent management – more than one-third of organizations see inadequate systems as the top barrier to managing performance. SuccessFactors also advanced its learning offering, the expansion of social and mobile support of expanding the knowledge sharing which our benchmark on social collaboration and human capital management found as the top goal to help organizations advance in 49 percent of organizations.
Beyond these products, which are available today, SuccessFactors unveiled Employee Central, a new cloud-based service for human capital management scheduled for release this summer. It stores employee records and makes them available across SuccessFactors applications, but more importantly it helps managers and employees get simpler access to self-service payroll, vacation and time-off information. This could answer the need of 89 percent of organizations in our research that said existing environments are too complex. Employee Central is a user-centric, configurable application that can provide quick access to a range of human capital information. I was impressed by the simple presentation of workforce metrics in its new interface. In addition, the application is accessible on smartphones and tablets. I think Employee Central has the potential to change the way businesses think about workforce applications. A critical advancement for SuccessFactors is the migration of SAP on-premises payroll technology to now be available in the cloud computing model and part of Employee Central. For example, organizations are always looking for ways to make payroll processing more efficient, since it is one of their largest ongoing costs.
SuccessFactors also demonstrated its focus on recruiting to help attract, engage and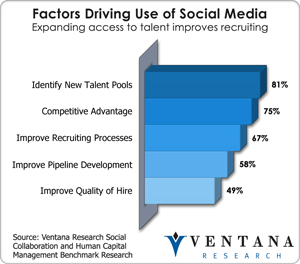 select talent for interviews and eventually for hire. It is bringing features from its Jobs2Web acquisition together with SuccessFactors Recruit to promote jobs not only on companies' websites but also on job boards and social media channels. The software offers many methods to search for candidates, from keywords to location across all channels, including social media, and gain access to new talent pools; our benchmark on social media and recruiting found integration with LinkedIn was critical to more than half of organizations.
SuccessFactors is addressing the broad purpose of human capital management, which is to attract, engage and retain talent to meet business objectives. The company is advancing in a highly competitive market for next-generation applications focused on people and workforces. It has new releases coming across its applications portfolio, including compensation and learning, which I will cover later. But SuccessFactors continues to work with its partners to complement its offering. For example Workforce Software that I have assessed helps manage the tasks related to non-exempt employees that have specific hourly and scheduling related needs. With the transition into SAP behind it, SuccessFactors has the process of integrating its applications with SAP's well under way. Its challenge is to keep up the pace of product development while educating potential new customers and making successful new deployments across the world. Its technology advances are well worth examining as organizations assess their existing deployments and evaluate new ones.
Regards,
Mark Smith – CEO & Chief Research Officer