At this week's SAPPHIRE NOW (Twitter #SAPPHIRENOW) annual conference, SAP unveiled a refreshed cloud computing strategy and released technology that addresses its new cloud computing business priorities regarding customers, people, money and suppliers. It's a good time to see what has changed since my analysis at the SAP Analyst Influencer Summit last December.
The company's new leader in cloud computing is Lars Dalgaard, previously CEO of SuccessFactors and now part of the executive board of SAP. I assessed SAP's acquisition of SuccessFactors when it occurred. As part of the combined organization, SuccessFactors continues to conduct semi-independent in marketing, sales and product development, but now it has more applications and people that were part of SAP's cloud computing efforts. SAP unveiled its global payroll software, which is now part of its Employee Central suite, and both of these can operate as software as a service in the cloud. The company boasted about its 200-person localization team deployed around the world to bolster international efforts. SAP is making progress on expanding its portfolio, including its human capital management applications. Many companies that use SAP HR applications on-premises should look at SuccessFactors for the future, since its software leaps past the older SAP software in many capabilities, including usability and capability.
Beyond cloud computing, SAP defined the customer as a focus in several ways. In its Sales OnDemand application for sales force automation (SFA) SAP has blended new social collaboration capabilities to help with team or social-based selling. SAP has made progress since unveiling Sales OnDemand last year, when I assessed it, but it still has not addressed other applications priorities needed by sales that we identified in our recent sales applications and technology benchmark research,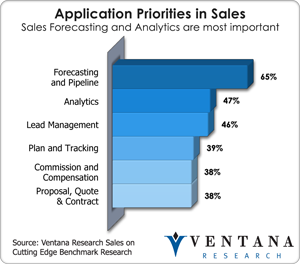 including over two thirds that need sales forecasting to lead management, plan and tracking, commission and compensation to proposal, quote and contract that are important to over a third to half of sales organizations. It has begun to advance in sales analytics, which is the top technology trend in 77 percent of sales organizations, followed by collaboration and mobility, which SAP has blended into its SFA product. Renting and using applications in the cloud is preferred by 41 percent of sales organizations, and SAP is taking notice by focusing on cloud computing for sales.
In addition, SAP unveiled its Social Customer Engagement OnDemand application to engage with customers on Facebook and Twitter channels. Our customer relationship maturity benchmark research shows that a focus on social media is increasingly critical. Only 31 percent of organizations can personalize responses today, but social media is one of the top planned channels for interactions in 2012.
Otherwise, SAP has not been progressive when it comes to cloud computing for customer service; there is demand for interactions across many channels today, including through mobile devices. SAP has also not yet defined how it works with the major providers of customer service-related agent, feedback and interaction management applications, such as Interactive Intelligence, NICE Systems, Verint and VPI. SAP still needs to improve its support for technology that examines the voice of the customer across all channels, not just social media, and examine other customer feedback and assessment of interactions through speech and text using analytics.
Continuing its product rollout, SAP unveiled SAP Financials OnDemand, which is part of the decoupling of SAP BusinessByDesign, previously a one-size-fits-all cloud-based approach to the major application needs of organizations. This is a step forward, but SAP will need to address the rest of the financial needs of organizations and look at updating the financial management applications that are part of its SAP EPM offering, which include budgeting, planning, analytics and consolidation and reporting.
SAP also previewed an expansion of SAP Travel OnDemand that will support more integration with mobile capabilities to help organizations capture and process expense reports. This finance area of its cloud portfolio needs more work, which is probably why it had little part at SAPPHIRE NOW. The same was true of SAP's focus on suppliers for cloud computing, where it continues to push its SAP Sourcing OnDemand solution.
On the technology side, SAP discussed work to move its current technologies toward multitenant and multicustomer environments in cloud computing. SAP presented changes to make its application development platform, SAP NetWeaver, cloud-based. Its analytics technology, including SAP HANA, an in-memory computing database for analytics and transactions, is being placed under its cloud platform and applications. This should add momentum to SAP's workforce analytics offering, which was already available through SuccessFactors and is a key component of its human capital management suite. It will also advance SAP's compute performance and analytics scalability, but SAP still needs to solidify its business intelligence technologies that operate in the cloud and on mobile devices.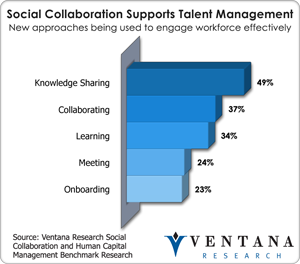 SAP presented a variety of social collaboration scenarios based on SAP Streamwork and the acquired SuccessFactors Jam. The two have both overlapping and complementary capabilities, as you can see for yourself by downloading them from the Apple application store. Our latest research on social collaboration in human capital management found knowledge sharing and collaborating are the top two areas requested to support business goals. Overall, SAP is now fully engaged in social collaboration technology. Efforts in this direction also will be run from the cloud computing group; the company recently hired industry influencer Sameer Patel to help lead this group.
SAP's largest challenge is integrating its many cloud computing applications and underlying platforms, which operate in different environments, with each other and its large set of on-premises applications. The company seems to lack a defined strategy for integrating its processes, applications and underlying data. At SAPPHIRE NOW it announced partnerships with Dell Boomi, IBM CastIron and Mulesoft, but I could not get any details on what applications they will interconnect in the short term, as opposed to just using the products by themselves. SAP alluded to more capabilities to come in the future which will most likely appear in its SAP Enterprise Information Management (EIM) suite, and the sooner they arrive the better, since half of organizations are need to integrate data from the cloud to on-premises environments according to our data in the cloud benchmark research. I was given the latest 500 page book from SAP Press on Enterprise Information Management with SAP to read in my spare time.
SAP is serious about applying cloud computing applications to its internal business operations. It has had Salesforce.com adopt and deploy SAP's Sales OnDemand to replace its previous use of Salesforce. The company claimed this took only a short time, but I find some turbulence, as the experience and approach of SAP's sales force automation application are much different than Salesforce's. SAP has committed to using SuccessFactors and is busy making that a reality in 2012, though it is no easy task given the number and location of its employees.
SAP has had its start and restarts in cloud computing. Now, on its fortieth anniversary, its new cloud leader brings a new voice to the market to clarify its competitive edge and solutions. SAP has long been a significant player in the business applications and enterprise software market. Its latest moves to energize its cloud computing efforts come at a critical time, as the market is expecting more of its business applications to be available in the cloud. The company must focus and invest more into customer, sales and financials and accelerate its efforts with acquisitions and internal development to expand its offerings.
SAP has a lot of work ahead of itself to maintain strong competitive positions across all the lines of business it has outlined. SAP is large company, so I expect to see rapid progress to respond to its customers' demands.
Regards,
Mark Smith – CEO & Chief Research Officer