Informatica has announced a major release, version 9.5, of its software platform, which will be generally available in June. The company's data integration technologies will support the new generation of computing that includes big data, cloud computing, mobile and social media. These computing environments, which our firm has defined as key business technology drivers for this decade, have a compelling impact on the data that enterprises create and use. Being smart about integrating and utilizing significant volumes of data is essential; continuously copying and storing duplicate versions of data is not the best path forward.
I recently assessed Informatica's business and technology strategy. It supports a range of big-data environments, including Hadoop, in-memory processing and appliances, which our benchmark research found to be top priorities of companies using the technology. Informatica helps IT organizations get to these larger volumes of data through an expanded set of data replication capabilities that can clone data for use in specialized Hadoop environments. Informatica will support in July an early release of a common visual data development environment using Hadoop technologies including HParser, PIG, HIVE, MapReduce and HDFS not just for integration with the data but also in tasks such as cleansing, parsing, transformation and identity resolution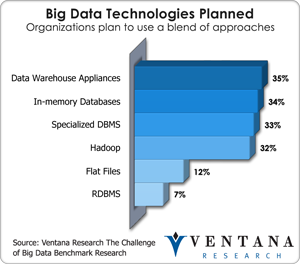 . Informatica is also partnering with Cloudera, Hortonworks and MapR to integrate with their distributions of Hadoop. As data on a large scale becomes more common in processing tasks from production to near-line access and archiving, Informatica has improved its partitioning to ensure that only what is needed is used and stored. All of these steps help ensure the proper integration of big-data technologies like Hadoop which according to our benchmark research found that 80 percent of organizations using Hadoop having confidence in supporting big data compared to 55 percent of all other approaches.
To support smarter integration of data, Informatica has improved data discovery, which now can determine physical and logical structures for supporting a variety of integration techniques. Informatica also completed the integration of data validation technology it acquired in 2010 and can process data as it is moved across development and deployment environments in this option. To ensure consistency and common identification of information, the product supports new dynamics in master data management (MDM), which include a data timeline to help users understand changes to a customer's information over time.
Integrating data from other applications across cloud-based applications is an obstacle in 82 percent of organizations, according to our benchmark research on business data in the cloud. Informatica has expanded integrated access to cloud computing environments. It can deploy embeddable cloud services that users can select from a catalogue and configure to integrate into scheduled jobs and monitored. It recently announced the release of a cloud connectivity framework to help customers and partners develop interfaces to applications and services in cloud environments. This step was part of the Informatica Cloud Spring 2012 release, which positions the company's software as an integration platform and as a integration as a service technology. The company says it is now averaging more than 1 billion transactions per day.
Informatica has increased its ability to mask data, model data risk, classify data through discovery and apply policies and monitor usage to ensure that proper levels of governance are applied. The federated data services in version 9.5 let analysts define and connect logical data objects to disparate sources of data. Supporting the real-time needs of an organization is part of what we call operational intelligence.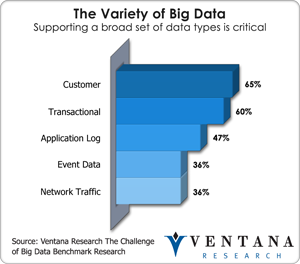 Informatica's support for the variety in types of big data demonstrates its commitment to IT environments that deal with transactional and event-oriented data, which are becoming just as important as traditional business dataand for the data created in business transactions. Informatica also helps analysts who engage in data-related tasks from access to cleansing by providing new tools, including the Data Integration Analyst Option. This is critical, as our business analytics benchmark research found that analysts spend two-thirds of their analytic time in data-related tasks and any help for them is very welcome.
Informatica and Kapow Software have partnered together to extend its integration to the Web and semi-structured content. I recently assessed them and this integration is a critical component to get information from an organization's cloud computing and web applications technology environment.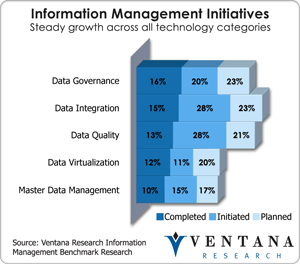 Informatica's smart use of data integration technology can help IT organizations reduce their operating and technology costs. Informatica's expansion of data integration technologies through acquisitions to include governance, quality, virtualization and master data management was a smart move. Our benchmark research on trends in information management found many organizations expecting to initiate or plan projects for an expanding set of these technologies in the coming 18 months. Informatica's products address a broad span of data needs inside and outside of the enterprise. Release 9.5 supports a range of big-data needs and helps ensure that Informatica can compete in the new wave of investments focused on increasing the usefulness of data from cloud computing to big data.
Regards,
Mark Smith – CEO & Chief Research Officer