Ventana Research recently announced its 2022 Market Agenda for Human Capital Management, continuing the guidance we've offered for two decades to help organizations derive maximum potential from workforce- and people-related technology investments and initiatives. In crafting this Market Agenda, we focused on three critical themes top-of-mind for both HCM vendors and buyers: Organizational readiness, workforce resilience utilizing digital technology to increase retention, and advance worker skills for career development.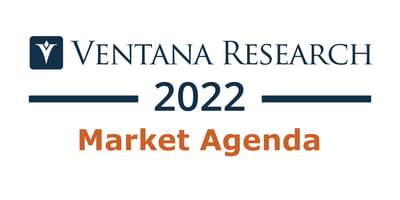 We craft our market priorities through a combination of deep subject matter expertise, intimate knowledge of business trends, and a solid understanding of technological advances along with vendor products. Through our continuous market research, we offer insights and best practices for both the lines of business and IT across industry verticals, helping organizations realize maximum potential.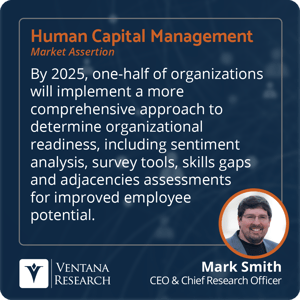 HCM focuses on engaging workers and managers with applications and processes that elevate the workforce contribution and engagement, creating and sustaining sources of business value and competitive advantage. Sharpening organizational readiness ensures the organization can be out in front and engage in opportunities while minimizing risk in the actions of the workforce. But the continuous investment in preparing the workforce takes resources and prioritization to reach the expected potential. By 2025, one-half of organizations will implement a more comprehensive approach to determine organizational readiness, including sentiment analysis, survey tools, skill gaps and adjacencies assessments for improved employee potential.
HCM application and technology platforms must balance the requirement for automation and workflow across human resources and business processes. Also important is the need for intelligence and insights to enable the workforce to act on career needs while achieving managers' expectations. Key to this balancing act is increased emphasis on engagement and experiences that give the workforce confidence that the organization is vested in their success. In 2022, we'll conduct Benchmark Research into the HCM market, and publish a Value Index on supporting application suites.
Our Human Capital Management Market Agenda includes six focus areas that address those business results: Talent Management, Employee Experience, Learning Management, Total Compensation Management, Payroll Management and Workforce Management.
Talent Management
Talent Management encompasses activities to ensure employee experiences — from hiring to onboarding to career and work engagement — are effectively governed and managed in ways that are as continuous for the worker as they are for the organization. These areas of investment span candidate engagement in the recruiting process, hiring and onboarding, establishing and monitoring expectations through performance management, and the use of skill development to ensure succession planning goals are fulfilled. Learning Management — while a separate, specific focus area of our HCM expertise — is needed across every aspect of workforce management to ensure the learning experience is enabling the potential outcomes desired.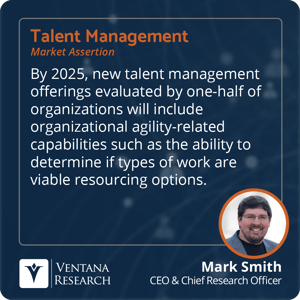 The slow but steady use of conversational computing is providing intelligence to digital assistants to enable the experiences expected by the workforce. This shift is necessary to streamline and increase efficiency of HR and enable digital engagement with the workforce, shifting the collaborative dialogue to value-based conversations among workers. Career planning requires the proper design and skills development to integrate with workforce planning processes and guide recruitment for the organization. We assert that by 2025, new talent management offerings evaluated by one-half of organizations will include organizational agility-related capabilities such as the ability to determine if types of work are viable resourcing options.
We will continue to research how organizations are using applications to support the merits of talent management. Our ongoing Dynamic Insights for Candidate Engagement will help guide investments needed to ensure the growth of talent from within and outside the organization.
Employee Experience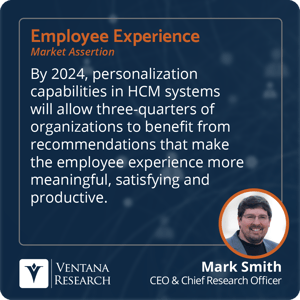 Employee Experience supports an organization's efforts to create essential experiences that are vital to workforce engagement. For HCM, organizations have elevated the importance of the employee experience and that of the applications utilized by them. By 2024, personalization capabilities in HCM systems will allow three-quarters of organizations to benefit from recommendations that make the employee experience more meaningful, satisfying and productive. If recognized by employees, these experiences can increase retention and productivity. Our continuous market research through our Employee Experience Dynamic Insights will provide targeted guidance for what organizations need to improve to achieve worker resilience and commitment.
Learning Management
Learning Management is the process of enabling the workforce to develop the skills and competencies needed to maximize the impact of work while providing the productivity and effectiveness desired. Organizations are embracing learning technology platforms that do the best job of enhancing the learning experience to improve business results. This requires a combination of personalization (content, medium, pace) and various forms of adaptive learning (a system intelligence-driven learning plan) often delivered in shorter, in-the-flow-of-work experiences called microlearning or nanolearning. By 2024, self-directed career management will be utilized by one-half of organizations using an LMS or learning experience platform, supporting employee desires to explore alternative career paths while identifying any skill gaps that need to be addressed. We will continue our Benchmark Research on the extent to which organizations are including these elements in business cases and achieving better return on investment by maximizing them. Our continuous Benchmark Research in Learning Management provides education on best practices and strategies in this focus area.
Payroll Management
Payroll Management refers to continuous processes in this somewhat new era of on-demand payroll, made possible by the replacement or elimination of many labor-intensive, error-prone payroll tasks that can be automated for efficiency. Beyond traditional domestic payroll is the need to support organizations across the world in what is referred to as global payroll. By 2024, three-quarters of all organizations with a global payroll delivery infrastructure will ensure local and regional compliance by transitioning to technology-intensive versus labor-intensive operating models. A focus on improved employee experiences with pay and related benefits provided or available is essential, as is ensuring reliability and timeliness of payroll processes. We will maintain our continuous Benchmark Research in Payroll Management, providing education on best practices and strategies in payroll processes, and will publish the Payroll Management Value Index of vendor and product research in 2022.
Total Compensation Management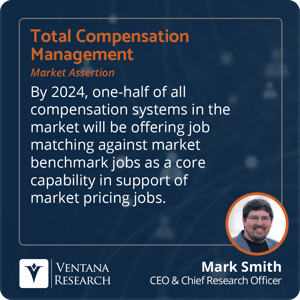 Total Compensation Management is the practice of managing the processes and information that can ensure an integrated and more comprehensive approach to incentivizing, rewarding and recognizing workers for work provided. As talent- and labor-challenged markets increase, the need for flexibility in compensation for work done in the workplace or home environment becomes more challenging for most organizations. By 2024, one-half of all compensation systems in the market will be offering job matching against market benchmark jobs as a core capability in support of market pricing jobs. Organizations need to ensure they are focused on effectively priced job offers, and that the existing workforce is fairly compensated. This requires tools that have more flexibility to plan, model, allocate and personalize compensation and rewards and link to outcomes such as productivity, retention and ROI on compensation spend. In 2022, we will publish both our continuous Benchmark Research and our Value Index to meet ever-increasing demands for assessing and evaluating vendors and products.
Workforce Management
Workforce Management is the broad range of activities used to oversee the work of directly employed or contracted workers, and includes areas like time and attendance, forecasting and scheduling, absence management and integration with the payroll process for non-exempt or hourly workers. Workforce planning has become much more dynamic and accurate with artificial intelligence-infused systems, and scheduling optimization capabilities now enable organizations to factor in employee preferences to mitigate the typically high turnover in hourly jobs. By 2024, two-thirds of organizations using workforce management will benefit from real-time visibility into the cost of schedules, including rates and worker types. More intelligent workforce management systems support insights on potential burnout that could lead to accidents, but also on synergies in team composition. We have continuous Benchmark Research, and we published our Value Index Research to guide the assessment and selection of vendors and products.
For every organization, the importance of the workforce is critical to every business leader as well as the stewards in the human resources department who need to ensure the effective engagement and experiences of everyone. Regardless of size or revenue, every organization should focus on enriching the employee experience and exploiting the value and insights from data and people analytics. Our 2022 HCM market research will explore these and other critical themes in depth, and we will provide targeted guidance on how software is supporting these activities. I expect we'll continue to see the deployment of AI-infused digital technology for a wide range of HCM benefits.
Subscribe to our Ventana Research community to stay up-to-date on our 2022 research efforts. Check out the Human Capital Management topic and focus area pages for our detailed market agenda and continuously updated 90-day calendar as well as more research facts and best practices.
Regards,
Mark Smith