The age of digital communication platforms is upon us. The need has never been greater for an open and secure platform that satisfies the demand for enterprise-grade business and technology requirements. Overcoming today's technology challenges is possible with a next-generation cloud-based delivery model that is both extensible and reliable. Organizations considering a digital communication platform can take decisive steps to ensure digital communications for everyone — inside, outside, everywhere, anytime, any location and on any device.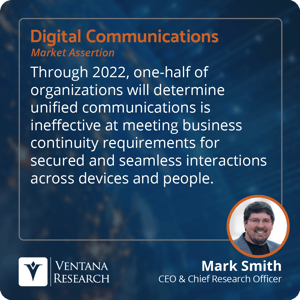 There is significant demand for a new generation of modern communication tools. Unfortunately, the current state of digital communication in organizations is marked by splintered collections of email, messaging and conferencing tools that are not connected to each other. Ventana Research asserts that, by 2022, one-half of organizations will determine that technology used for unified communication is ineffective for meeting business continuity needs and falls short in open communication requirements for secured and seamless interactions across devices and people. Individuals within organizations have the need to connect and collaborate with others at any time for any purpose — under normal business conditions as well as abnormal conditions, when maintaining business continuity becomes critical.
The expectation today is that communication tools are straightforward and easy to use, accessed via any electronic device and extend beyond internal communication to include interaction with customers, suppliers and other external partners. In particular, customers expect to easily communicate via any device in any channel, maintaining the context of the conversation.
The workforce needs — and expects — to interact and collaborate at any time, inside or outside of an organization, no matter the location. A communication platform can impact worker and customer relations in significant ways: Improving communication tools enhances the worker experience within the organization. Our research finds that increasing customer satisfaction is a priority for 82% of participants, and worker satisfaction is a priority in almost one-half (47%) of organizations looking to improve interactions. The communication tools workers use with customers — in the call center, for instance — directly impact the quality of those interactions.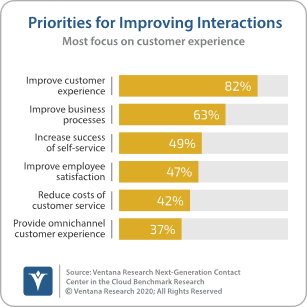 Organizations must be able to trust that a communication platform can support continuous operation reliably and securely in the face of business continuity challenges. Black swan events like a pandemic can wreak havoc on standard business practices, even though organizations must maintain operations via remote workers. Business continuity requires resiliency in the organization's tools, and communication resources are the digital backbone of every enterprise. The ability to operate using mobile devices (smartphones and tablets) in addition to traditional computers for emergency operations is a key requirement for organizational readiness. Ventana Research asserts that by 2022, one-third of organizations will determine that existing unified communications are insufficient to meet existing customer experience requirements and will select a modern, cloud-based service that is open and secure on any device or channel. The use of analytics and insights on workforce operations can help guide actions and improvements.
There is confusion on technologies and strategies for digital communication, and it is not always clear which software should be deployed. The list of tools is broad and expanding, including full-fledged productivity suites from large software vendors as well as smaller, more focused collaboration tools using various styles of project-flow tracking and communication for teams. Furthermore, many enterprise business applications support communication and collaboration in ways that don't integrate with other software used by the rest of the organization. The proliferation of tools that can be introduced quickly and easily has a downside: As departments make independent decisions regarding communication tools, the organization finds itself with communication silos due to the usage of disparate tools that do not integrate with each other.
Security gaps in communication technology introduce risks. Communication platforms must be secured and trusted, with the ability to prevent intrusions at the platform and session level to ensure that unexpected users are not granted access. Single sign-on, multi-factor authentication and similar standards between the individual and the platform are essential. End-to-end encrypted communication outside the corporate network helps anticipate the next generation of cybersecurity issues.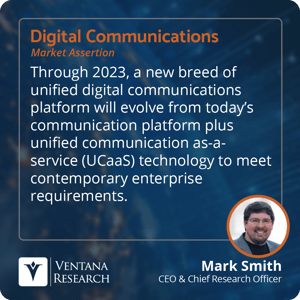 The majority of digital communication tools are not typically open platforms that connect to the full range of applications in use while also maintaining appropriate security. To achieve a modern communication platform vision, organizations must move away from proprietary connectors toward open application program interfaces developers use to integrate with applications. Ventana Research asserts that, through 2023, a new breed of unified digital communication platforms will evolve from today's communication platform plus unified communication as-a-service (UCaaS) technology to meet contemporary enterprise requirements. The communication experience should be consistent for everyone in the organization, and tools should interoperate in a secure manner across applications used by each business unit.
Organization can take decisive steps to evaluate communication platforms that support a range of use cases by:
Examine whether cloud-based communication tools are truly enterprise-grade and ensuring platform completeness with requirements related to adaptability, reliability and manageability. Ensure robust security and the ability to appropriately govern organizational usage.
Determine the vendor's commitment to communication and track record of product development investment and innovation. The platform should be able to support large-scale communication needs of a contact center's inbound and outbound customer interactions.
Ensure the platform can support a diverse set of communication methods through messaging and video used across applications and within the platform. The ability to unify chat, video and voice in a single, secure platform supports the needs of virtual agents. Embedding communication methods like messaging and video within custom and out-of-the-box applications should be simple and available — no waiting for future releases of the platform.
Ensure product experiences are simple and sophisticated through secure access and communication within the platform. Assess the usability of the platform, tools, applications and APIs to ensure that the software can be quickly and easily used by those who need it.
Determine if the platform can audit communication at the organizational level to monitor and prevent large-scale event-based security. This includes the ability to support authentication and password-related resets by individual user or across the organization.
By understanding what is possible with modern and open platforms and learning about the role of digital communication operating across cloud computing, you can better understand the limitations and impact of these applications. Examine the needs today and in the future, and do not compromise on the technology that is most important to operational effectiveness and productivity.
Regards,
Mark Smith