With the announcement of Ventana Research market agenda, a new expertise in Digital Business has been launched, I will outline the areas of focus that provide insights to organizations that can be used to optimize technology, increase agility and organizational readiness. We are proud to provide expertise on digital effectiveness through our research and insights on trends and best practices.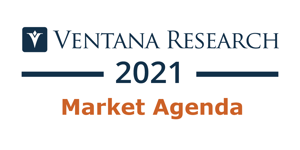 Digital business helps organizations ensure digital technology investments are effective, supporting the agility and resilience necessary for continued, successful operation every day of the year. Achieving the level of refinement to ensure business continuity requires a digital strategy that can sustain any market disruption.
"Business as usual" was challenged in every dimension in 2020, from the workforce and people to the processes that are the fabric of every organization. A "black swan" event - like the pandemic that paralyzed the world in 2020 - challenges organizations to quickly adapt to sustain operations under abnormal conditions and duress. Unfortunately for many organizations, the challenges of 2020 proved that digital transformations were not sufficiently prepared and tested, which led to significant disruptions that have yet to be fully addressed. This lack of business readiness highlights the need for a more refined strategy in 2021, ensuring an environment where everyone can work effectively under any circumstance.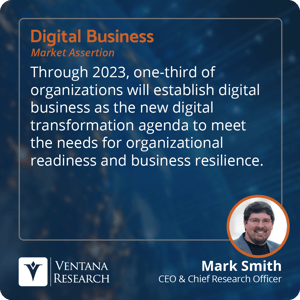 For 2021, we are introducing new focus areas that guide the strategic and operational elements needed in an effective digital business environment. This expertise is foundational for leaders responsible for directing these strategic efforts and achieving successful outcomes. We assert that through 2023, one-third of organizations will establish digital business as the digital transformation agenda to meet the needs for organizational readiness and business resilience. It is time for a concerted effort to perfect the digital effectiveness of your organization, where technology links the business priorities and key objectives.
Our Digital Business expertise includes nine areas of focus: Business Continuity, Digital Communications, Digital Security, Digital Transformation, Experience Management, Governance and Risk, Performance Management, Sustainability Management and Work Management.
Business Continuity
Business continuity and required planning helps organizations define a strategy to successfully weather any market disruption. The practical reality is that most organizations lack the level of rigor necessary to ensure ongoing operation across every line of business - not just the IT operation.
For 2021, we will explore the benefits of analyzing an organization's digital transformation strategy, including the portfolio of applications and technology in use and the fundamentals for evaluating future investments. Our market research will identify best practices, and assess and rate vendors' potential to help ensure the right technology is deployed. Our dedicated focus of expertise ensures insights and guidance for the aspects of digital technology necessary to sustain business operations.
Digital Communications
Digital communication enables the workforce, customers and partners to efficiently interact and collaborate in a secure manner. Our agenda reflects our work to assess technology and guide organizations' use of a range of communication methods - from unified communication and videoconferencing to communication platforms as a service that are converging into what we call digital communications.
The rapid adoption across the enterprise of a wide range of technologies supporting communication and collaboration have created disruptions that require a unified approach for organizational responsiveness. We will examine the impact of using analytics with artificial intelligence and machine learning to identify enhanced methods of effective communication. We'll consider the intersection of digital communication with other applications and tools needed for collaboration and business. Whether worker, manager or others that need to interact, enhanced technology must facilitate a delightful work experience. Our market research is designed to produce best practices and insights on technology that help organizations evaluate and prioritize digital communication options.
Digital Security
An effective digital security strategy is essential to comprehensively address what has been a bifurcated approach to cyber and information security. These processes need to be embedded and governed across all digital technologies. Our market agenda focuses on the importance of comprehensive digital security as an essential priority to protect the people, processes and assets - including intellectual property - of an organization.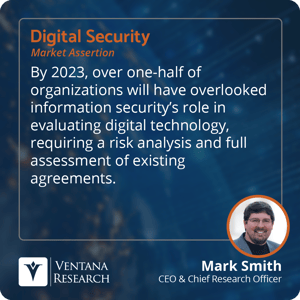 Our examination of digital security will explore how dedicated technologies have evolved to ensure proper governance and risk mitigation necessary to operate in distributed organizations and disparate systems, across computing environments removed from a once-managed data center. The effective application of best practices can guide the integration and interconnection of these operations, while addressing security risks through technological advancements.
Our market research on digital security will examine the lessons learned from 2020 - and earlier - that still plague digital technology across the enterprise, including applications for customers and partners. We will evaluate new methods for human-to-machine and machine-to-machine verification that use identity and presence to best secure people and assets. We assert that by 2023, over one-half of organizations will have overlooked information security's role in evaluating digital technology, requiring a risk analysis and full assessment of existing agreements.
Digital Transformation
Digital transformation is intended to guide organizations on the strategy and effectiveness of applications and systems operating across private and public technology environments. The decades-long effort to continuously introduce technology that transforms the way organizations operate has had success, but also failed to ensure readiness to operate under duress and ensure business continuity. Popular cloud "lift and shift" strategies prove that the challenges are not the location of the technology but the ability for it meet the purpose and requirements of the workforce and business processes.
As organizations look at digital transformation, the criteria should emphasize the effectiveness and experience of technology investments that streamline integration, and how those technologies are adapted to broader, enterprise-level requirements for workflow and efficiency. Governance and service level agreements that ensure manageability, reliability and security must be more explicit regarding the evaluation point for improvement. Our research will examine how the portfolio of technologies will enable the digital business to ensure organizational resilience required across the enterprise.
Experience Management
Digital experiences across every line of business and process should be the focal point for continuous improvement that enables streamlined and rewarding experiences for the workforce, customers, and products and services. Our focus on experience management is intended to ensure the effectiveness of all processes and technologies used to increase the impact of investments. This focused approach to experiences can enable marketing, sales and supply chain service agents to distinguish their operations in a differentiated manner.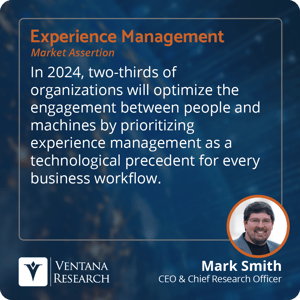 It is ineffective to focus solely on the customer experience as the entire journey and lifecycle. Managing the experience of everyone in the organization - and all constituents supporting the mission - is key to measuring and improving the economic value of these interactions. We assert that in 2024, two-thirds of organizations will optimize the engagement between people and machines by prioritizing experience management as a technological precedent for every business workflow. The necessity of experiences to guide the people and process design elements - as well as the digital and technological components - is essential for the corporate brand and also the human connection. Our market research will guide organizations' needs, plans and attitudes on experiences for an enterprise as well as specific, business-focused areas of expertise.
Governance and Risk
For organizations to be effective in what has historically been called governance, risk and compliance, it's critical to examine the proper placement of these practices relative to the finance, operations and IT processes. Effective governance requires the knowledge of a group of professionals and potentially a center of excellence to ensure organization-wide best practices and compliance with policies and regulatory guidelines across geographic and statutory requirements.
Significant advancements in digital technology provide an opportunity to identify and invest in new methods that enable streamlined governance and risk mitigation throughout the organization. Instrumenting workflow and policy-focused technology can help ensure tasks and activities are handled according to corporate and regulatory guidelines. Our market research will provide guidance on the essential technologies required to ensure that digital business is focused on the impact and value from operations, while minimizing the cost and time required for governance and risk requirements.
Performance Management
Performance management is the process of efficiently linking an organization's strategies with operations for desired outcomes. This fundamental approach to managing to objectives and key results has experienced a new resurgence. We assert that by 2023, one-fifth of organizations will standardize using "objectives and key results" methods in software to align the purpose and aspiration of workforce achievement to desired outcomes.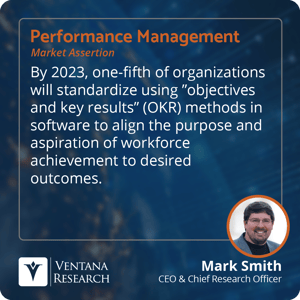 The complexities of digital business are creating new challenges in the push to achieve critical objectives. This can be accomplished with dedicated applications designed for performance management across the workforce, supporting the organizational goal for more rigor aligning work to the objectives of the organization.
Advancements in digital technology - from analytics to AI and ML - have accelerated the potential intelligence gathered from performance management that can detect variances and issues impacting overall performance. Our agenda will help organizations identify the best methodologies and processes in applications that adapt to the requirements for performance management. Combined with other advancing digital technologies like collaborative and conversational computing and mobile technology expectations, these applications can deliver the desired experience.
Sustainability Management
Sustainability management centers on promoting a balance in the mission of profitability and efficiency with the need to protect the environment. Success requires that leaders address the objectives for sustainability through planning and analytics, using dedicated applications that can best identify areas for change.
The span of sustainability management is not limited to the direct activities of an organization, but includes those of the extended supply chain - the activities of anyone associated with the initiative. The science behind analytics and data to calculate the organization's carbon footprint, for example, requires incorporating competencies, skills and knowledge from industry into the organization.
For many organizations, the disparate activity to market sustainability efforts does not necessarily translate to the processes and technology that support the initiative. The importance of a dedicated team that works collaboratively across the organization to address change must be managed through an effective portfolio and work-management methods to ensure that progress is made over time.
Our continuous market research will examine best practices and the technological impact of sustainability management. Our expertise will help organizations prioritize technology and vendors to focus on the necessary sustainability processes that can ensure adequate progress.
Work Management
Work management is the integration of tools and methods that enable workers to conduct tasks and activities in an efficient manner. It's not simply about being productive - it encompasses the experience of how work is done digitally.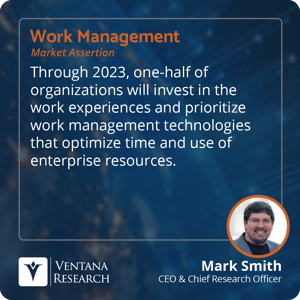 While this might seem obvious, most of the software organizations currently use was not designed around the experience of using it but focuses on the utility of what it accomplishes. This emphasis on productivity can have the unintended consequence of negatively impacting the effectiveness of the software. We assert that through 2023, one-half of organizations will invest in the work experiences and priorities of work management technologies that optimize time and use of enterprise resources.
As organizations look to engage the workforce in the structured work of projects and unstructured guidance on tasks, the juncture of these is where the opportunity lies to simplify work and guide it to expected outcomes. This concept applies to work conducted in customer-facing areas across sales and service, marketing and operations that support front-office activities, or IT, manufacturing and supply chain activities that are more structured and require a heightened sense of detail and governance. Our continuous market research will identify the rapidly evolving best practices in the use of task and program management, blended with collaborative computing to provide an engaging work experience across the entire organization.
Every organization, no matter the industry or size, is a digital business capable of improving areas that impact organizational agility and support the needs of the workforce. While it's essential to place a priority on the digital experience, the fundamentals lie in the focus of the business and applications that enable an organization to balance priorities holistically to ensure the readiness and resilience of the organization.
Once an organization establishes priorities for how it will focus its digital business investments, the path forward will become clear. Desired outcomes will be achieved with effective preparation. To ensure your path for 2021 and beyond is on course with the right digital priorities, use this expertise and these focus areas as a filter for your own organizational efforts.
Subscribe to our Ventana Research community at no cost to stay up-to-date on our 2021 research efforts. Check out our Digital Business expertise and topic areas for the detailed agenda and continuously updated 90-day calendar as well as more research facts and best practices.
Regards,
Mark Smith