Compensation and the processes and systems to support it are at the center of success in every organization, as I have noted recently. In our view, an investment in total compensa­tion management software is a strategic step toward advancing human capital management. Our benchmark research on this topic found some prog­ress in attitudes about mod­ern­izing compensation practices. Almost three-fourths (72%) of organizations said that it is important or very important to have a total compensation management system rather than a piecemeal approach. Moreover, nearly half (49%) told us they are confident or very confident that their organization currently manages its compensation processes effectively.
Some software vendors now offer total compensation management systems that integrate with talent, workforce and HR management systems. These are relatively new developments not yet widely adopted. In the same research, fewer than one in five (17%) organizations said they have integrated compen­sa­tion with talent management, al­though almost one-quarter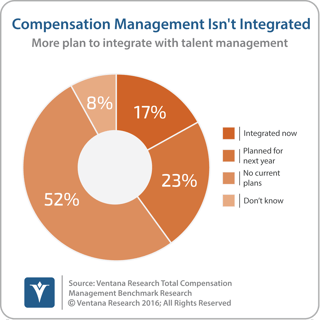 (23%) said they plan to. Equipped with such ad­vanced systems, organizations can make compensation processes and systems more robust planning and management tools, and use them to increase productivity and satisfaction among managers and workers alike while facilitating collaborative interactions among them.
While an integrated approach is desirable, organizations should not feel compelled to buy an entire suite to start the relationship; it is often a better practice to select a single application and, if it meets require­ments, add other applications in the suite.
Many organizations currently use a heterogeneous mix of applications and services residing inside the enterprise in onpremises or in cloud computing and software as a service (SaaS) to manage compensation, which complicates even basic tasks. In our research, 26 percent of participants identified inadequate software as the largest barrier to effective workforce planning. Further, more than one-fourth said they use only spreadsheets to track and manage compensation, and 35 percent said they use them extensively in conjunction with their compensation systems. This is problematic, because spreadsheets don't easily integrate into a total compensation management process and are difficult to audit and control.
In recent years some vendors have more tightly coupled compensation management and talent management capabilities, so those capabilities are available not only during recruiting and hiring but also throughout performance reviews and appraisals. Only one-fifth of organizations in our research currently have such a system, although more than three-quarters (76%) said such linkage is important or very important. As organizations consider a comprehensive approach for all employees, they would do well to integrate compensation information related to hourly pay and incentives with workforce management systems.
To help them make decisions on choosing new compensation management systems with this and other features we offer Ventana Research's Total Compensation Man­age­ment Value Index. It will help compensa­tion specialists, human resources professionals and those in finance or other management and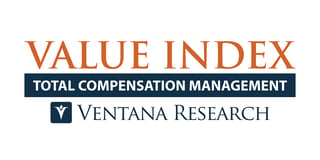 operational roles understand what it takes to turn compensation practices into strategic tools. The Value Index evaluates nine vendors whose products address key elements of total compensation management as we define it: beqom, Curo, Decusoft, HRsoft, Oracle, PeopleFluent, Saba, SAP SuccessFactors and Willis Towers Watson.
We urge organizations to do a thorough job of evaluating total compensation management systems and tools and offer this Value Index as both the results of our in-depth analysis of these vendors and an evaluation methodology. The Value Index can be used to evaluate existing suppliers and also provides evaluation criteria for new projects; applying it can shorten the RFP cycle time.
The Value Index for Total Compensation Management in 2016 shows that Oracle is the highest-performing supplier, leading the second-place vendor, PeopleFluent, by nearly five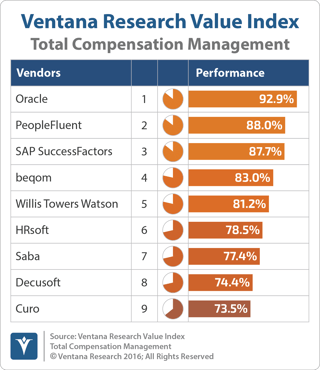 percentage points. SAP SuccessFactors finished a close third. Based on their performance, we designate these three vendors as Value Index Leaders; they occupy the top three positions across all seven evaluation categories, except that beqom ranks first in Capability and second in Valida­tion. Oracle has invested signifi­cantly into its application and underlying platform and, since our previous Value Index in this area, has taken advantage of its overall HCM resour­­­ces to dramatically im­prove its compensation application. PeopleFluent and SAP SuccessFactors have been consistently improving their applications in all areas.
The next two vendors in the rankings are beqom and Willis Towers Watson. They and the three top finishers scored more than 80 percent in overall weighted perfor­mance. Beqom is the highest-ranking dedicated provider of compensation; its score in Validation is a testament to its commitment in this market. Willis Towers Watson has advanced in all areas and provides some unique benefits through its supporting services for benchmarking and employee feedback.
The remaining four vendors – in order, HRsoft, Saba, Decusoft and Curo – are grouped within five percentage points of each other. None performed well in the TCO/ROI evaluation category, lacking available tools and services with which to examine the value of investing in their products. HRsoft has a history in serving the market and scored well in Capability but came up short in Manageability and Reliability. Saba scored well in Usability due to its approach to the user experience but could improve in Manageability and Validation. Decusoft and Curo are providers exclusively dedicated to compensation management that demonstrate their commitment to the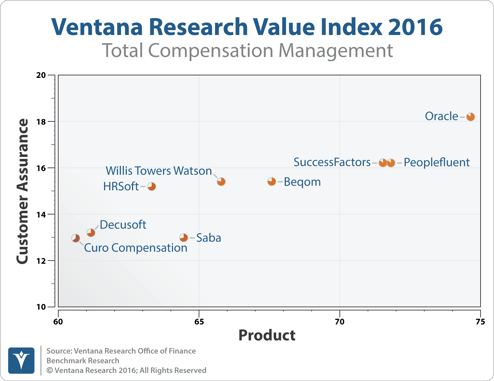 category and have been able to strengthen their offerings through product advances and customer success. When examining the vendors by the two categories of criteria, the vendors were found to have a consistent of customer assurance rating.
All the vendors in the Value Index have made significant strides to improve the user experience for managers and employees seeking guidance in, and improved access to, compensation information. All nine vendors actively participated in our process by providing responses to our requests for information, demonstrations and supporting documentation. We believe that these vendors have the strongest commitment in the industry to compensation management because they were open to our scrutiny. Other vendors unwilling to have their products evaluated and thus not included in the Value Index are dubious in their readiness to support the full range of compensation processes.
The demand for market rate compensation data and analytics is critical to address fairness in pay for new hires and existing workers, but also to examine existing compensation across level and demographic attributes like experience, gender and ethnicity. This type of external compensation benchmarking is possible through the providers like PayScale or Salary.com, which provide compensation data and analytics for use in your compensation processes and systems. Other approaches use actual corporate payroll data through ADP and its DataCloud service.
Total compensation management is a powerful and essential component of human capital management; used properly, it will help organizations understand how to get full value from the talent in their workforce, and can even deliver a competitive advantage in engaging and retaining employees. However, understanding changing processes and related application needs requires in-depth market research on the vendors and pro­ducts to determine the best fit for your organiza­tion. We urge organizations to use our Value Index to understand this highly competitive market.
Regards,
Mark Smith
CEO and Chief Research Officer
Follow Me on Twitter and Connect with me on LinkedIn.
Mark Smith is the CEO and Chef Research Officer of Ventana Research. Mark is an expert on enterprise software and business technology innovation, including business analytics, big data, cloud computing, business collaboration, mobile technology and social media. For more insights by Mark Smith, see https://marksmith.ventanaresearch.com.