The annual Ventana Research Digital Innovation Awards showcases advances in the productivity and potential of business applications, as well as technology that contributes significantly to improved efficiency and productivity in the processes and performance of an organization. Our goal is to recognize technology and vendors that have introduced noteworthy digital innovations that advance business and IT.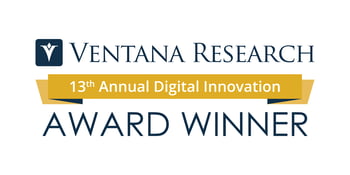 Ventana Research has awarded 8x8: Open Communications Platform its 2020 Digital Innovation Award for Digital Technology. This award acknowledges the vendor that best exemplifies innovation in the technologies that support any or all the following areas: Analytics and Data, AI and Machine Learning, Blockchain, Collaborative Computing, Conversational Computing, Robotic Automation, Extended Reality, Internet of Things and Mobile Technology.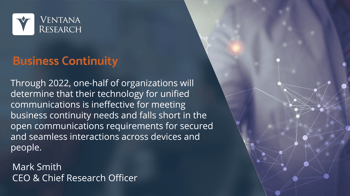 A virtual workforce has increasingly become the new reality for organizations around the world. As individuals spend more of their time on a range of digital devices communicating and collaborating with others inside and outside of the organization, the need to streamline interactions and simplify the work experience is more important than ever. This shift has necessitated unified digital communications, including the ability to chat through messaging and conference through video from a mobile device or desktop environment. Combining unified communications (UC) and communications platform as a service (CPaaS) into a single digital technology can support the organization's internal requirements as well as the ability to engage customers, partners and suppliers. The role of digital communications is essential. We assert that through 2022, one-half of organizations will determine that their technology for unified communications is ineffective for meeting business continuity needs and falls short in the open communications requirements for secured and seamless interactions across devices and people
8x8, Inc. is a technology provider of digital communications technology including UC and CPaaS along with contact center solutions. Its 8x8 Open Communications Platform is the company's latest innovation, featuring a robust, enterprise-class platform that combines voice, team chat, meetings and contact center solutions with intelligence through AI-driven expert routing and predictive analytics. In the digital era of work, 8x8 allows organizations to meet business continuity requirements, providing the resilience and organization readiness to operate at any time of the day on any device while ensuring the best possible digital experience. Utilizing the analytics and insights available on the interactions and channels, organizations can also understand and govern the activities related to communications and intermediate any potential issues.
Ventana Research selected 8x8 for the Digital Innovation Award in Digital Technology for its Open Communications Platform because it enables reliable and secure communications across the enterprise and to any external entity. The platform is also easily applied via 8x8's own tools or accessed via API and embedded in any application or system. 8x8 has worked to provide a seamless work experience while improving the manageability and reliability of its platform to support a broad span of use cases that could apply internally or to external audiences including customers, partners and suppliers. 8x8 has advanced the digital technology to provide a simpler work environment that supports inbound and outbound communications for calling, meeting, chatting and sharing documents. The technology also integrates easily with other enterprise technologies like Microsoft Teams that are used across organizations today. 8x8 has advanced the platform with what it calls Interaction AI for helping provide virtual agent and IVR chatbots that provide the level of self-service required to operate in this modern digital age. The company's focus on manageability is well-noted for its focus on governance as well as performance monitoring and use of analytics to help ensure it delivers the business continuity needs of organizations.
If you have not had a chance to assess 8x8 for your organization's digital communications needs, the company and its products are well worth your time. Congratulations 8x8 for your continued innovation.
Regards,
Mark Smith