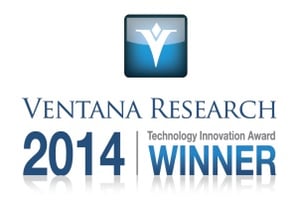 At its Oracle OpenWorld the multibillion technology provider showcased the breadth and depth of its cloud computing applications and platform. Chairman Larry Ellison proclaimed it the only unified and open approach in the industry. He criticized other large application vendors that use multiple platforms to support their applications, use a proprietary layer that is not fully extensible, provide only a portion of applications needed to run the business or run on Oracle's database technology. These technical merits may not be relevant to the decision-making processes of business but can be critical for CIO and IT. But the strength of the Oracle Cloud Computing portfolio, which includes infrastructure, platform, tools and applications, is so impressive that our firm awarded Oracle the Technology Innovation Award in Cloud Computing for 2014. This builds from my analysis earlier in the year on the overall efforts of Oracle for cloud computing.
Oracle's cloud application portfolio spans many areas of business, including human capital management, which my colleague Stephan Millard has analyzed. Its sales application portfolio also has reached a high level of maturity. Its efforts for sales organizations go beyond sales force automation (SFA) for sales reps and managers to other applications for those roles and sales operations and executives as well. In the years since its acquisition of Siebel Systems, Oracle's position in this market slipped as nemesis salesforce.com became a major player. Now it not only has climbed back into a competitive position but has a more complete sales portfolio than salesforce at a more affordable price.
At Oracle OpenWorld it announced highlights of its advancements in sales. Oracle Sales Cloud version 9 advances sales force automation, partner relationship management and sales performance management along with adding support for mobile and social collaboration technology and sales analytics for roles from executives to front-line sales teams. The greatest changes as I see it are in the sophistication and usability of the sales applications and the embedding of analytics and collaboration that make them faster and easier to use. Oracle has ensured that the new versions are backward-compatible with previous iterations and integrated them with on-premises legacy systems such as Siebel and its own Oracle E-Business Suite to help customers that have mixed environments operate now and will migrate in the future.
Oracle has redesigned its approach to sales to focus on productivity enhancements in tasks related to meeting customers and updating information in more user-centric ways than most SFA systems have. For example, a new mobile application yet to be released, Oracle Sales Cloud Call Report App, enables smartphone users to review and update sales opportunities quickly and easily and to immediately see the impact of changes to forecasts and quotas. In a second area, collaborative selling, Oracle Sales Cloud Mobile is easy to use on smartphones and tablets, but still could improve in being more task and workflow based and be more optimized for touch gestures. In another area, however, Oracle has advanced beyond others: Oracle Voice users can interact verbally with the application to engage in sales at any time and place, even while driving. To reach this unique position Oracle partners with Nuance, as was announced earlier this year. It works on Apple iOS platform to enable a range of tasks to be conducted through voice operations.
Oracle knows that sales prospecting requires robust information that often exists outside the enterprise and across the Internet. To make it easier to get data from partners such as Dun & Bradstreet, the company announced Oracle Data as a Service (DaaS) for Sales, which enriches data with more than 150 attributes about organizations and 100 attributes about individuals. This product takes advantage of Oracle's acquisition of BlueKai, which provides a marketplace for organizations to share and license data for use within their business. Oracle Data as a Service is a significant component of Oracle's cloud computing platform and will be valuable for sales organizations.
In recent years sales organizations have become able to automate configuring products and quoting prices by adopting configure price quote (CPQ) software and integrating it with SFA to support interactions with customer prospects. Oracle's acquisition of Big Machines complements the Oracle Sales Cloud by eliminating the need for a separate application that might not be integrated into the sales process. The company does market Oracle CPQ Cloud as a separate offering, but it is clearly part of the sales portfolio. The next step for Oracle in this area should be to enhance its portfolio for contract automation, which is a challenge that causes sales people and operations to spend significant time in creating a process and workflow of documents that legally define purchases, deliveries and invoicing.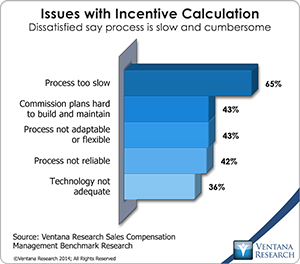 Another key component is Oracle Sales Cloud Sales Performance Management. It uses analytics to manage and improve sales performance with applications designed for coaching and territory optimization. It also has a new mobile application for monitoring sales contests among teams in which progress toward quotas and goals can easily be seen and reviewed. Our firm takes a broad view of sales performance management to include operations, tasks and all sales processes; Oracle's application is limited to gaining knowledge from analytics on sales activities. For other users seeking to manage sales compensation in general and the unique elements of incentive compensation the vendor has advanced from Oracle E-Business Suite Talent Management to Oracle Workforce Rewards, which includes compensation, benefits and payroll management as part of the Oracle Human Capital Management Cloud. Our benchmark research finds that the process of sales compensation continues to be an issue for almost two-thirds (65%) of organizations; it affects sales operations and executives along with individual sales reps, and for many it is a priority to improve.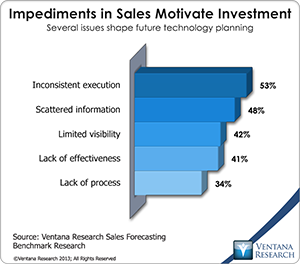 Oracle has also expanded its analytics offerings for business. A relevant one here is Oracle Transactional BI Enterprise (OTBIE) for CRM, which provides a portfolio of analytics for forecasts, the pipeline and accounts and helps users understand past performance and predict the future. Analytics of the sales forecast and pipeline is another priority for sales; our research shows that scattered and inconsistent information are the top two impediments that drive about half of organizations to invest further in sales management systems. Oracle's analytics build on its experience in providing operational reporting capabilities in Oracle Transactional BI Standard, which can present a range of metrics for insights on activities. New advances in sales analytics are evident in Oracle Mobilytics, which provides a sophisticated view of sales activities that can become interactive through visualization. There is also Oracle Sales Cloud Sales Predictor, which helps guide sales people on which products are most likely to be purchased. Overall Oracle has advanced the analytics in its cloud platform significantly this year. Recently it announced Oracle Analytics Cloud, which enhances its tools and the ability to access and embed them in Oracle applications.
As Oracle continues to advance its Sales Cloud, the products are less of a challenge than recognition of the company by customers as a leader in these sales applications. To be competitive in the market will require further investments in marketing and sales to gain momentum and customer adoption but also to continue to expanding the application portfolio. For the Sales Cloud Oracle currently charges $100 per user per month and considering the breadth of applications and analytics, this could be seen as very competitive; salesforce.com starts at $65 per user per month for the basic SFA, but the recently announced Salesforce Analytics Cloud will cost $125 per user per month of which both are significantly more costly. Others major application providers like SAP are also advancing similarly to Oracle for SFA and sales performance management but still have not been able to fulfill on the larger portfolio of application needs for sales operations and executives.
Oracle is a serious player in the market for sales applications and very price advantageous and innovative in its portfolio; we advise organizations to evaluate the company as one of the few that offers more than just SFA and operates in the cloud and mobile technology environment. If you are looking for an integrated suite of sales applications that can help everyone involved in sales, Oracle should be on your list for optimizing operations and maximizing sales performance.
Regards,
Mark Smith
CEO and Chief Research Officer,
Ventana Research